Vancouver's BAPTISTS this week utilizes Revolver Magazine to drop the first new single from their upcoming second album, Bloodmines, the platter due for release via Southern Lord in North America on October 14th. Arriving at the album's midpoint, "Harm Induction" is a volatile, high speed, rager. As the guitar riffs scale to an ear-splitting climax, the vocals also reach the peak of absolute seething anger. The track is unrelenting, near suffocating, and highly cathartic.
Stream "Harm Induction" via Revolver Magazine now at THIS LOCATION.
Like its predecessor, BAPTISTS' acclaimed Bushcraft debut LP, Bloodmines is an exhilarating album pouring with genuine, raw emotion and frenzied punk fury. Shards of feedback make way for rapid riffs and savage vocals, with explosive drumming surging life into every second of each movement. On tracks like "Vistas", "Calling" and the title track, "Bloodmines," the pace changes, revealing powerful, melodic and jagged noise rock songs, much like influential San Diego post-hardcore band Drive Like Jehu, which go beyond the two minute mark. Discordant guitar melodies and abrasive vocal passages are elongated, still volatile but perhaps allowing for further contemplation of the band's underlying message.
BAPTISTS continue to find ways to express their rage and explore new turf with each release, and with Bloodmines they have created a memorable and commanding album. The album was recorded and mixed by Kurt Ballou at God City Studios as with Bushcraft. The cover art was designed by Jillian Mann.
BAPTISTS will take to the North American West Coast this October on a Southern Lord tour package also including labelmates Torch Runner and Obliterations for the entire trek, as well as Offenders on select dates. As part of the routing, BAPTISTS will take part in the massive Southern Lord showcase taking place in Los Angeles, California on October 15th alongside Goatsnake, The Offenders and Xibalba in addition to Torch Runner and Obliterations. All three bands will then raid Southwest Terror Fest III: The Western Front, set to take place October 16th-19th in Tucson, Arizona, where BAPTISTS are set to perform on the main stage the final evening of the gathering with SUNN O))), Obliterations and Sex Prisoner.
Stand by for further BAPTISTS tour actions and further audio from Bloodmines to be released in the coming weeks. Review copies of the new album will be available shortly.
BAPTISTS Tour Dates:
10/11/2014 The Artery – Edmonton, AB @ Up + Downtown Fest w/ Waingro, Ringleader
10/12/2014 Nite Owl – Calgary AB w/ Waingro
BAPTISTS West Coast Tour w/ Obliterations, Torch Runner:
10/15/2014 Los Globos – Los Angeles, CA Southern Lord Showcase w/ Excel, Goatsnake, The Offenders, Xibalba
10/17/2014 Hard To Find Space – Santa Barbara, CA *
10/18/2014 Black Flame Collective – San Bernadino, CA *
10/19/2014 Rialto Theatre – Tucson, AZ @ Southwest Terror Fest #
10/20/2014 Soda Bar – San Diego, CA *
10/21/2014 The Knockout – San Francisco, CA *
10/23/2014 Slabtown – Portland, OR
10/24/2014 Chop Suey – Seattle, WA
10/25/2014 Biltmore Vancouver, BC
10/26/2014 Lucky Bar – Victoria, BC
10/28/2014 Wandering Goat – Eugene, OR ^
10/29/2014 TBA – Santa Rosa, CA **^
10/30/2014 Eli's Mile High Club – Oakland, CA **^
* w/ The Offenders
** w/ Creative Adult
^ w/o Baptists
# w/o Torch Runner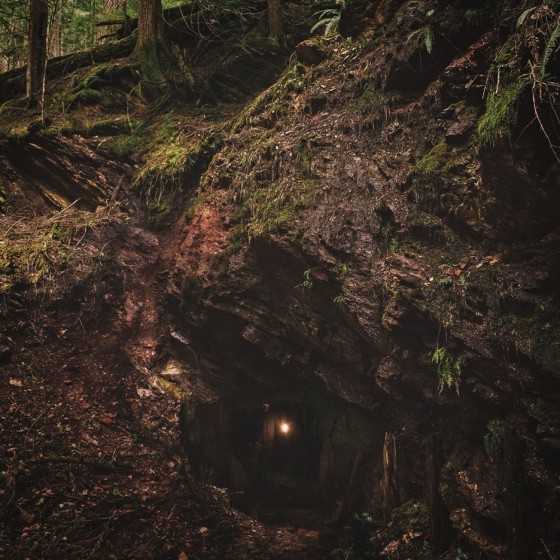 Bloodmines Track Listing:
1. Chamber
2. Wanting
3. String Up
4. Closed Ports
5. Vistas
6. Harm Induction
7. Festered
8. Dissembler
9. Bloodmines
10. Calling
11. For Profit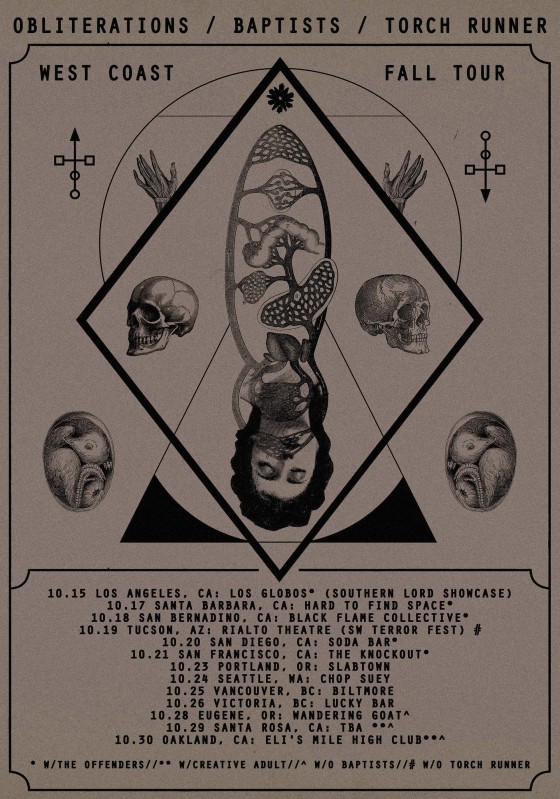 http://baptists.bandcamp.com
https://www.facebook.com/pages/BAPTISTS/111676572202547
http://www.southernlord.com
https://www.facebook.com/SLadmin
http://twitter.com/twatterlord