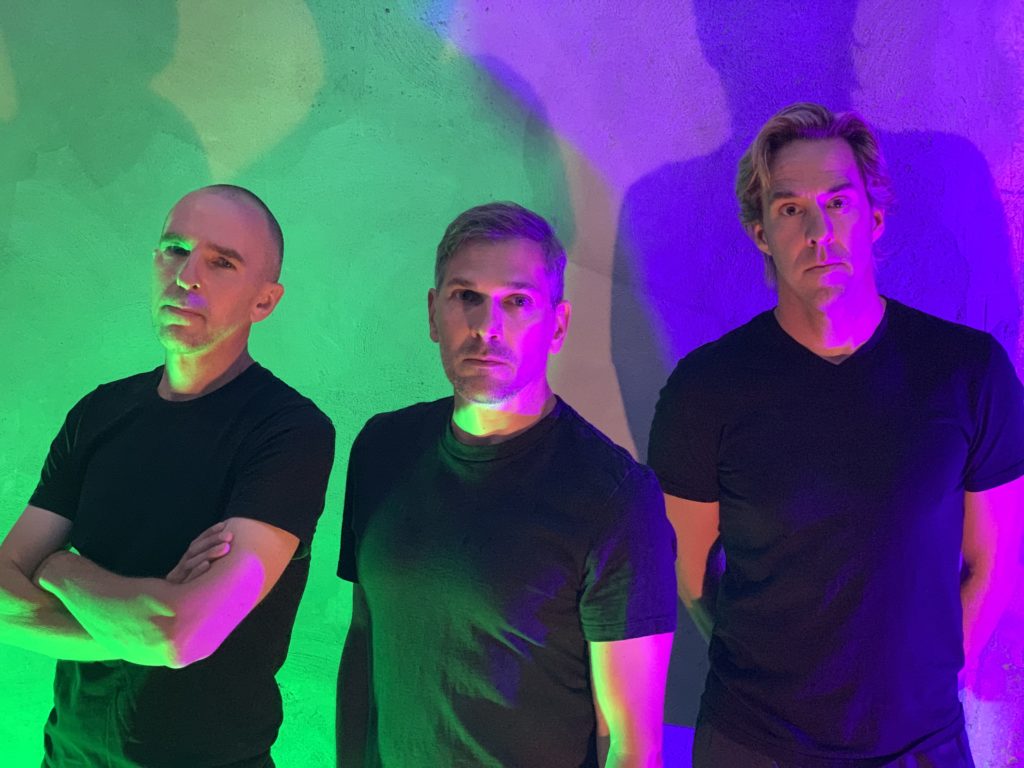 photo by Cristina Rivas
As Chicago-based instrumental metal trio AZIOLA CRY prepares to release their third full-length, The Ironic Divide, through progressive metal label Sensory Records in March, MetalSucks is now hosting an exclusive premiere of the album's new single, "Where Once Bore Wings."
The Ironic Divide was recorded by Jim Siwek at Ultralownoise Studio and Transient Sound, mixed by Steven Gillis at Transient Sound, mastered by Ted Jansen at Sterling Sound (Alice In Chains, Lamb Of God, Gijora), and completed with artwork and design by Micka Klauck.
AZIOLA CRY's Jason Blake offers with the new song, "Where our first single, 'Hollow Reflections,' showed the moody, dark side of the band, '…Where Once Bore Wings' is the heavy alter ego. With the exception of the short Warr Guitar interlude, this song does not let up. It was written as the conclusion to the story and represents the dismal aftermath."
MetalSucks writes, "If skronky, progressive metal bands like Dysrhythmia float your boat, you're going to need to hear this one. Powerful, bass-heavy riffs collide with jarring rhythms, weaving in and out of odd time signatures for an effect that's as discomfiting as it is soothing: like a little kid spinning round and round in circles only to get dizzy, fall down, then get back up and do it again, you'll be craving more of AZIOLA CRY's head-spinning riffery the moment this seven-plus-minute song ends."
Stream AZIOLA CRY's "…Where Once Bore Wings" first exclusively through MetalSucks now at THIS LOCATION.
Laser's Edge division Sensory Records will release The Ironic Divide on CD and digital platforms on March 26th. Find preorders at the label webshop HERE and Bandcamp where "Hollow Reflections" is streaming – the standard version HERE and the 24-bit hi-res version HERE.
Watch for an official video from The Ironic Divide and more to be posted in the days ahead.
With Mike Milaniak on guitar, Jason Blake on Warr guitar, and Tommy Murray on drums, AZIOLA CRY closes a nearly fourteen-year gap between records in 2021 with their third album, The Ironic Divide. Boasting their heaviest and most intricate work yet, the forty-eight-minute album features four songs which tell the story of one person's final descent. There are two types of people in this world. There are those who do good for others and make a positive contribution to society in some way. Then, there are those who do evil and hurt fellow humans. There is no rationale behind their behavior. They are cowards. This is their story.
AZIOLA CRY has performed with Behold… The Arctopus, Don Caballero, Tiles, Far Corner, and many others, while appearing at progressive rock festivals including M.A.R.S. Fest. The band released their debut album, Ellipsis, in 2005, followed by Ghost Conversations in 2007, after which they went wholly dormant, until now.
https://www.aziolacry.com
https://www.instagram.com/aziolacry
https://www.facebook.com/aziolacrymusic
https://twitter.com/aziolacry
http://www.lasersedgegroup.com
https://lasersedge.bandcamp.com
http://www.facebook.com/TheLasersEdge
http://www.twitter.com/thelasersedge