[photo by Pia Gyllin]
Contempt For Man, the debut LP from Swedish grindcore outfit AXIS OF DESPAIR – formed by current and former members of Nasum, Coldworker, Infanticide, Volturyon, Livet Som Insats, Nervgift, Overtorture, and more – sees release through Southern Lord Recordings tomorrow. Advancing its official release, Cvlt Nation is streaming the album in its pulverizing entirety.
Contempt For Man dispatches twenty super-charged tracks of AXIS OF DESPAIR's brutalizing but hook-laden grindcore attack. The album surges with blasting percussion delivered with savage force, yet every hit finding its target with pinpoint accuracy. The blazing riffs leave charred scars in their path, while lyrically the band unloads their noncompliance with humanity's declining ways. The album was recorded by drummer Anders Jakobson at Soundlab Studios and in the band's rehearsal room Summer 2017, mixed at Studio Ãœlgnor by Johan Berglund, and is completed with artwork by Paul Romano (Mastodon, Circle, Hate Eternal).
AXIS OF DESPAIR drummer Anders Jakobson states, "It's been a year since we recorded the album and now it's finally time for the release! It's a great feeling as we have been very anxious to share our work with the world. The early reviews and fan reactions have been positive and obviously we are very happy about the response. We set out to record a really good grindcore album of the meat-and-potatoes kind. No experiments way out of the box to try to re-invent the grindcore wheel or become a totally original band. We have spent hours into every song, writing and arranging, re-writing and re-arranging, with the hope of putting together a solid debut album that might strike the listener as a wall of sound during the first round and let the details appear during repeated listenings. We are proud of our album and super psyched to hear what others think of it."
Cvlt Nation writes, "We are all living in a fucked-up reality show. Music is one place that I can find peace. I love putting on raging music that I can imagine shapeshifting into a weapon of destruction that I could use to end the life of the oppressors."
Stream AXIS OF DESPAIR's Contempt For Man in its entirety at Cvlt Nation RIGHT HERE.
Southern Lord will release Contempt For Man on LP, CD, and digital formats this Friday, July 27th; find preorders at the label webshop HERE and at Bandcamp HERE.
Following their recent performance at Obscene Extreme, AXIS OF DESPAIR will announce additional shows and tour dates supporting the album in the weeks ahead.
AXIS OF DESPAIR was formed in late 2013 by former Coldworker members Joel Fornbrant (vocals), Oskar Pålsson (bass), and Anders Jakobson (drums). The lineup was completed by guitarist Kristofer Jankarls (also in Livet Som Insats) a few months later and the quartet focused on songwriting. The first recording took place in the spring of 2015 and the twelve tracks were released on the two 7″ EPs — Time And Again, released via Selfmadegod Records, and Mankind Crawls, a co-release through Give Praise Records and Spela Snabbare Records. Following both EPs and several live shows, AXIS OF DESPAIR set to work on new material, striving to create a striking grindcore album with an aggressive, yet diverse selection of strong songs. The writing process was spread out over a year until the band went into the studio and begun the recordings in the summer of 2017, now set to arrive in the form of their debut album, Contempt For Man.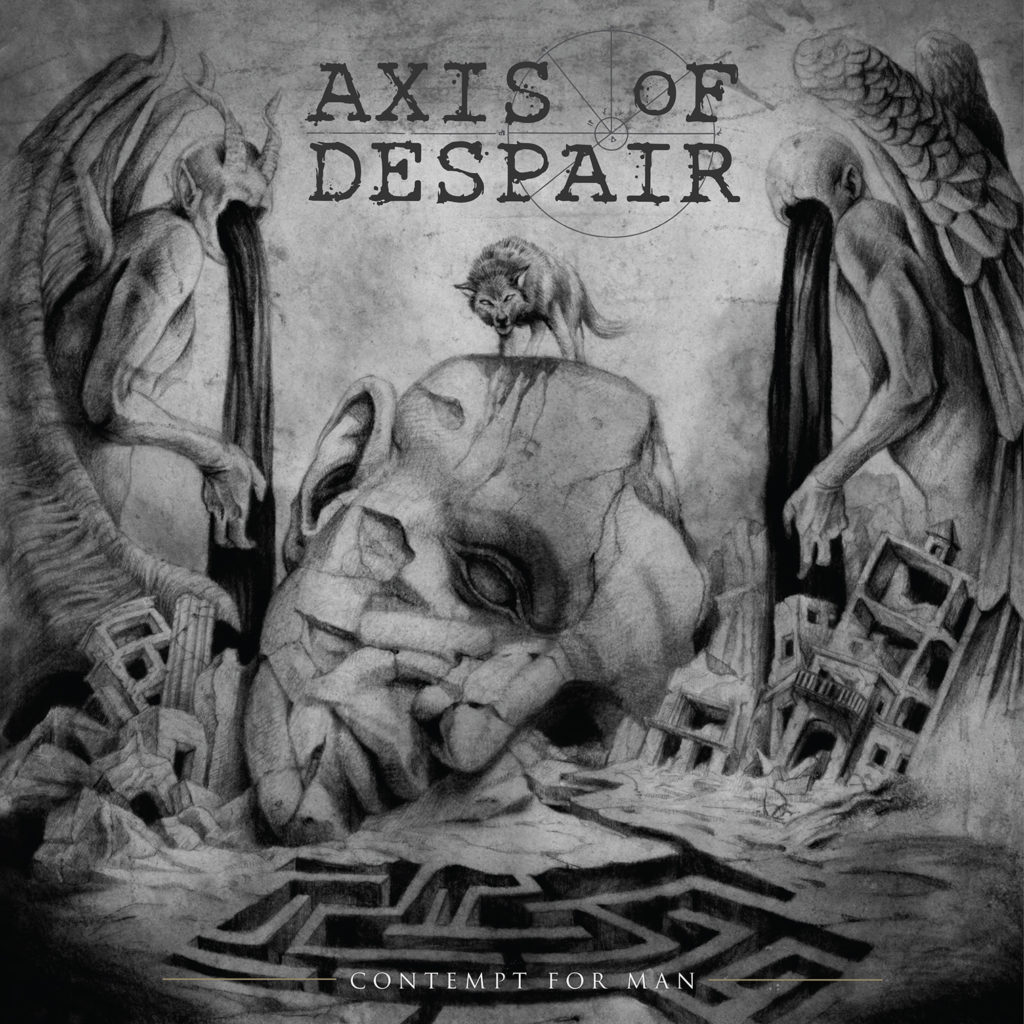 https://axisofdespair.com
https://www.facebook.com/axisofdespairsweden
http://www.southernlord.com
http://southernlord.bandcamp.com
http://www.facebook.com/SLadmin
http://twitter.com/twatterlord