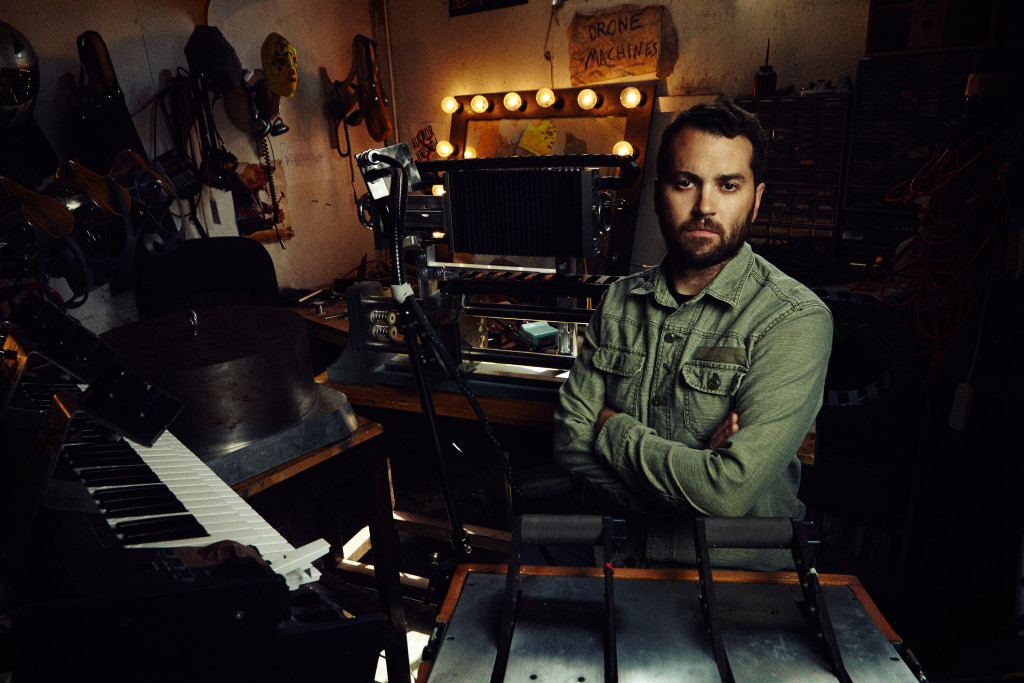 One-man industrial doom magus, Tristan Shone, more commonly known as AUTHOR & PUNISHER, will bring his tectonic-shifting sound conjurings to the stage next month on a lengthy North American headlining tour. The proceedings will commence on September 17th in Los Angeles and crumble the infrastructures of fourteen venues through October 2nd in Boston. From there, Shone will take a brief respite before pillaging another fourteen venues on a second leg of the tour beginning November 3rd in Brooklyn and running through November 21st in San Diego. The trek includes a performance at Philip H. Anselmo's annual Housecore Horror gala. AUTHOR & PUNISHER will be joined by special guests, atmospheric drone doom duo, Muscle And Marrow.
Comments Shone, "This tour is 100% AUTHOR & PUNISHER as I intended it from day one: designed to be overwhelming, suffocating and disorienting with new tracks, a reinforced A&P-designed onstage sound and a killer touring partner in Muscle And Marrow, from Portland."
AUTHOR & PUNISHER w/ Muscle And Marrow:
9/17/2015 Complex – Los Angeles, CA
9/18/2015 Thee Parkside – San Francisco, CA
9/19/2015 Star Theater – Portland, OR
9/20/2015 The Astoria – Vancouver, BC
9/21/2015 El Corazon – Seattle, WA
9/23/2015 Larimer Lounge – Denver, CO
9/24/2015 The Riot Room – Kansas City, MO
9/25/2015 Coldwaves IV @ The Metro – Chicago, IL
9/26/2015 Corktown Tavern – Detroit, MI
9/28/2015 Howlers – Pittsburgh, PA
9/29/2015 The Cave – Toronto, ON
9/30/2015 Mavericks – Ottawa, ON
10/1/2015 L'aize – Montreal, QC
10/2/2015 Voidstar Fest @ Brighton Music Hall – Boston, MA
11/3/2015 Saint Vitus – Brooklyn, NY
11/4/2015 Kung Fu Necktie – Philadelphia, PA
11/5/2015 Metro Gallery – Baltimore, MD
11/6/2015 Extravaganza Fest @ Strange Matter – Richmond, VA *
11/7/2015 Local 506 – Chapel Hill, NC
11/8/2015 The Earl – Atlanta, GA
11/10/2015 Will's Pub – Orlando, FL
11/11/2015 New World Brewery – Tampa, FL
11/12/2015 The Handlebar – Pensacola, FL
11/13/2015 Siberia – New Orleans, LA
11/15/2015 Housecore Horror Fest @ The Aztec Theater – San Antonio, TX
11/17/2015 Sidewinders – Austin, TX
11/20/2015 Club Red – Mesa, AZ
11/21/2015 Hideout – San Diego, CA
* no Muscle And Marrow
AUTHOR & PUNISHER will be touring in support of Melk En Honing, released earlier this year via Housecore Records. Produced by label founder, Philip H. Anselmo (Pantera, Down, Superjoint Ritual et al), with Melk En Honing, Shone has incorporated various drone machinery, multiple physical rhythm machines, some synth and the new electromechanical masks that began to appear in AUTHOR & PUNISHER performances across the US and Europe in 2014. After a year of heavy touring and festival appearances, the goal with this album was to capture the live dissonant power of the AUTHOR & PUNISHER experience. The combination of Anselmo's persistence, expertise and Shone's new experimentation with various vocal devices, led to a vocal-prominent, bass heavy album that combines AUTHOR & PUNISHER's signature elusive drone sequences and hard hitting rhythms with unexpected terrains of melody and musicality that sustain Shone's reputation as an unorthodox innovator in a class all of his own.
After leaving a career as mechanical engineer in Boston to focus on art and sculpture, Tristan Shone, the creator and sole artist behind AUTHOR & PUNISHER, moved west to pursue his MFA in Southern California. In the metal and machine shops of University of California, San Diego, Shone forged a relationship with design, sound and fabrication that ultimately yielded AUTHOR & PUNISHER's first music and mapped the journey away from traditional instrumentation towards custom made, precision machinery that he calls Drone Machines, Dub Machines and now his series of Masks.
Shone used his technical knowledge, along with his artistic background to create what Wired Magazine has hailed as his own "special brand of doom metal." As experimental as he is at times, with the high fidelity drone so thick and pulsating it lays a sonic lead blanket waving over your core, it lingers only as long as it needs, regrouping or intensifying with pounding live rhythms and vocals. The sound builds up anxiously but always rewards with a hint of hope in the form of epic sonic phrases leaving you feeling exhausted but satisfied.
All aspects of the AUTHOR & PUNISHER sound begin with physical movement, limbs struggling in unison to coordinate a wall of electronic rhythm and oscillation, ultimately conditioned by an organic and loose quality absent of sequencing and plastic perfection. AUTHOR & PUNISHER performances are a real amalgamation between man and mechanisms. They are direct, physical, heavy experiences that have amassed praise and intrigue from a wide array of audiences. Pitchfork styled him "immediate but mysterious," Stereogum described his "chilling, unrecognizable form," and NPR hails him as "a thrill [who] fires on all cylinders."
The custom devices that drive AUTHOR & PUNISHER begin mostly as big chunks of aluminum and steel that are worked into all manners of wheels, throttles, pedals, and masks to manipulate sound live. Shone's electromechanical arsenal and physical approach to live production become to heavy music what Survival Research Laboratories was to live, unscripted performance art.
AUTHOR & PUNISHER's Melk En Honing is available now via Housecore Records. Order your copy today at THIS LOCATION.
"Tristan Shone is the epitome of what Housecore Records stands for and look for in musical expression: absolute originality and innovation. There is no pigeonholing this man's art." – Philip H. Anselmo
"AUTHOR & PUNISHER is 'The Art Of Noise' realized on Melk En Honing." – Noisey
"… Listening to AUTHOR & PUNISHER is always a powerful and illuminating experience, and Melk En Honing sees Shone uniting heaviness with accessibility in ways he has never done before." – MetalSucks
"AUTHOR & PUNISHER's style is difficult to classify, but for those who like their doom heavy, their electronics ample, and their music challenging, Melk En Honing is an extremely rewarding listen. Despite the heavy electronic element, the music never feels sterile or soulless; instead-like the best heavy music-it punishes the very essence of your soul." – New Noise
"A worthy successor to early-'90s genre greats such as Godflesh… to see him work his machines live is awe-inspiring, as he almost disappears inside them. This is music that is both literally and figuratively industrial." – LA Weekly
"Shone has put together a document of recorded work that is as emotionally satisfying as watching one of his live performances." – OC Weekly
"AUTHOR & PUNISHER represents the next level of heavy in industrial music. The latest album from mastermind Tristan Shone, Melk En Honing is a sprawling, stunning and soaring mechanized epic." – ArtistDirect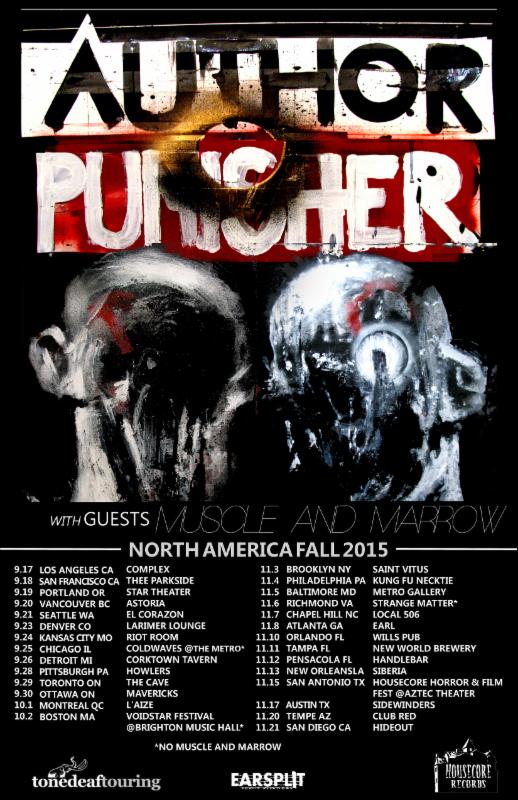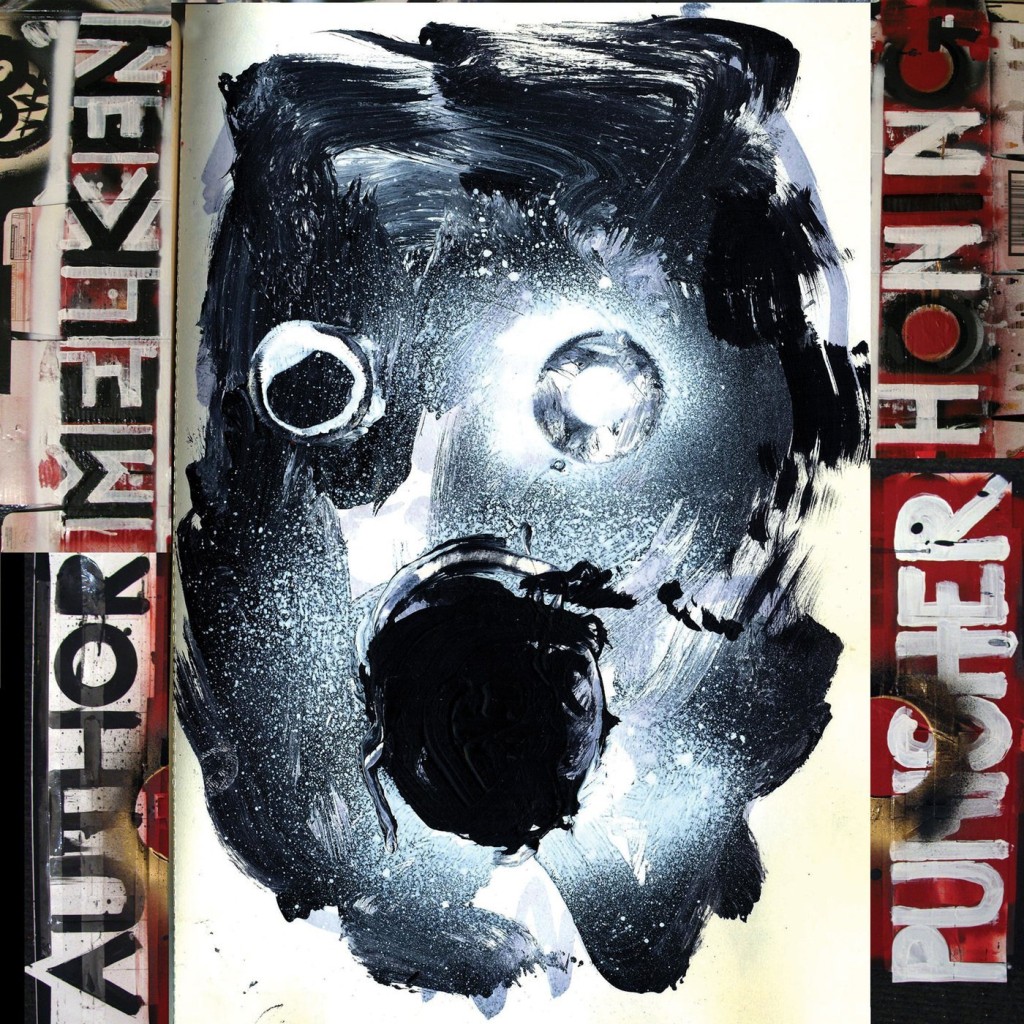 http://www.authorandpunisher.bandcamp.com
A&P Facebook
http://www.thehousecorerecords.com