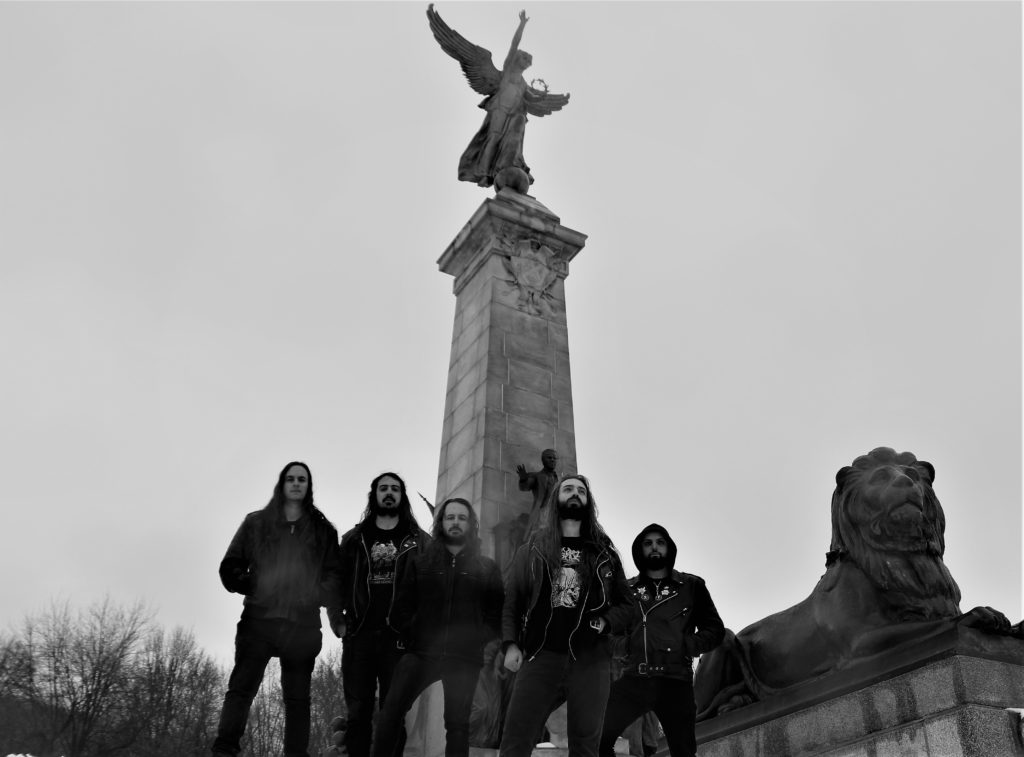 "Much like the slow death of this place's inhabitants, Stygian, too, moves with a deep melancholy and forlorn character." – Invisible Oranges
This week, 20 Buck Spin presents Stygian, the mammoth debut LP from Longueuil, Québec's funeral doom outfit, ATRAMENTUS. Just days ahead of the album's release this Friday, Invisible Oranges is hosting an exclusive advance stream of the entire record, paired with an intense interview with the band.
From the frozen northlands, ATRAMENTUS is formed by members of Chthe'ilist, Funebrarum, Gevurah, and more among its ranks. Birthed on a cold winter night in 2012 and during an autumnal sunset in 2013, the cursed tale remained dormant for years, only recently being put to tape so the nameless knight's saga could be told. Their Stygian debut was recorded, engineered, re-amped, and mixed by Xavier Berthiaume at Studio Tehom in Montreal, mastered by Greg Chandler (Esoteric, Lychgate) at Priory Recording Studios in Birmingham, and is completed with artwork by Mariusz Lewandowski (Atlantean Kodex, Bell Witch, Mizmor) and layout by Chimere Noire.
Within the lengthy interrogation of mastermind Phil Tougas, Invisible Oranges writes in part, "Monstrous and chilling, the mournful sounds found within Stygian embody the tenets of funeral doom, a lineage dating back to Thergothon, Unburied, and Skepticism. But beyond the actual sounds is a deeper concept, one which ties together all of Tougas's projects. Taking place on a separate Earth, Stygian tells the story of this alternate society dying in limbo. Much like the slow death of this place's inhabitants, Stygian, too, moves with a deep melancholy and forlorn character. However furious each tolling chord may sound, however deep Tougas's growl may be, ATRAMENTUS' center is one of tender feeling which is effectively channeled through the difficulty of funeral doom."
Stream ATRAMENTUS' mammoth Stygian early only at Invisible Oranges RIGHT HERE.
20 Buck Spin will release Stygian on LP, CD, cassette, and digital formats this Friday, August 21st. Place orders at the label webshop HERE and Bandcamp HERE.
Granted immortality through the gift of the God's sword, the nameless knight eventually witnesses the death of the sun and the end of all life on Earth. Surviving the great deluge, he is left to wander amongst the ruins of a now frozen earth under a sunless sky for eternity, alone and unable to die even by the scorching-cold blizzard winds around him, enduring perpetual physical torture while haunted by the memories of his past life and everyone he once knew buried under miles of ice.
Each of the three epic songs contained within differ widely to reflect the changing of autumn to perpetual winter. While adorned in the language of extreme funeral doom and dark ambient soundscape, ATRAMENTUS owes further debt to epic doom metal in sound and aesthetic and black metal's anguished ferocity, but always the arc of ATRAMENTUS remains bound to the tumultuous melancholy and guttural immensity of extreme doom. Stygian is thematically tied, on different timelines, to the themes on Chthe'ilist's latest EP and forthcoming album.
https://www.facebook.com/AtramentusDoom
https://www.instagram.com/atramentusqc
http://www.20buckspin.com
http://www.facebook.com/20buckspin
http://twitter.com/20buckspinlabel
https://www.instagram.com/20buckspinlabel