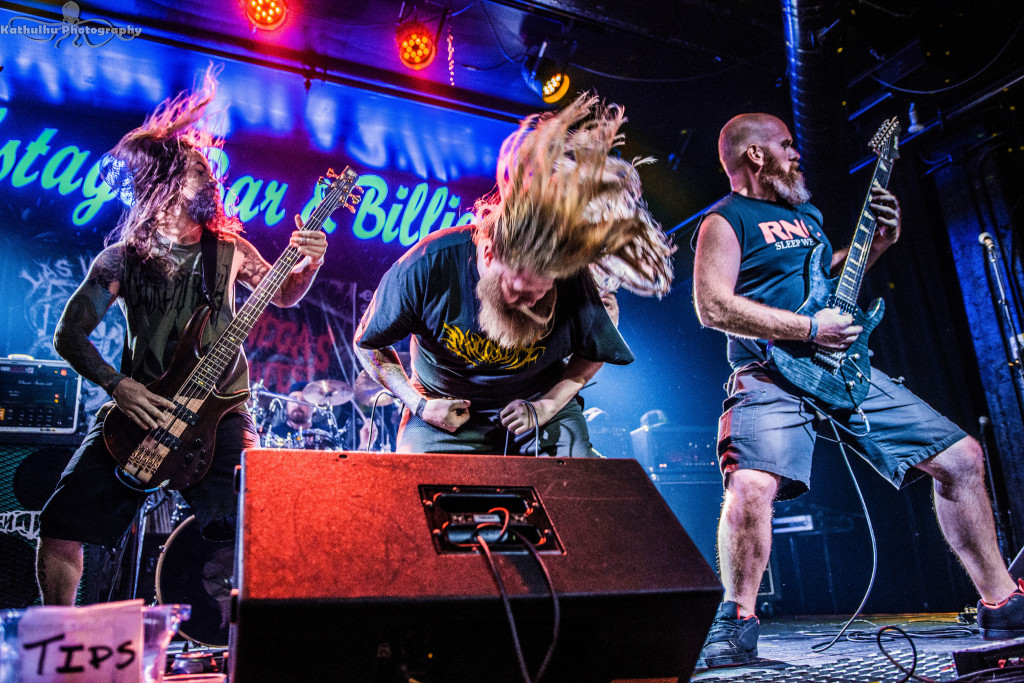 Toilet Ov Hell has debuted "Eternal Prolapse," the latest single from Phoenix-based death death/slam metal outfit, ATOLL. The track hails from the band's impending sophomore album, Fallout Frenzy, set for November release through Gore House Productions.
Offers Wade Taylor of the new album and the release the "Eternal Prolapse" single, "The amount of excitement in the ATOLL camp for this release is incredible. Besides being one of the most brutal labels in the independent community, Gore House Productions has been second to none in helping us prepare the masses for this Atomic bomb of an album to be released. The extent of the support we have received from them is unparalleled. We decided to go with a classic comic book style for the cover art. We feel it suits our personality as a band and our sense of humor. The track we've selected for the first single explains the decline of society as a whole, as well as insinuating another type of blown-out hole. This track is called 'The Eternal Prolapse'… Prepare your anuses."
Toilet Ov Hell offers, "Are you tired of listening to the same old technical progressive atmospheric blackened math metal? Are you tired of lush mixes and melodic interludes? Are you tired of doors being slammed in your face when you apply for a job? ATOLL aren't about to change your perception or understanding of anything, but they'll sure as hell give you the perfect excuse to mosh around in your cubicle. My only advice is that you don't listen to them if your line of work involves sharp objects spinning at high speeds and/or alarmingly perilous heights. Not the best of places to try and hate mosh in (#safetyfirst)."
Stream ATOLL's "Eternal Prolapse" RIGHT HERE.
Gore House Productions will issue Fallout Frenzy on digital and CD formats on November 17th. Alongside multiple merch bundles available for preorder, the label has also just issued preorders for a limited "slime pack" edition of the album.
Find preorders RIGHT HERE where you can also see the lyric video for "Bikini Atoll Fallout Frenzy"
Emerging from a scorched wasteland, Fallout Frenzy delivers ten new tracks of ATOLL's signature pure American death metal, loaded with heavy, murky riffs, contagious melodies, and punishing breakdowns. The thirty-minute opus delivers ten murderous anthems full of vile brutality, the album produced by ATOLL and mixed/mastered by vocalist Wade Taylor at Filthy Swine Studios (Fetal Disgorge) in Phoenix, and featuring album art by Australian comic illustrator Steve Lehmann (Dark Oz Comics' Decay, etc.). Fallout Frenzy guarantees nonstop death metal fallout. Be forewarned; this is ATOLL's heaviest album to date.
Watch for additional audio/video samples preceding the album's gory release in the coming days, with tour dates and more to be expected.
https://www.facebook.com/atollofficial
https://atoll602.bandcamp.com
https://www.reverbnation.com/atoll602
http://www.gorehouseproductions.com
https://gorehouseproductions.bandcamp.com
https://www.facebook.com/GoreHouseProductionsOfficial