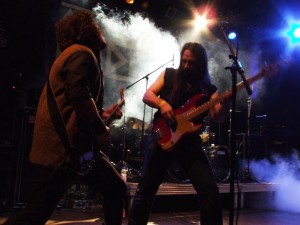 German epic metal band ATLANTEAN KODEX and Italian label Cruz Del Sur Music announce to have signed a deal for the worldwide release of the upcoming debut ATLANTEAN KODEX album The Golden Bough.
ATLANTEAN KODEX are one of the most acclaimed newer bands in the European underground metal scene. Rooted deeply in the sound of old Manowar, Viking-era Bathory and classic 1980s-metal, their Pnakotic Demos EP has sold close to 2000 copies and has been praised by critics as one of the best epic metal releases ever. With festival appearances at renowned events like Keep it True XII, Up the Hammers and Hammer of Doom, ATLANTEAN KODEX have also earned a reputation as an intense live band who never fail to deliver the steel.
Says guitar-player Manuel Trummer about the deal: "I couldn't have imagined anyone else than Cruz del Sur to release The Golden Bough. We're highly impressed by the work label-owner Enrico did in the past and we're honored to be on the same label like some of our favorite bands such as While Heaven Wept, Slough Feg, Twisted Tower Dire and Battleroar."
On behalf of Cruz Del Sur Music, label owner Enrico Leccese states: "I am very glad we have the opportunity of working together with ATLANTEAN KODEX. I am definitely impressed by the enthusiasm, the strength and motivation these guys have shown so far; that's exactly what we're looking for in a band. And the music contained in The Golden Bough is simply fantastic!"
The Golden Bough is scheduled for a release on Cruz del Sur in September 2010. A deluxe vinyl edition will be released by renowned German high-quality vinyl label Iron Kodex.
The Golden Bough track list:
1. The Atlantean Kodex – 8:26
2. Pilgrim (Through The Ruins Of Europa) – 10:56
3. The Golden Bough – 1:35
4. Fountain Of Nepenthe (Journey To The Island Of The Blessed) – 9:30
5. Temple Of Katholic Magick – 6:54
6. Vesperal Hymn (For A Long-Gone Friend) – 6:03
7. Disciples Of The Iron Crown – 4:24
8. A Prophet In The Forest – 10:49
http://www.myspace.com/atlanteankodex
http://www.cruzdelsurmusic.com
http://www.myspace.com/cruzdelsurmusic