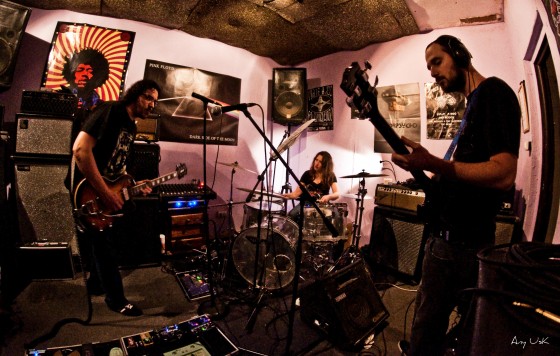 Algeciras, Spain-based experimental space rock collective, ATAVISMO, unleashed their Desintegración debut on wax courtesy of Temple Of Torturous last month. Featuring members of Viaje A 800 and Mind!, ATAVISMO's compositions are sprawling and consuming, echoing and hypnotic recalling the cosmic, jam-laden plumage of bands like Earthless, Motorpsycho, Wand and Dead Meadow.
In celebration of its release, mega-riff portal, The Obelisk – longtime supporters of ATAVISMO's soothing, psychedelic grooves – offers up the official premiere of the band's video for "Kraken," relaying of the near-seven-minute clip, "Desintegración quickly became one of my most listened to albums of 2014, and in following the initial sprawl of 'Blazava,' 'Kraken"s earthier take was a big part of the reason why. Poti's vocals act as a grounding force to balance the laid back roll, and like 'Oceanica,' which follows in a somewhat more experimental fashion, the song has a definite beach-time feel to its sunbaked psychedelics, too close to the ocean to be desert rock but still digging its toes into sand one way or another. The melodicism never leaves the fore, and subtle krautrock touches give a sense of underlying complexity. They can go as prog as they want – and they do move further in that direction on closer 'Meeh' – I'll just keep my fingers crossed they don't give up the tonal warmth of Desintegración in the process. The video is a pretty straightforward performance clip – you'll note the live keys, turning the trio into a four-piece – but it gives a sense of the peaceful vibes ATAVISMO elicit, and for that I'll take it."
Tune out to the hypnotic vibes of "Kraken" at THIS LOCATON.
Initially released on CD last year on Not On Label Records, the vinyl edition of ATAVISMO's Desintegración comes in a gorgeous gatefold packaging limited to 300 copies and is available now via Temple Of Torturous at THIS LOCATION.
"…a solid debut full of atmosphere and personality. With soulful performances and solid musicianship, their Mediterranean take on '70s psychedelia may even leave you comfortably numb." – Angry Metal Guy
"Desintegración makes a very good first impression. The subtle swirls of the synth followed by a Meddle-era Pink Floyd ride cymbal, a Waters-esque hypnotic bass line, and pure Gilmour glissando guitar that open the album are enthralling. The psychedelic atmospherics slowly unfurling in a wave of well-versed improvisation, 'Blazava' breathes a life all of its own and continues to move towards the peak that appears in its last minute. With such a cool and compelling track to open the album, ATAVISMO have set the bar high." – The Midlands Rocks
http://www.atavismo.bandcamp.com/releases
http://www.facebook.com/pages/Atavismo
http://www.templeoftorturous.com
http://www.facebook.com/ToTRecords
http://www.templeoftorturous.bandcamp.com