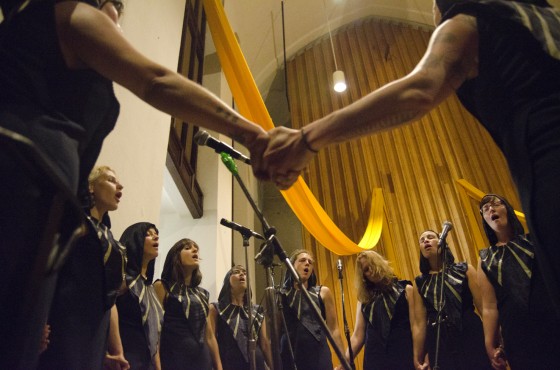 Providence, Rhode Island-based female secular choir ASSEMBLY OF LIGHT will take their unique, ethereal craft to congregations in three states late in April, with newly decreed performances from the nearly two dozen-member faction confirmed in Brattleboro, Vermont, Belfast, Maine, and their native city.
Friday, April 26th the ASSEMBLY OF LIGHT choir will perform at The Stone Church in Brattleboro, Vermont, on their way out West to perform at the 2013 Free Range Music Festival in Belfast, Maine the following night. The entourage will return home the following day and perform at their hometown DIY arts center Machines With Magnets, completing the trek.
ASSEMBLY OF LIGHT April Performances:
4/26/2013 The Stone Church – Brattleboro, VT
4/27/2013 2013 Free Range Music Festival – Belfast, ME
4/28/2013 Machines With Magnets – Providence, RI
Additional live performances and more on ASSEMBLY OF LIGHT will be announced in the coming days.
One of the most unique musical acts in existence, featuring nearly two dozen members, the ASSEMBLY OF LIGHT choir is a secular all-female choral faction, unifying their incredible range of voices into beautiful, and often undeniably eerie, ethereal hymns, which blend classical styles through their own artistic experimentation and tactics. Formed in 2008 by vocalist Chrissy Wolpert, the unit has showcased their craft live across the nation, and following their unforgettable collaborations both live and in the studio — playing a major role in The Body's All The Waters Of The Earth Turn To Blood as well as The Body & Braveyoung's collaborative Nothing Passes LP — the choir released their self-titled debut album via At A Loss Recordings in 2012. Wolpert also makes ethereal vocal contributions to The Body's anticipated upcoming Master, We Perish release.
"All six songs will teleport your whole being into another reality as you fly away on some very ethereal voices." – Cvlt Nation
"…this record really showed me the power of the human voice and the utterly stunning and emotional things it can create. If you give this record a chance I can promise you will be moved emotionally and spiritually. 9/10" – American Aftermath
"The Assembly of Light Choir's collaboration on The Body's All of The Waters of The Earth Turned To Blood are some of the most compelling tracks on the record. The juxtaposition of the all-female choir against The Body's rumbling low-end blasts is a study in eerie contrast, and one that continues on AoLC's debut LP." – Brooklyn Vegan
"They are one of the most interesting and certainly unique group of artists out there, and they are pushing boundaries in ways most metal bands fear. This is a breath-taking, imaginative effort that you might find will break down the walls of your genre fiefdom with the power of a wrecking ball." – Meat Mead Metal
" Subliminal and meditative, this music projects either the innocence of a human being's birth or the unbelievable sadness of one's passing." – Metal Reviews
https://www.facebook.com/Assembly.of.Light.Choir
http://www.atalossrecordings.com
https://www.facebook.com/atalossrecordings