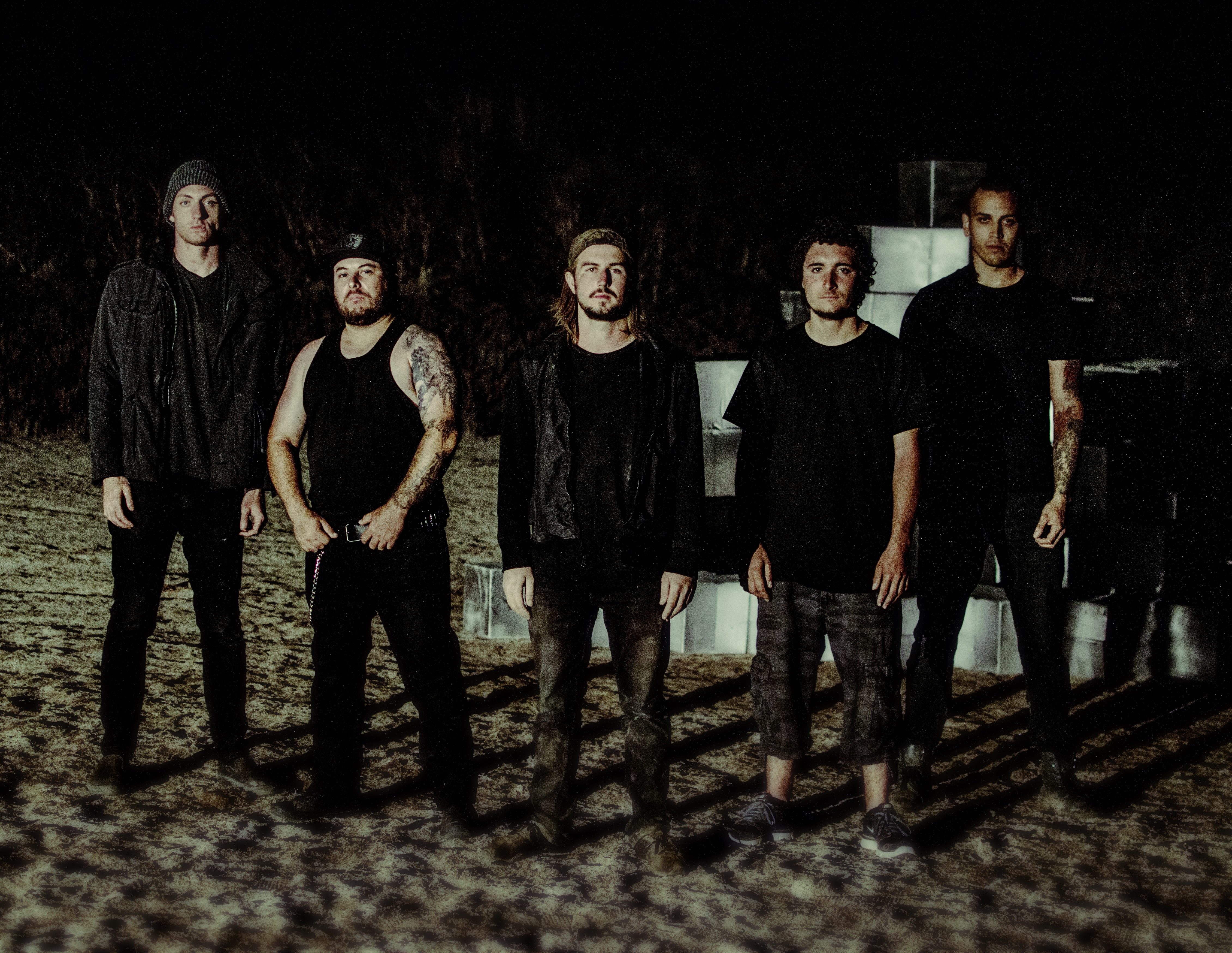 Today, Decibel Magazine unveils the visual accompaniment to "The Temple Aflame" from West Coast progressive death metal goliaths, ARKAIK.
The tune comes by way of ARKAIK's Lucid Dawn full-length, released last year via Unique Leader Records. The second installment in a series of concept albums, Lucid Dawn centers itself around Cyrix, a disillusioned character in a dystopian society. In Cyrix' realm, dreaming is systematically controlled by a tyrannical ruler named Khaal-Li-Phar and his army of dark shamans, where people are forced to build monuments to the tyrant to stifle their imaginations and inhibit their ability to achieve a multi-dimensional existence.
Elaborated the band of "The Temple Aflame," "This track is all about the groove and raw heaviness. It's straight forward and to-the-point, which is pretty different from previous stuff we've written but it serves its place within the album and adds variety between songs on Lucid Dawn. The song is basically about overcoming fear and the video kind of alludes to the concept of the album but from an alternative perspective. It was produced and directed by Nikko Deluna. We had a great time making it. We actually ended up filming on the same day/night as the fourth and final 'blood moon' total lunar eclipse of 2015, an obviously metal coincidence. Nikko was really professional and a blast to work with!"
Watch the seizure-inducing visuals of ARKAIK's "The Temple Aflame," courtesy of Decibel Magazine, at THIS LOCATION.
Musically and conceptually, Lucid Dawn is a death metal take on American mythologist, writer and lecturer, Joseph Campbell's monomyth and the beginning of Cyrix's "Hero's Journey," that seamlessly carries its listeners on a visceral expedition through the depths of evil and beyond the threshold of mundane reality.
"ARKAIK manage to imbue fresh life into their brutal technical death metal through the sheer power of their writing," boasts Heavy Blog Is Heavy in a 4/5 review of Lucid Dawn. "Nothing feels out of place; every staggeringly complex tech riff, lightning-fast solo and slammy chug hits home perfectly. The simple use of small samples, synths, and symphonics accentuates the album greatly, bringing another dimension to an already powerfully tight band… Lucid Dawn hits a brutal techdeath grand slam with its perfect merge of wickedly tight fretboard wizardry and earth-shattering grooves." Dead Rhetoric agrees, noting in an 8.5/10 score, "Firmly entrenched in the technical death metal sound, ARKAIK show just how appealing the genre can be when approached from the right angles. There's no gimmicks, no over-the-top guitar wankery, just crushing death metal with enough intricacy to blow your mind yet allow you to whistle that riff that got stuck in your head for the rest of your day." No Clean Singing hails the band's, "head-spinning display of insectile tech-death frenzy – the kind of performance that somehow feels both machine-tight and berserk," Two Guys Metal Reviews lauds an offering that's, "tastefully arranged and audaciously orchestrated," while Wonderbox Metal adds, "ARKAIK merge insane brutality and technicality with a modern death metal sensibility that allows them to reap the benefits of both styles. The combination of complexity and catchiness makes for songs that have both immediate appeal and longevity; the perfect combination in my book."
ARKAIK's Lucid Dawn was engineered, mixed and mastered by Zack Ohren (Suffocation, Fallujah, Wrvth, All Shall Perish et al.) at Sharkbite Studios in Oakland, California and is out now worldwide via Unique Leader Records. Order bundles are currently available at THIS LOCATION.
For ARKAIK coverage contact liz@earsplitcompound.com.
http://www.facebook.com/ArkaikBand
http://www.uniqueleader.com
http://www.facebook.com/UniqueLeaderRecords
http://www.twitter.com/UniqueLeaderRec