Australia's conceptual prog rock/metal outfit, ARCANE, continues to perform across their homeland on the launch circuit for their impending Known/Learned double-album release, set to hit the streets via Sensory Records this Winter.
In 2013, ARCANE sanctioned Sam Vallen (Caligula's Horse) to produce their most massive album to date, a two-part conceptual masterpiece entitled Known/Learned, with sixteen expansive tracks encompassing an immense two hours of music. The first movement, Known delivers a more traditionally-oriented progressive rock performance, and the second, Learned, takes a lighter, more acoustic/folk inspired path, the opuses coalescing one central storyline. The recordings were mastered by Troy Glessner at Spectre Mastering in Seattle, and the album's cover art provided by Chris Stevenson-Mangos. A generous crowd funding campaign supported by passionate fans, organizations and fellow bands helped ARCANE produce Known/Learned, yet as the album was seeing completion, the band crossed paths with New Jersey-based progressive label, The Laser's Edge, who took the album on for worldwide release and distribution upon its recent completion through its Sensory Records entity. A limited run of the album will be dispatched to the loyal funding crowd, while Sensory will release the album on a 2xCD digipak and deluxe digital package worldwide, in North America January 20th and in Europe on February 13th.
ARCANE has released another new single from their new opus, with the nearly eight-minute-long opening track to the Learned half of the album, "Hunter, Heart & Home," streaming now at THIS LOCATION.
The third track from the Known disc, "Instinct," is also playing RIGHT HERE.
The band's ongoing round of album launch shows tied in with the release of Known/Learned concludes this weekend, with the final gig taking place this Saturday, December 13th in Melbourne. Additional tour news for ARCANE will follow shortly.
ARCANE Known/Learned Album Launch:
12/13/2014 The Esplanade Hotel | Gershwin Room – Melbourne
Occupying a unique place in the Australian progressive music scene, ARCANE formed in 2006, and the following year issued their now out of print debut album, Ashes. Since, the band's transcendental live performances have captivated fans across their home country, and their monumental recorded works draw in fans abroad. Their respectable success is largely to their immersive sound, and the vocals of Jim Grey, something that was immaculately portrayed in their 2009-released critically acclaimed, dark and enigmatic concept album Chronicles Of The Waking Dream, an album which has helped earn them an inimitable reputation as one of Australia's premier progressive rock bands. On stage, ARCANE's live show, often accompanied by a backdrop of staggering visualizations, is a vast sensory experience. The band has taken their craft to the maximum, having headlined the annual Progfest tour, providing touring support for Ne Obliviscaris, and performing to capacity crowds at Sonic Forge Festival in Melbourne, and has shared the stage with artists as diverse as Anathema, Soilwork, Queensryche, Dead Letter Circus and hundreds more.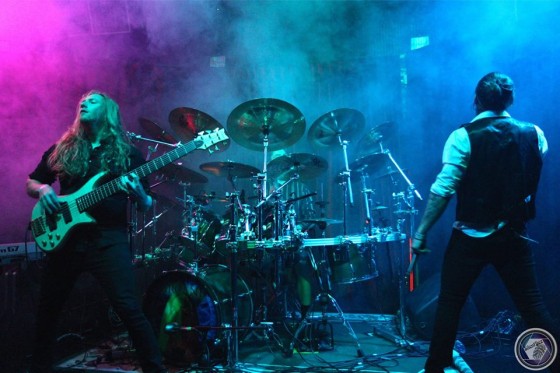 http://www.arcaneaustralia.com
http://www.facebook.com/arcaneaustralia
http://twitter.com/arcaneaustralia