[photo by Andre Loyning]
Norwegian Grammy Award-winning musical experimenters, ÅRABROT, have confirmed the next title in the band's constantly/rapidly growing discography, with the upcoming release of their You Bunch of Idiots EP. The third in a trio of themed EPs the first two having already seen release via Fysisk Format, who now partners with the Eolian Empire for the band's first US release.
ÅRABROT lands stateside with You Bunch of Idiots, a ferocious blast of twisted noise rock. For fourteen years Kjetil Nernes and Co. have fearlessly trudged through the European underground, carving out a sonic territory of sludge, punk, metal, and art rock, all collapsed into something uniquely their own. Wearing perennial outsider status like a badge of honor, ÅRABROT laughs in the faces of the naysayers and proudly towers above them. While drawing from the likes of Dadaism, The Marquis De Sade, and transgressive art might be a recipe for pretentious tripe in the wrong hands, the outfit wraps it up with winks and grins, and — most importantly — rocks the hell out. One of Europe's premiere touring acts, their devastating power live cannot be underestimated, channeling stadium-level theatrics and volume for the underground club set.
ÅRABROT's You Bunch of Idiots is the third in the three-EP series, following Murder As Art and I Modi, the record dropping six tracks of hook-laden noise rock with sludge, industrial, and rock 'n' roll flourishes, through it all spit-flecked spout-offs, hissing fits, and bellowing which draws you in and keeps you there. The EP was recorded and mixed by Milton von Krogh at Djura Missionshus, Djura, Sweden, and Taakeheimen Lydrike, Oslo, Norway, with vocal overdubs recorded by Karin Park at Djura Missionshus, Djura, Sweden, after which the platter was mastered by Jason Ward at Chicago Mastering. The excellent cover art was provided by Norwegian artist Johannes Høie, who has done the art for all three EPs and other ÅRABROT merch and products.
You Bunch of Idiots will see release in North America via Eolian Empire and in Europe via Fysisk Format as a 12″ vinyl EP and all digital outlets on June 16th.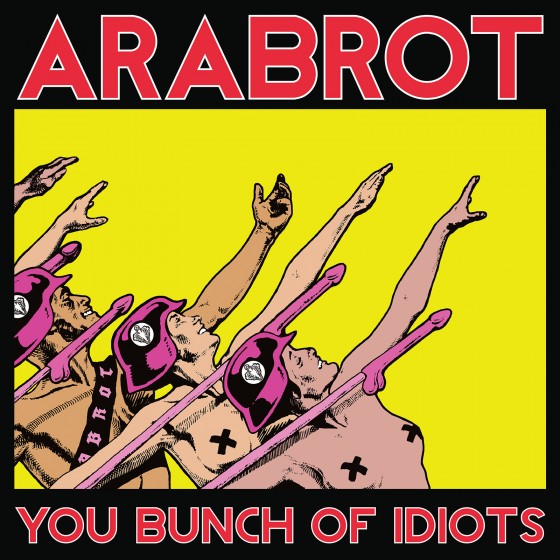 You Bunch of Idiots Track Listing:
1. Cannibal Manifesto
2. Time To Pull The Sticks
3. Celebration
4. Mea Culpa
5. —
6. It's Hot Drop It
The week following the EP's release, ÅRABROT will invade the North American continent no a three-week tour in support of You Bunch of Idiots. The band was slated to tour the West Coast US last year, and unfortunately had to cancel the trek due to main man Kjetil Nernes' bout with cancer. Having beaten the hideous disease, the band will hit the US and Canada with twenty shows confirmed between June 24th and July 19th, with more dates likely to be added. With Dispirit and Lycus also on the Sacramento show, and Pinkish Black on the final five shows, ÅRABROT's support act for the entire tour will be announced in the coming days.
ÅRABROT North American Summer Tour:
6/24/2015 O'brien's Pub – Boston, MA
6/27/2015 Now That's Class – Cleveland, OH
6/29/2015 The Burlington – Chicago, IL
6/30/2015 Fubar – St Louis, MO
7/01/2015 Jackpot Saloon – Lawrence, KS
7/02/2015 Hi Dive – Denver, CO
7/03/2015 Kilby Court – Salt Lake, City, UT
7/04/2015 The Shredder – Boise, ID
7/05/2015 The Highline – Seattle, WA
7/06/2015 The Hindenburg – Vancouver, BC
7/07/2015 Rotture – Portland, OR
7/08/2015 Starlight Lounge – Sacramento, CA w/ Dispirit, Lycus
7/09/2015 SF Eagle – San Francisco, CA
7/12/2015 Lowbrow Palace – El Paso, TX
7/14/2015 Holy Mountain – Austin, TX w/ Pinkish Black
7/15/2015 Siberia – New Orleans, LA w/ Pinkish Black
7/16/2015 The 529 – Atlanta, GA w/ Pinkish Black
7/17/2015 Local 506 – Chapel Hill, NC w/ Pinkish Black
7/18/2015 Strange Matter – Richmond, VA w/ Pinkish Black
7/19/2015 The Studio, Webster Hall – New York, NY w/ Pinkish Black
ÅRABROT is a Norwegian noise-rock band established in 2001, originally from Haugesund. Since the beginning, the outfit's main core has been Kjetil Nernes (songwriter, guitar, vocals), and in recent years, noise artist Stian Skagen (electronics) has been an on-and-off member of the band. They have also collaborated with producers such as Billy Anderson (Melvins, Neurosis), Emil Nikolaisen (Serena-Maneesh) and Steve Albini (Nirvana, Big Black, High On Fire). The first three albums were released on Norway Rat Records before they signed to their current home Fysisk Format with the I Rove EP. In 2009, ÅRABROT was nominated in the metal category of the Norwegian award Spellemannprisen for the release The Brother Seed, which was produced by well-known musician and producer Steve Albini. Following this album, the band spent time playing at unorthodox venues the succeeding years, including live scores at silent film showings ("Faust" from 1926 in Trondheim, "Häxan" from 1922 at Øyafestivalen, "The Cabinet of Dr. Caligari" from 1920 and "Die Nibelungen" from 1924 at Verdensteatret in Tromsø) and did commissioned work for the Henie Onstad Kunstsenter.
Amidst these activities, ÅRABROT produced the exploratory EPs AbsoluteNegativism, I Rove and Mæsscr, two albums under the Nernes Skagen moniker, as well as two full-length albums: The Billy Anderson-produced double album REVENGE and Solar Anus, again featuring Steve Albini as a producer. For Solar Anus, they were nominated and subsequently won the Norwegian Grammy in the metal category. This album saw wide international appraisal, and was described by Drowned in Sound as "…ferocious, funny, colossal, guttural, hopeful and terrifying. It's a tidal wave of noise from few hands. Like its title, it's a contradiction, a dichotomy, a triumph. It shouldn't work, but it does, infinitely well. It's art from the lowest of sods. It's a fucking triumph."
ÅRABROT:
Kjetil Nernes – vocals, EGCs, synths
Milton von Krogh – guitars
Magnus Nymo – drums
Spiritwo – Middle Eastern chants
Lasse Marhaug – noise
Johannes Høie – art
Karin Park – vocals, electric piano, synths
http://arabrot.com
http://facebook.com/arabrotofficial
http://eolianempire.com
http://www.fysiskformat.no
http://www.kulturradet.no
http://tonemgmt.com