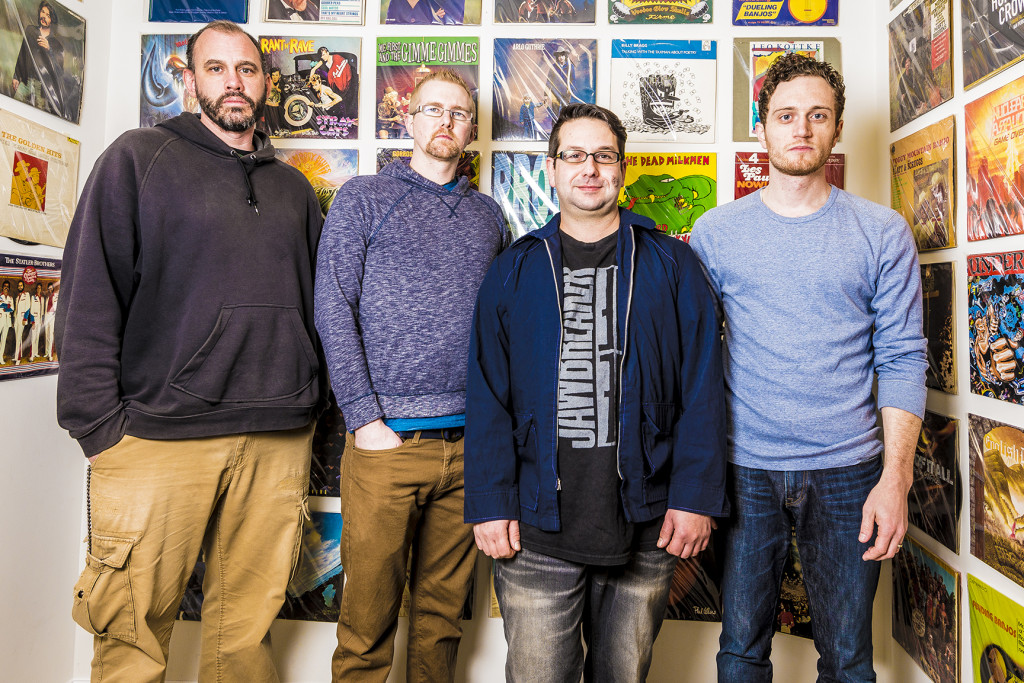 As Bethlehem, Pennsylvania-based ANIQATIA prepares for the release of their sophomore EP, Luminous, through Nefarious Industries in March, the opening track, "February," has seen an early premiere through the operators of Heavy Blog Is Heavy.
ANIQATIA collectively offers of the song, "'February' was chosen as the first single off of Luminous because it takes all the varying dynamics found on the EP and combines them into a roller-coaster of a song. The track contains a little bit of everything that we pride ourselves in as a band and we are eager to share it with everyone. Lyrically, 'February' explores naturalistic themes about the harsh Winter we had last year here in Pennsylvania. Most of the writing for Luminous happened during that very long and frustrating Winter, which gave way to the ominous tones that can be heard on 'February' and throughout the rest of the EP.
The write-up of the track at Heavy Blog Is Heavy alongside the premiere includes, "Bands such as This Town Needs Guns, The World is A Beautiful Place…, and American Football are all some absolutely stellar emo bands that use elements of post-rock in their sound to create something gorgeous. Now, we have a young new band on our hands that go by ANIQATIA…"
Explore ANIQATIA's "February" at Heavy Blog Is Heavy RIGHT HERE.
Luminous will be released digitally on March 11th, 2016 via Nefarious Industries and most digital retailers.
ANIQATIA also continues to book new shows throughout the tristate area surrounding of the release of Luminous, with new shows booked into mid-April and much more in the works.
ANIQATIA Live:
2/21/2016 Black Bear Bar – Brooklyn, NY
2/27/2016 Deep Tanks, Inc. – Staten Island, NY
3/19/2016 Oxford Lounge – Philadelphia, PA
3/24/2016 Club Gravity – Bethlehem, PA
4/12/2016 The Alternative Gallery – Allentown, PA
4/16/2016 Operation Rebuild Nepal Festival – Frackville, PA
Formed in 2013, ANIQATIA (an-uh-kay-dee-uh) recorded their debut EP Erratics, with engineer Vince Ratti (Circa Survive, Balance And Composure, The Wonder Years) releasing it in June 2014 and quickly gained recognition from both critics and fans alike, drawing comparisons to Hum, Explosions In The Sky, Sunny Day Real Estate, and Failure, among others. Luminous builds upon the foundation formed by its predecessor, featuring a more progressive and cohesive sound that is both refreshing and nostalgic at the same time. Recorded and mixed in the Summer of 2015, once again by Ratti, Luminous showcases a hardened and exploratory set of songs propelled by soaring melodic guitar lines and ironclad, thoughtful rhythms. Fans of the aforementioned acts, as well as Nefarious labelmates Maid Myriad, and Opul should keep the EP on their radar.
http://www.facebook.com/aniqatia
http://aniqatia.bandcamp.com
http://www.instagram.com/aniqatia
http://www.facebook.com/NefariousIndustries
http://www.nefariousindustries.com
http://twitter.com/NefariousInd