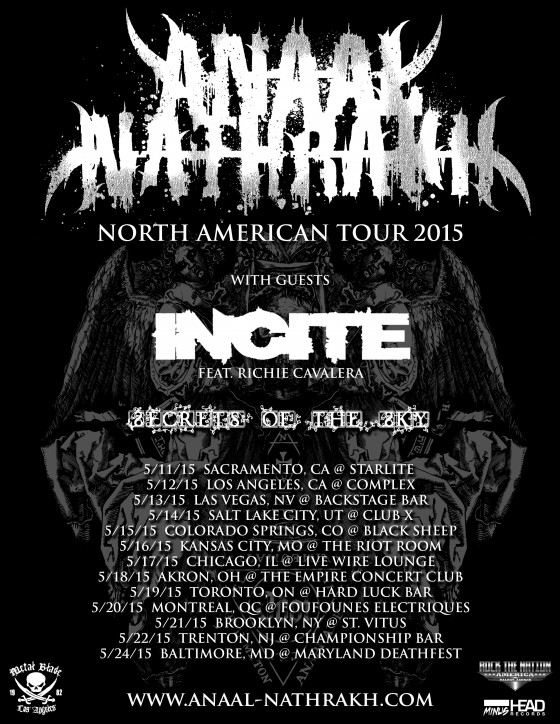 UK-based extreme metal duo, ANAAL NATHRAKH, will wage war on North America later this spring on a long-anticipated stretch of live incursions. Slated to embark on May 11th in Sacramento, the antagonistic twosome will march through a dozen metropolises, with their final massacre to take place at this year's Maryland Death Fest on May 24th. The band will be joined by special guests Incite and label mates, Secrets Of The Sky.
ANAAL NATHRAKH w/ Incite, Secrets Of The Sky
5/11/2015 Starlite – Sacramento, CA
5/12/2015 Complex – Los Angeles, CA
5/13/2015 Backstage Bar – Las Vegas, NV
5/14/2015 Club X – Salt Lake City, UT
5/15/2015 Black Sheep – Colorado Springs, CO
5/16/2015 Riot Room – Kansas City, MO
5/17/2015 Live Wire Lounge – Chicago, IL
5/18/2015 Empire Concert Club – Akron, OH
5/19/2015 Hard Luck Bar – Toronto, ON
5/20/2015 Foufounes – Montreal, QC
5/21/2015 St. Vitus – Brooklyn, NY
5/22/2015 Championship's – Trenton, NJ
5/24/2015 Maryland Death Fest – Baltimore, MD

ANAAL NATHRAKH unleashed their eighth studio offering, Desideratum, via Metal Blade Records last Fall. Christened, "one of the most utterly fearsome and inventive outfits currently operating in the modern extreme metal scene," by Decibel Magazine, and, "impossibly abrasive and brutal," by MetalSucks, ANAAL NATHRAKH – guitarist/bassist/programmer Mick Kenney alongside vocalist David Hunt AKA V.I.T.R.I.O.L. – is the sound of chaos incarnate. Entirely petrifying yet inexplicably inviting, the duo's maniacal musical dexterity, ingenuity and breadth, married with an intensely cynical intelligence is virtually unmatched in the metal world. Reaping mass approvals from media outlets globally, Desideratum takes the meaning of "extreme" to an entirely new realm of audio bedlam. Metal Injection applauds the pair for consistently offering up, "their own special breed of terrifying, mixing up grindcore speediness with giant choruses and riffs that are the audible equivalent of total nuclear annihilation," Noisey boasts of the record, "The snarling vocals of Dave Hunt are the focal point, with the war machine of unrelenting black metal/grind/pseudo-industrial blasts bringing up the rear. ANAAL NATHRAKH's approach is no mercy ever, apparently," while About.com opines, "ANAAL NATHRAKH are mesmerized by chaos, whether it be from incoherent screaming or programmed drums that blur into a mess of seismic beats. Even more intriguing are the melodic components thrown into the chaos, like the occasional soaring chorus line or striking guitar lead."
Desideratum is currently available via Metal Blade Records at metalblade.com/anaalathrakh.
Dark, brooding, pure, eclectic, labelmates SECRETS OF THE SKY will releasedtheir Pathway full-length later this Spring. Boasting thirteen tracks, Pathway features vocalist Garett Gazay fluctuating between monstrous growls and clean, soothing vocal cascades, all the while complimenting the twisted compositions of guitarists Andrew Green and Clayton Bartholomew. Bassist Ryan Healy and drummer Lance Lea round out the lineup, their rhythms and distinctive voices adding further depth to the collective's meticulous, blackened soundscrapes. Sonically, SECRETS OF THE SKY aimed for a massive, clean, and organic sounding production. Much time was invested in obtaining huge drum sounds and the focus was on single performance takes throughout the process. The result is an ambitious foray into conceptual storytelling, coupled with emotional music full of peaks and valleys. This is a metal record, to be sure, but more importantly, it sounds like an album of music. This is not a random sequencing of songs or a search for a "hit" single; the tracks all have their place in the story, and the cuts in between actually drive the narrative through sound effects and ambiance. SECRETS OF THE SKY's Pathway is an experience to be had, as well as a record to merely be heard.

Pathway is available for pre-order now at metalblade.com/secretsofthesky.
http://www.anaal-nathrakh.com
http://www.facebook.com/Anaalnathrakhofficial
http://www.twitter.com/ANOfficial
http://www.facebook.com/secretsofthesky
http://www.twitter.com/secretsofthesky