AN EVENING REDNESS will release their stunning self-titled debut full-length on February 25th via Transylvanian Recordings.
AN EVENING REDNESS is parched desert drone doom and the sound of thunder over the mountains. Evoking the hallucinatory clarity of the alkali plains and the biblical violence of its literary namesake, the collective bursts from obscurity with a fusion of sounds that seem incompatible on paper but prove blindingly innovative in action.
Deeply introspective and evoking hallucinatory darkness, AN EVENING REDNESS' self-titled debut is the newest release from Brandon Elkins. Composed, arranged, and produced by Elkins, the offering is a masterwork of diverse ambient doom and post-ambient composition, with the minimalism of Earth contrasted with passages that wouldn't feel out of place on Jesu's Opiate Sun. An ensemble of musical talents including vocalist Bridget Bellavia (BLKTXXTH, Piggy Black Cross), guest soloist Brendan Sloan (Convulsing), and session drummer Ryan Jewell (Riley Walker and many others) serve to underscore the drama and focused production contained within the album's six tracks.
What ties the whole album together is an atmosphere that feels spiritually closer to a film score than what you'd expect from a solo record. Notes Elkins, "I wanted to make music that sounds like how Blood Meridian reads. Lonely, high plains insanity, sudden bursts of violence, longing melodies, ambient isolation." Elkins' work has always been hard to pin down, but this feels like a culmination of not only the best elements of his many projects – but the compositional mastery that can only come from decades of refined craft. With the intensity of modern doom masters like Bell Witch and the emotional and musical dexterity of Neko Case at peak powers.
In advance of the record's release, today the band unveils their first single "Mesa Skyline," now playing at Invisible Oranges. Notes Elkins of the track, "'Mesa Skyline' begins the tale: a lonesome man sat down next to a withering fire, out among the salt and sage of the Western desert, waiting to die. He sleeps, but instead of the death he longs for, he awakens into a world of biblical violence and a blazing storm of hallucinatory revelation on the horizon."
Writes Invisible Oranges, "Taking notes from author Cormac McCarthy's lauded Blood Meridian, Or The Evening Redness In The West, Elkins and Bellavia's performances take this idea of the dry, harsh deserts found in the American Southwest and transmutes it into a lush landscape, full of life which is just out of reach. We fly over this idea of desert verdance together, an oasis behind a pillar of compacted red sand too far away to comprehend but just close enough to understand. Though superficial comparisons to micro-genre heroes Earth can be made, AN EVENING REDNESS' take on Americana drone is much more complex and song-oriented when placed side-by-side to Dylan Carlson and Adrienne Davies' long-standing band. Whereas Earth concentrates on desolation and picturesque landscapes, AN EVENING REDNESS' vivid approach offers a human element to the desert, if just to express a much more arresting vastness.
An Evening Redness will be released on CD, vinyl, and digital formats. Find preorders at THIS LOCATION.
An Evening Redness Track Listing:
Alkali
Mesa Skyline
Winter, 1847
The Judge
Pariah
Black Flame At The Edge Of The Desert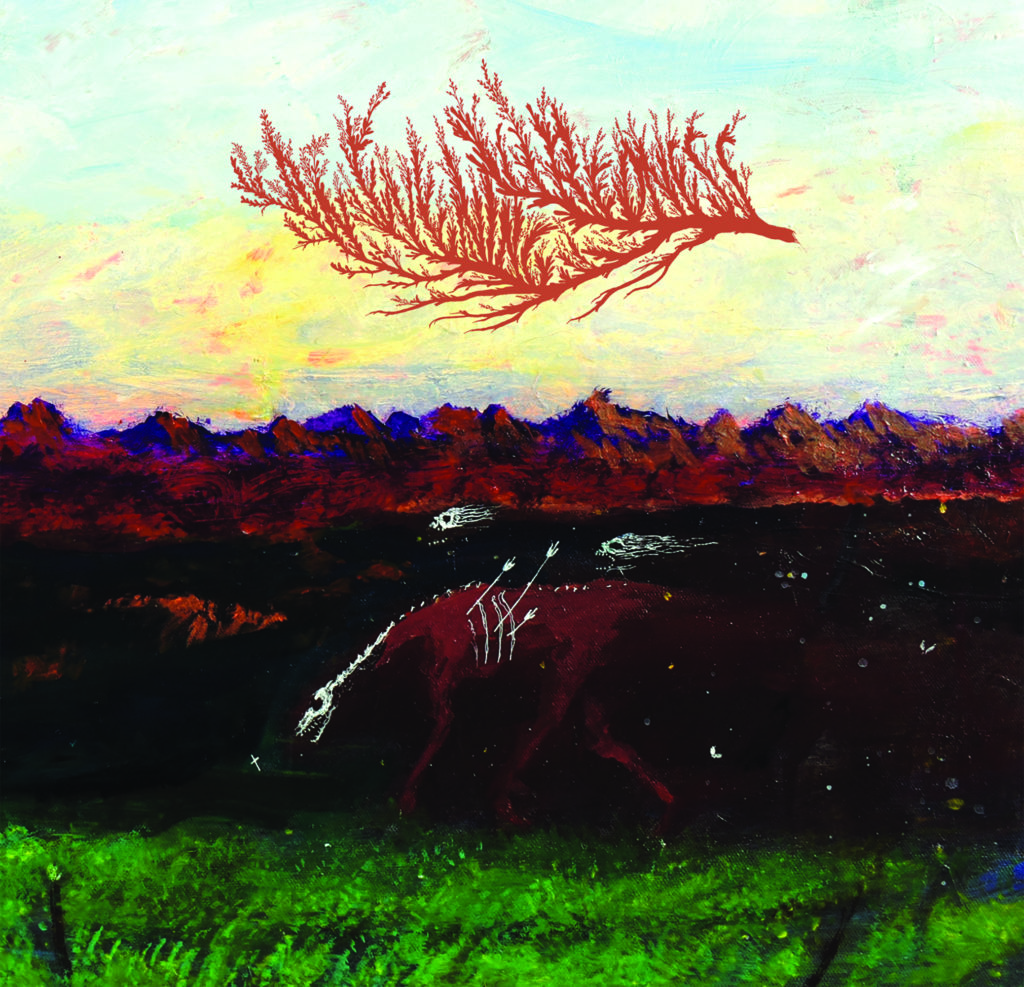 http://twitter.com/alkalidweller
http://www.facebook.com/TransylvanianRecordings
http://www.instagam.com/transylvanianrecordings
http://www.transylvaniantapes.bandcamp.com