Tomorrow, April 7th, AMON AMARTH will kick off their headlining North American tour with fellow Swedes Entombed A.D. and young USA metal upstarts Exmortus. Set to run through May 21st, tickets are available now at amonamarth.com. See below for all confirmed dates.
AMON AMARTH have been steadily gathering strength and fans over the years, culminating with the stunning performance of the new album Jomsviking on global sales charts this week:
Germany: #1
Austria: #1
Switzerland: #3
Canada: #4
Finland: #4
Sweden: #5
USA Current Album Chart: #11
Australia: #15
USA Billboard Top 200: #19
Belgium: #25
UK: #30
France: #33
Netherlands: #35
Jomsviking – the band's first concept record in their storied career – tells a tragic, original tale of conflict and revenge, backed by the Swedes' trademark melodic, anthemic metal, which was produced and mixed once again by Andy Sneap (Megadeth, Testament, Accept). To purchase and preview Jomsviking, please visit amonamarth.com, where the album is available in various formats, and the videos for "At Dawn's First Light" and "First Kill" can be viewed.
AMON AMARTH w/ Entombed A.D., Exmortus:
4/07/2016 House Of Blues – San Diego, CA
4/08/2016 The Pressroom – Phoenix, AZ
4/09/2016 Tricky Falls – El Paso, TX
4/10/2016 Sunshine Theater – Albuquerque, NM
4/12/2016 House Of Blues – Dallas, TX
4/13/2016 The Aztec Theater – San Antonio, TX
4/15/2016 House Of Blues – Houston, TX
4/16/2016 House Of Blues – New Orleans, LA
4/17/2016 Tabernacle – Atlanta, GA
4/18/2016 The Ritz – Tampa, FL
4/20/2016 The Fillmore – Charlotte, NC
4/21/2016 The Fillmore – Silver Spring, MD
4/22/2016 Best Buy Theatre – New York, NY
4/23/2016 House Of Blues – Boston, MA
4/25/2016 Water Street Music Hall – Rochester, NY
4/26/2016 Higher Ground – Burlington, VT
4/28/2016 Imperial – Quebec City, QC
4/29/2016 Metropolis – Montreal, QC
4/30/2016 The Danforth – Toronto, ON
5/01/2016 House Of Blues – Cleveland, OH
5/02/2016 St. Andrews – Detroit, MI
5/04/2016 The Pageant – St. Louis, MO
5/05/2016 The Riviera Theatre – Chicago, IL
5/06/2016 The Granada Theater – Lawrence, KS
5/07/2016 The Ogden Theater – Denver, CO
5/09/2016 Sokol Auditorium – Omaha, NE
5/10/2016 Varsity Theater – Minneapolis, MN
5/12/2016 The Garrick Winnipeg, MB
5/13/2016 O'Brian's Event Centre – Saskatoon, SK
5/14/2016 MacEwan Ballroom – Calgary, AB
5/16/2016 The Commodore – Vancouver, BC
5/17/2016 Showbox Market – Seattle, WA
5/18/2016 Roseland Theater – Portland, OR
5/20/2016 The Warfield – San Francisco, CA
5/21/2016 The Wiltern Theater – Los Angeles, CA
"'Jomsviking' is sure to satisfy AMON AMARTH fans old and new and sure to rip the face off of any who are not ready. 4.5/5″ – Metal Sucks
"This latest venture through Norse mythology and barbaric fantasy is likely to go down as an instant fan favorite.8.5/10" – Blabbermouth
"…the Swedish outfit has returned with a concept record of epic proportions." – Pop Matters
"After all the best axes are still being forged by the master!" – Metal Hammer (Germany)
"…you are left with no doubt that AMON AMARTH are at the top of their game right now. This is splendid. 9/10″ – Powerplay (UK)
"…this is killer business as usual…" – Metal Hammer (UK)
"This album is a genuinely impressive piece of work. Whether you like Vikings or not, this is a brilliant death metal record from a brilliant death metal band. 8/10" – Musicology (UK)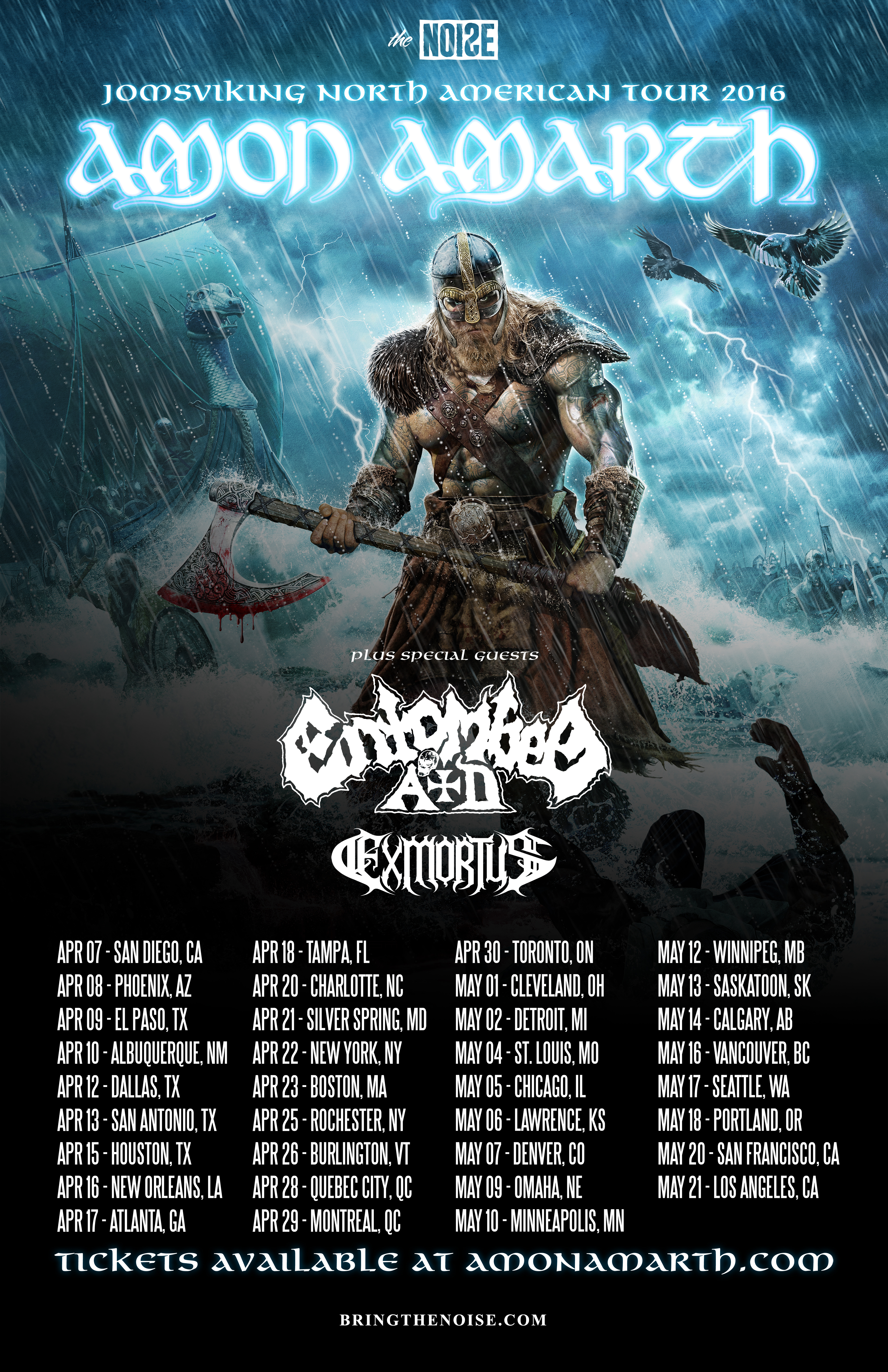 http://www.amonamarth.com
http://www.facebook.com/OfficialAmonAmarth
http://www.twitter.com/amonamarthband
http://www.metalblade.com/amonamarth