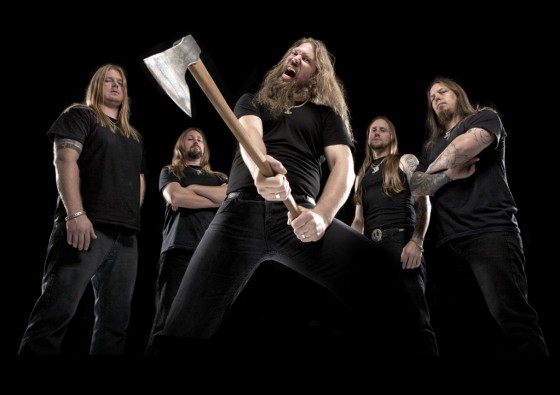 Today, popular horror site Bloody Disgusting streams AMON AMARTH's long-anticipated full-length, Surtur Rising, in its entirety! Scheduled for North American release via Metal Blade on March 29, 2011, the record, which was voted among Decibel Magazine's most anticipated albums of 2011, marks the eighth studio offering from the melodic death metal tyrants. The stream will go live at 11:59pm EST on March 25, 2011 and ends at 11:59pm EST on March 28, 2011.
Noted Decibel of the record: "it's a pleasure to learn one of metal's most consistent bands remains as indefatigable as ever." Stereokiller commended the production stating: "Johan Hegg's vocals continue to be one of the bands strongest points, captivating the listener with clearly enunciated, yet gruff and powerful vocals," while Metal Assault commended the band for "an album that has enormous aggression, entrancing melody and everything in between… the band's most well-rounded and musically richest album to date." Added L.A. Music Blog, "Surtur Rising is the epitome of what death metal should be: ferocious and crushing…possibly the band's best work to date."
To check out Surtur Rising, point your browser HERE at midnight.
Pre-order packages for Surtur Rising are still available at tha band's official landing page: http://www.SurturRising.com.
Coinciding with the record release, AMON AMARTH will make their way to the U.S. for a near two-week stretch of live dates. Simply dubbed "An Evening With AMON AMARTH," this very special trek will find the band performing two separate sets each night, one which will feature Surtur Rising in its entirety while the other will boast a collection of songs from the band's previous releases. The Viking-inspired festivities will commence on April 14 in Chicago, Illinois. Confirmed dates below:
An Evening With AMON AMARTH
4/14/2011 The Bottom Lounge – Chicago, IL
4/15/2011 Station 4 – Saint Paul, MN
4/16/2011 Granada Theater – Lawrence, KS
4/17/2011 The Summit Music Hall – Denver, CO
4/19/2011 Wonder Ballroom – Portland, OR
4/20/2011 Showbox Sodo – Seattle, WA
4/22/2011 The Regency – San Francisco, CA
4/23/2011 Ace Of Spades – Sacramento, CA
4/24/2011 House of Blues – West Hollywood, CA
4/25/2011 Nile Theatre – Mesa, AZ
4/27/2011 White Rabbit – San Antonio, TX
4/29/2011 Culture Room – Fort Lauderdale, FL
4/30/2011 Beacham Theatre – Orlando, FL
5/01/2011 Masquerade – Atlanta, GA
5/02/2011 Jaxx – Springfield, VA
5/03/2011 Peabody's – Cleveland, OH
5/05/2011 Best Buy Theater – New York, NY
5/06/2011 Theatre Of Living Arts – Philadelphia, PA
5/07/2011 Paradise Rock Club – Boston, MA
Tickets are on sale now through all local ticket outlets.
http://www.surturrising.com
http://www.facebook.com/OfficialAmonAmarth
http://www.myspace.com/amonamarth
http://www.amonamarth.com
http://twitter.com/amonamarthband