AMENRA today confirms that they will make a rare appearance in the UK to perform a one-off show with Cult Of Luna in London on Tuesday, January 22nd, amidst an already incredible tour itinerary already locked down for the rest of 2012 and well into 2013. On these pending live rituals the band will be performing songs from across their prolific canon and especially their thunderous new album Mass V which was released via Neurot Recordings just last week.
Mass V was crowned Revolver Magazine's "Album of the Week" via a fan-fed vote this week, beating out Steven Adler, Rage Against The Machine and others!
Fans can witness AMENRA's newest and most vibrantly crushing material yet firsthand via a full stream of the entire Mass V album RIGHT HERE.
"Mass V, as it vacillates between gently fingering silken tones and sumptuous textures to tearing down sonic walls in a fit of raw, anguished destruction, is an extraordinary effort. It's a record at once subtle, intellectual and completely venomous. 4.5/5" – About.com
"Ethereal hardcore/sludge band Amenra touches on black metal, gothic folk and post-rock in the most organic of ways." – BrooklynVegan
"…an insurmountable peak of despair, and amongst the horror, enlightenment. Mass V was the sound of this tribe of Neurot finally marching defiantly beside those who have journeyed through silver in blood before them." – PopMatters
"Amenra's unfiltered style of organic sludge and doom metal has been a remarkable body of work to experience over the years. Thirteen years after their inception and the group is still releasing emotionally shattering bodies of work that rise out of the ashes of very specific times and places." – sound Colour Vibration
"…an utterly brilliant album that not only stands as Amenra's finest work, but that undoubtedly would (and probably does) make Scott Kelly, Steve Von Till, and Co. proud to have these fine young Belgians on their roster. 5/5" – Sputnik Music
"…a dynamically powerful return-to-form for Amerna." – Ultimate Guitar
"…while harping on the similarities between the band and Neurosis' bleaker material may seem to imply a dearth of creativity, it really is just the opposite with Amenra. This is an example of a band that has taken inspiration from a seminal act and refined it into their own vision, building on top of the existing foundations to provide something both familiar and new… 9/10" – Axis of Metal
"When it comes to modern sludge and post-metal, these guys still reign supreme in their craft." – Don't Count On It Reviews
"As one of Neurot Recordings new signings, Amenra finally gets the chance to showcase their intense and devastating music. 90/100" – Infernal Masquerade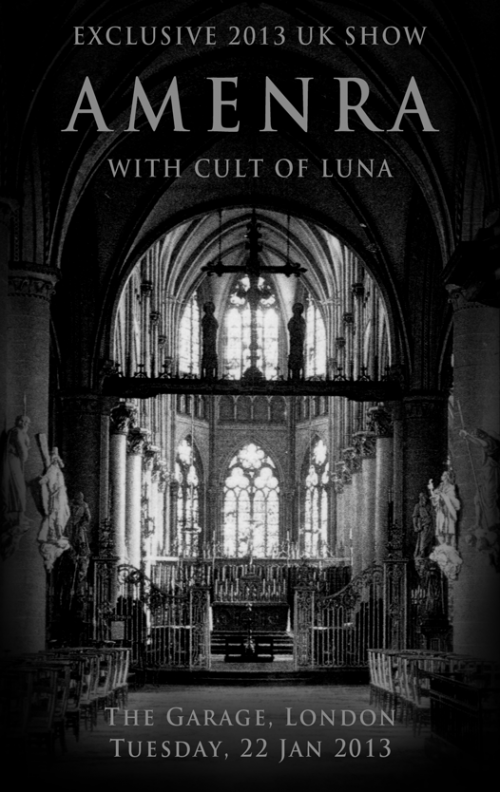 AMENRA Live Rituals:
12/22/2012 Ancienne Belgique – Brussels, Belgium *record release show w/ Oathbreaker, TBHR, Scott Kelly [info]
1/11/2013 Machinefabriek – Groningen, Netherlands @ Eurosonic Festival
1/22/2013 The Garage – London, England w/ Cult of Luna
2/10/2013 De Kreun – Kortrijk, Belgium [info] w/ Eleanora
2/16/2013 Perron – Ieper, Belgium @ Winterfest
2/22/2013 Burgerweeshuis – Deventer, Netherlands w/ TBHR
2/24/2013 Mod – Hasselt, Belgium w/ Hessian
4/19/2013 Patronaat Church – Tilburg, Netherlands @ Roadburn Festival [info]
European Tour 2013:
4/25/2013 Glazart – Paris, France w/ TBHR
4/26/2013 Epicerie Moderne – Lyon, France
4/27/2013 Boulevard Rock Club – Misano Adriatico (RN), Italy
4/28/2013 Traffic live club – Roma, Italy
4/29/2013 Lo Fi club – Milano, Italy
4/30/2013 Gaswerk – Winterthur, Switzerland
5/01/2013 Arena – Wenen, Austria
5/02/2013 Feierwerk – Munchen, Germany
5/03/2013 Conne Island – Leipzig, Germany w/ Syndrome
5/04/2013 Klub Firlej – Wroclaw, Poland @ Asymmetry Festival
5/05/2013 Bi Nuu – Berlin, Germany
5/26/2012 Stuk – Leuven, Belgium w/ Oathbreaker
http://www.churchofra.com
http://www.ritualofra.com
http://www.facebook.com/churchofra
http://www.neurotrecordings.com
http://www.facebook.com/neurotrecordings