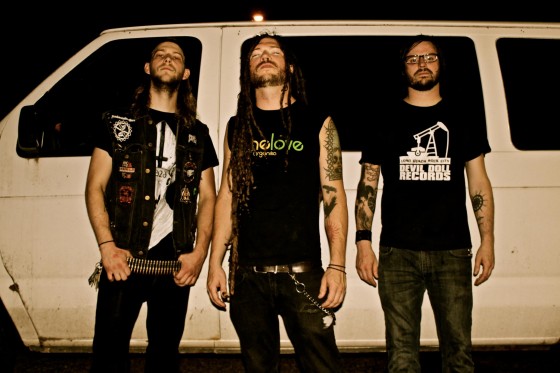 Minneapolis blastmerchants AMBASSADOR GUN checked in from amidst their ongoing tour this week, while doing some bodywork on their van outside of a Wal-Mart. It turns out that their allies in Blue Ox had to bail from the tour at the last minute as one of the members nearly disengaged his entire leg in a brutal chainsaw accident! But automotive setbacks and chainsaw'd tourmates aside, AMBASSADOR GUN will forge on for the remaining seven dates of the trek, with a vicious showdown in Reno confirmed for tomorrow evening. "Fuckin way of the road, one cluster fuck after another" they stated. "At least the shows have been good!"
Check out AG in full-on tour effect via their new self-filmed video for "Wounded Knee," the opening track from their new album Golden Eagle, and also jam the album's second track "Christbastard" in your ears via the AMBASSADOR GUN Bandcamp Page.
AMBASSADOR GUN June 2012 [remaining dates]:
6/21/2012 Ryan's Saloon – Reno, NV
6/23/2012 Jose's Underground – Monterey, CA
6/24/2012 Vlad The Retailer's – Los Angeles, CA
6/25/2012 ESJ – Las Vegas, NV [BYOB/keg]
6/27/2012 Carnahand's – Carbondale, CO
6/28/2012 Blast-O-Mat – Denver, CO
6/29/2012 The Waiting Room – Omaha, NE
Their first full-length since their 2009-released When In Hell album, Golden Eagle shows AMBASSADOR GUN as always bridging all gaps subdividing extreme punk/metal genres into a crushing, crusty punk-as-fuck grind-infused amalgamation of revulsion. Here the trio cranks out 11 new songs 30 minutes, the album prevailing as a new DIY standard for the band, fully produced, recorded, and released by the members themselves. Golden Eagle is out now on cassette and digital download via the band's self-operated label Pangea Media now.
http://www.facebook.com/ambassadorgunmpls
http://ambassadorgun.bandcamp.com
http://ambassadorgun.bigcartel.com