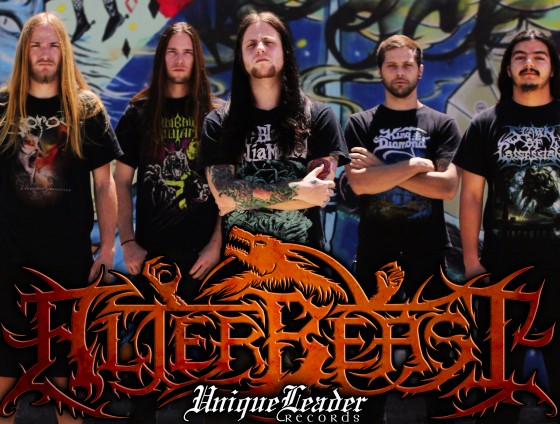 Sacramento technical death metal legion ALTERBEAST is pleased to announce their union with Unique Leader Records.
Formed in 2011 under the working title Gary Busey Amber Alert (GBAA), ALTERBEAST combines influences from the likes of The Black Dahlia Murder, Necrophagist and Spawn of Possession with numerous classic death metal acts like Dissection and Morbid Angel into an infuriated expulsion of animosity. After a year of dedicated song-crafting, ALTERBEAST unleashed their first demo in 2012 and played countless shows opening for Deicide, Dying Fetus, Testament, Revocation, Exhumed, Severed Savior and many others. Their crushing live assaults combined with a DIY ethos quickly earned them a revered place within the local death metal community.
Earlier this year, ALTERBEAST entered Augmented Audio at Sound Temple Studios to record their debut. Titled Immortal, the record was engineered by former The Black Dahlia Murder bassist Ryan "Bart" Williams. The band later enlisted Gabe Seeber (The Kennedy Veil) to the drum stool, returned to the studio – this time at Oakland's Castle Ultimate with engineer Zack Ohren (Light This City, All Shall Perish, First Blood, Cattle Decapitation, Warbringer et al) — to record drums, mix and master the album.
Slated for release in early 2014 via Unique Leader, Immortal will feature eight tracks of brutal, uncompromising death metal mastery. Check out the band's personal signing announcement below.
Further ALTERBEAST developments to be announced in the coming weeks. Stay tuned.
https://www.facebook.com/ALTERBEASTofficial
http://www.youtube.com/ALTERBEASTofficial
http://uniqueleader.com