Extreme underground label Nameless Grave Records presents a physical pressing of Obscure & Obscene Gods, the latest brutalizing album by New Jersey death metal entity, ALTAR OF GORE.
ALTAR OF GORE makes a cruel and immediate statement with its long-awaited debut Obscure & Obscene Gods. Picking up where the demo left off, ALTAR OF GORE unleashes a six-track long-play of psychotic and primal metal to celebrate death. The deep tones and rhythmic deluge of the album is created by one Acolyte Of The Foul Ones, who provides virtually all instruments and vocals to the record, with lead guitars provided by Joe Aversario (Siege Column, Abazagorath). The music was recorded in early 2019 in the bowels of the Dungeon With No End, and the vocals and effects recorded by TG in late 2019 at the Eltannin Observatory. The record was mixed by Aversario, mastered by TG, and is completed with cover art by Taylor Smith (Coven 'Zine).
ALTAR OF GORE's Obscure & Obscene Gods is streaming in its gorestrewn entirety RIGHT HERE.
Following its digital and cassette release early this year, Obscure & Obscene Gods today sees an official CD pressing through Nameless Grave Records, available at the label webshop HERE and Bandcamp HERE.
ALTAR OF GORE was founded by the Acolyte Of The Foul Ones in 2017. Fed up with the metal underground's then-obsession with occultism, occult symbolism, and occult spirituality, the Acolyte sought to approach these themes from the profane world of flesh, blood, and bone rather than the lofty spiritual world. Musically, this was accomplished by channeling the primal energies of early Profanatica, Beherit, Demoncy, Impetigo, and Proclamation. The lyrics, heavily inspired by the deep worlds built in epic fantasy series such as the Malazan Book of the Fallen and the Black Company, detail the rites and practices of an obscure cult that practices human sacrifice for divination and power. The project debuted on New Jersey Metal Attack Vol. 2, one of the annual compilations released by Nihil Verum Nisi Mors, the collective that ALTAR OF GORE remains a part of to this day. The project's eponymous demo was recorded shortly thereafter and released the following year on NVNM Productions.
2019 brought an opportunity to take the project to the stage. The Acolyte called upon close allies Joe Aversario and SSK of Siege Column to take up guitar duties, and Warhead of Abazagorath and Blasphematory to handle drums, and the band played its first and only show with Cerebral Rot and Fetid in Brooklyn. Concurrent with preparations for the gig was the recording of the project's debut album Obscure & Obscene Gods, which was released in February of 2020 on cassette tape by NVNM Productions. Since then, the Acolyte has been at work crafting the next album, and endlessly contemplating the obscene images observed in the trance of the Vision of Blood…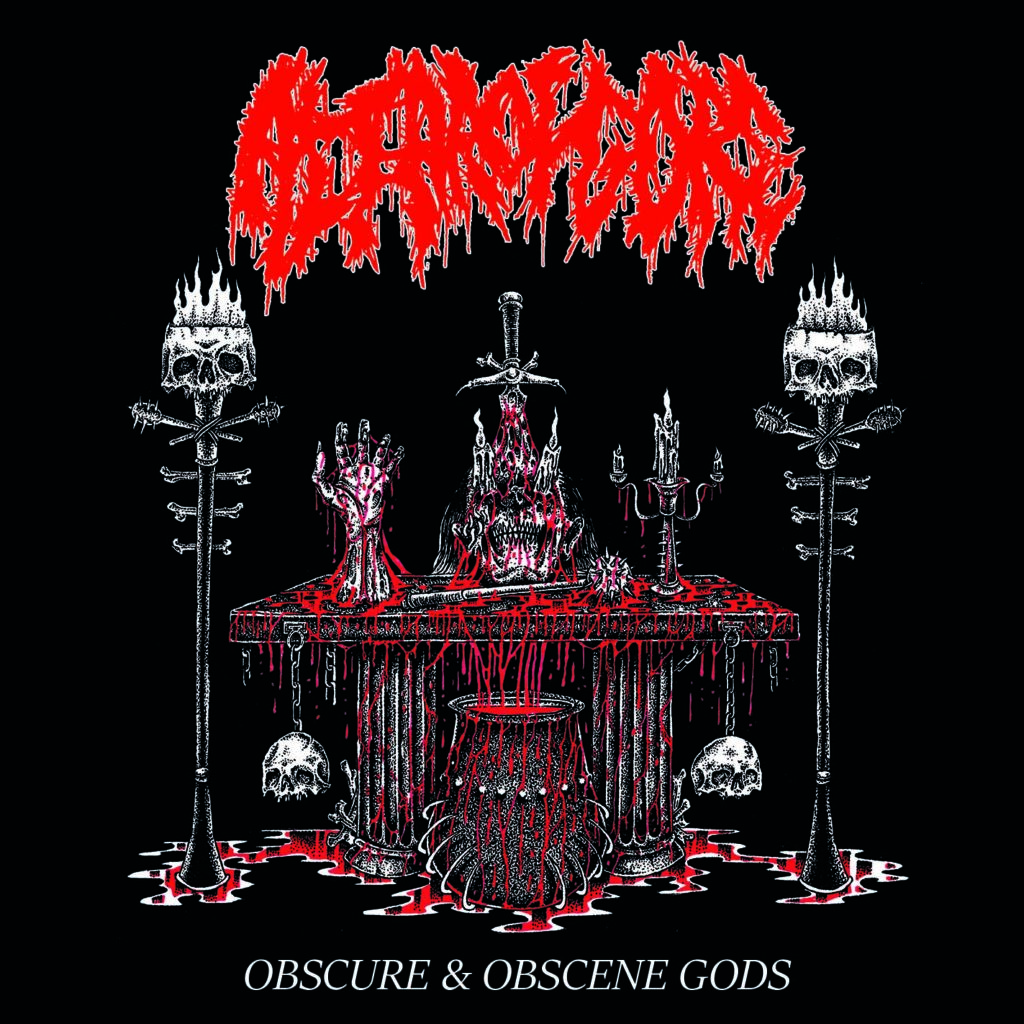 https://altarofgore.bandcamp.com
https://www.facebook.com/NVNMprod
https://www.facebook.com/NamelessGraveRecords
https://www.instagram.com/namelessgraverecords