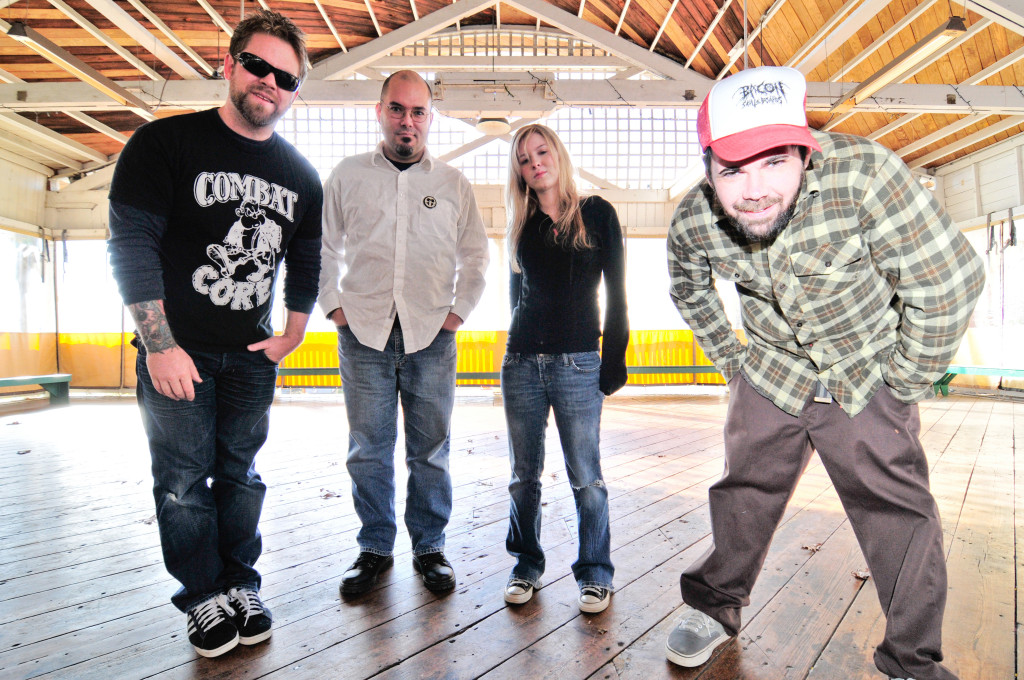 Infamous extreme metal instigators AGORAPHOBIC NOSEBLEED have returned with the first in a series of four EPs designed to decimate your total being. Led by the distinctive howl of vocalist Kat Katz, AGORAPHOBIC NOSEBLEED has unleashed a crushing, three-song onslaught of misanthropic, musical violence. Simply titled Arc, the over twenty-five-minute long sludge-fueled feast finds AGORAPHOBIC NOSEBLEED sounding heavier, doomier and more destructive than ever before. Believe it. Each EP in the series will represent the musical influences and tastes of each member. Details on the others will be revealed at a later date. Arc will be officially unveiled on January 22nd, 2016
Check out the Arc trailer at THIS LOCATION.
Arc Track Listing:
1. Not A Daughter
2. Deathbed
3. Gnaw
In related news and in conjunction with the release of Arc, both AGORAPHOBIC NOSEBLEED's Frozen Corpse Stuffed With Dope and Altered States Of America full-lengths will be available on vinyl for the first time in over a decade.
Sample the trailer at THIS LOCATION.
An overwhelming, concentrated outpouring of perceptual stimuli, AGORAPHOBIC NOSEBLEED's second full-length, the 2002-issued Frozen Corpse Stuffed With Dope, referenced the glory days of early '00s grindcore while disregarding the genre's current ideals, becoming one of the most talked-about grindcore records in recent history. The album and band were featured in numerous high-profile media outlets such as Alternative Press, Kerrang!, CMJ and dozens more. Perhaps Frozen Corpse's best description came from vocalist J. Randall who surmised, "Frozen Corpse Stuffed With Dope is like ripping through back catalog Earache blastbeat shit armed with a submachine gun at 400 rounds per minute."
While the fires left burning in Frozen Corpse's wake were still smoldering, AGORAPHOBIC set to work on a concept so bizarre, no one would believe it. With a focused mindset, and a plethora of mind-confounding ideas, the band wrote and recorded Altered States Of America, a 100-track three-CD set. Initially released on April Fools Day, 2003, Altered States Of America delivered the most ambitious AGORAPHOBIC NOSEBLEED yet: completely inhuman music with a consummate disregard for its listener. Round after round, clip after clip, AGORAPHOBIC NOSEBLEED unloaded an arsenal of stupefying guitar work, experimental noise and drum machine-gun blast beats while swarming vocalists hatefully taunted the listener into the crossfire. Kerrang! called the mini-CD, "disorientating, hallucinatory, utterly deranged and a truly fantastic work of musical extremity." Initially released as a 10″, Altered States Of America will receive the 12″ treatment for the first time ever.
Arc, along with the vinyl editions of Frozen Corpse Stuffed With Dope and Altered States Of Americam will be available on January 22nd, 2016. Physical preorders are available now RIGHT HERE. Desirers of the digitals, please visit THIS LOCATION.
https://www.facebook.com/AgoraphobicNosebleed
http://www.relapse.com
http://www.relapserecords.bandcamp.com
http://www.facebook.com/RelapseRecords