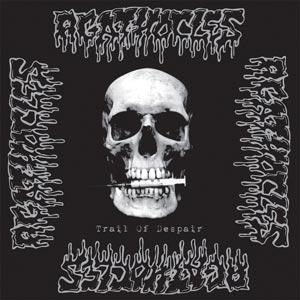 Selfmadegod Records is proud to announce a split 7″ EP between two long running metal veterans: AGATHOCLES from Belgium and NUNSLAUGHTER from The United States.
The EP includes three recently recorded songs from Belgium's mincecore kings ("Trail Of Despair," "Nazional Sozial(ist) Security," "Flanders' Little Cesspool") and two from the Ohio's death metal behemoth ("To Sin Again," "Your Soul Belongs To Me"). 100 copies are available on black/white/grey marbled vinyl and the remaining 400 on the standard black wax. You can order your copy at the following location at Selfmadegod Records' online store.
Both AGATHOCLES and NUNSLAUGHTER have been around for well over 20 years and have released hundreds of similar splits, although this is the first time both bands share a recording.
http://www.selfmadegod.com
http://myspace.com/selfmadegodrecords
http://www.facebook.com/pages/Selfmadegod-Records/194753313889327