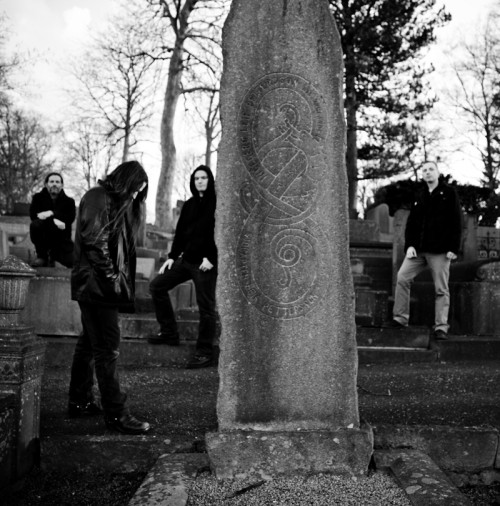 "We fumed and screamed in our mountain nook, mad drunken Americans in the mighty land. We were on the roof of America and all we could do was yell, I guess–across the night, eastward over the Plains…" – Jack Kerouac, On the Road
Portland musical enigmas AGALLOCH are pleased to announce a month-long bout of live performances this Summer. Slated to commence with a hometown show July 11, the tour will include a nightly rotating set list featuring both new and early material with stage times anticipated to be between 90 – 120 minutes. The band will be joined by TAURUS featuring Stevie Floyd of Dark Castle and Ashley Spungin (formerly of Purple Rhinestone Eagle) as well as various local openers throughout the journey, all hand-selected by members of AGALLOCH. Comments the band in a collective statement: "We are excited by TAURUS' experimental and challenging music and feel they are a perfect fit for us. We have carefully selected local openers whose music fits the environment of an AGALLOCH show. Where there are no openers selected, we will play nearly 120 minutes. We are all personal fans of the openers and encourage everyone to show up early to see them."
This tour will also mark the release of AGALLOCH's recently recorded EP Faustian Echoes, a mammoth twenty-minute epic released through the band's own imprint, Dammerung Arts. This EP was recorded at Jackpot Studio in Portland, Oregon with acclaimed engineer Billy Anderson (Melvins, Sleep, Neurosis) at the helm. It was mixed by Anderson and mastered by Justin Weis (Ludicra, Hammers Of Misfortune) at Trakworx in San Francisco.
Though stream and digital download options will be available in the coming weeks, the LP and CD versions will only be available at the shows during the dates on the tour and will be available via mailorder after the tour.
AGALLOCH Summer Tour 2012 w/ Taurus:
7/11/2012 Branx – Portland, OR w/ Eight Bells [TICKETS]
7/12/2012 The Crocodile – Seattle, WA w/ Eight Bells [TICKETS]
7/13/2012 The Rickshaw – Vancouver, BC w/ Eight Bells [TICKETS]
7/14/2012 The A Club – Spokane, WA w/Eight Bells [TICKETS]
7/16/2012 Zebra – Bozeman, MT [TICKETS]
7/17/2012 Bluebird Theater – Denver, CO [TICKETS]
7/18/2012 Waiting Room – Omaha, NE [TICKETS]
7/19/2012 Miramar Theater – Milwaukee, WI [TICKETS]
7/20/2012 Reggie's – Chicago, IL [TICKETS]
7/21/2012 Blind Pig – Ann Arbor, MI w/Musk Ox [TICKETS]
7/22/2012 Beachland Ballroom – Cleveland, OH [TICKETS]
7/23/2012 Opera House – Toronto, ON w/ Musk Ox [TICKETS]
7/24/2012 Petit Campus – Montreal, QC w/ Musk Ox [TICKETS]
7/25/2012 Middle East – Boston, MA [TICKETS]
7/26/2012 Williamsburg Music Hall – Brooklyn, NY w/ Musk Ox [TICKETS]
7/27/2012 Underground Arts – Philadelphia, PA [TICKETS]
7/28/2012 Empire – Springfield, VA [TICKETS]
7/29/2012 King's Barcade – Raleigh, NC [TICKETS]
7/31/2012 Orpheum – Tampa, FL [TICKETS]
8/01/2012 The Earl – Atlanta, GA [TICKETS]
8/02/2012 Bottletree – Birmingham, AL w/ Pallbearer [TICKETS]
8/03/2012 One Eyed Jack's – New Orleans, LA w/ Pallbearer [TICKETS]
8/04/2012 La Grange – Dallas, TX at w/Maleveller [TICKETS]
8/05/2012 Red 7 – Austin, TX [TICKETS]
8/08/2012 The Rhythm Room – Phoenix, AZ [TICKETS]
8/09/2012 The Casbah – San Diego, CA w/ Author & Punisher [TICKETS]
8/10/2012 Echoplex – Los Angeles, CA w/Oskoreien [TICKETS]
8/11/2012 Great American Music Hall – San Francisco, CA [TICKETS]

For sixteen years the Pacific Northwest group AGALLOCH has defined what it means to combine influences from a variety of musical genres into one brooding, colossal, and cinematic sound that provides the soundtrack to existential themes concerning man, nature, loss, and death. It has been said that AGALLOCH is to heavy metal what Ingmar Bergman is to cinema.
After two demo releases in the late '90s the band released three full-length albums: Pale Folklore (1999), The Mantle (2002), and Ashes Against The Grain (2006). The Mantle has since been heralded as a classic for having been one of the first albums to combine elements from black metal, neo-folk, progressive rock, post-rock, and ambient music. The influence of this record can be seen in many so-called "post-black metal" bands today.
In 2008 AGALLOCH began re-releasing their demos, B-sides, and EPs under their own Dammerung Arthouse label. In 2010 their fourth album Marrow of the Spirit made number one on numerous critic's top ten lists. In between each of these full-lengths the band pushed on the flexible boundaries they had developed around themselves through a series of EPs that found the band experimenting with post-rock/instrumental rock (The Grey, 2004), neo-folk/psychedelic folk (The White, 2008) and most recently Faustian Echoes (2012) released through Dammerung Arts.
AGALLOCH has earned a reputation for explosive and emotional live performances. They have sold out tours across Europe and the U.S. and have played a variety of major festivals including: Roadburn, Inferno, and Scion, among others. The band takes special care constructing the environment of each and every show with wood, incense, and imagery taken directly from their home in the Northwest. Such care makes an AGALLOCH show more than just a typical heavy metal concert.
https://www.facebook.com/AgallochOfficial