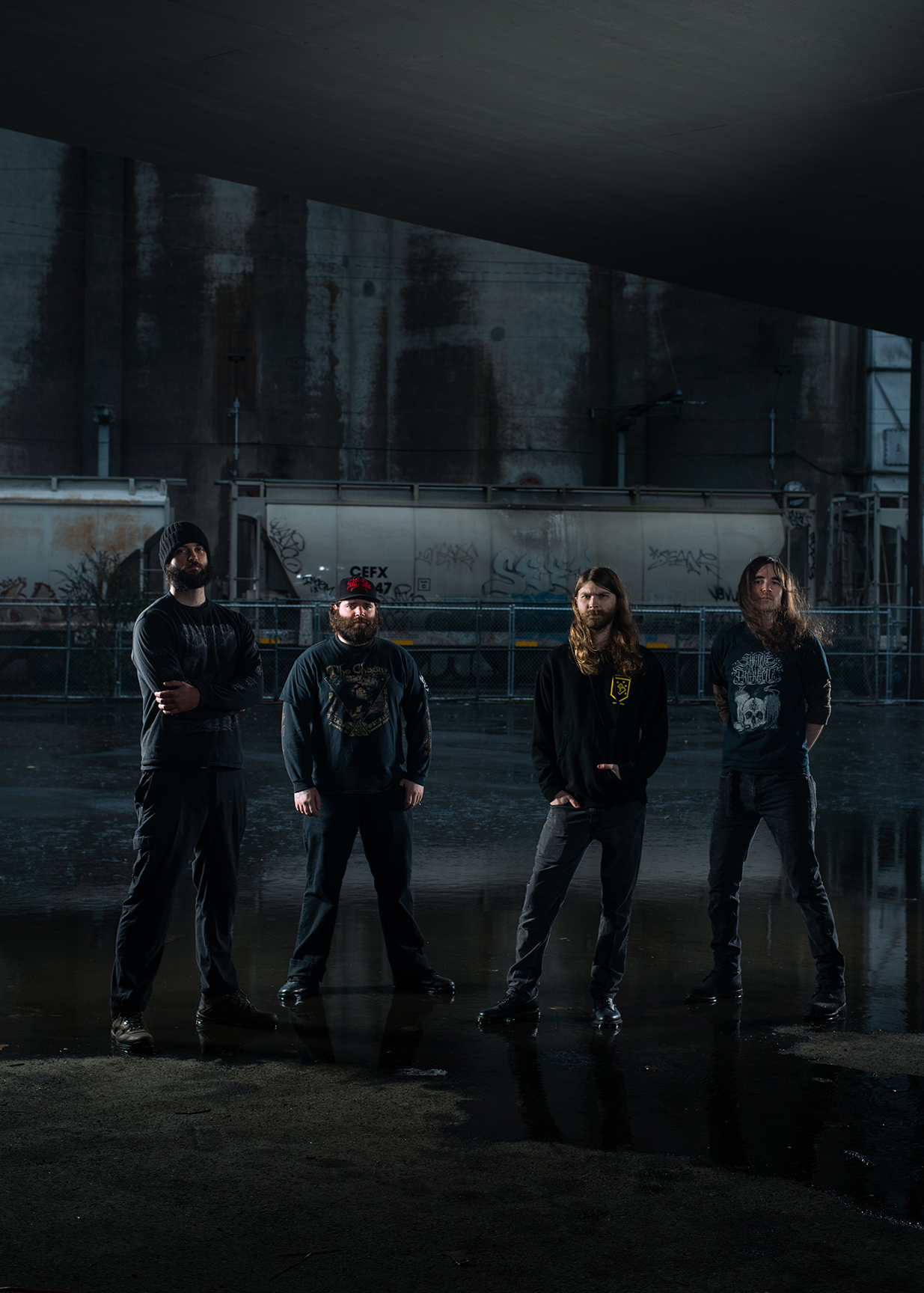 photos by Devin Tolman
"Disenthralled," the decimating new single from Portland, Oregon-based death metal outfit ÆNIGMATUM, is now streaming. The track precedes the band's second album, Deconsecrate, nearing August release through 20 Buck Spin, who today issues preorders for the record.
Following their well-received eponymous debut, the idiosyncratic methodology of ÆNIGMATUM is instantly apparent from the whip-start blast of Deconsecrate's opening track "Forged From Bedlam." While the pace is frenetic, speed is never a crutch to be relied upon but rather one deliberate device in a sprawling collection of melodically precise and technically riveting fragmented death shards.
The eight songs on Deconsecrate constitute a labyrinthian structure of twisting nuanced complexity and intricate explosive chaos. Blood-freezing and incandescently beautiful at once, ÆNIGMATUM tempers their withering elaborate intensity with astonishingly elegant melodic passages carved into the mind like towering marble hallucinations.
Immersing in Deconsecrate, one might be forgiven assuming they'd stumbled upon a lost obscurity of mid-1990s Gothenburg, the dark harmonies, the dual guitars, the staggering rhythm section; but in fact, ÆNIGMATUM has bequeathed a startlingly ambitious paragon of mystifying esoteric death metal magnificence.
Deconsecrate's drums and some of the rhythm guitars were engineered by Charlie Koryn at Toadhouse Studio, the rest of the rhythm as well as lead guitars, bass, drums, and vocals were engineered by the band's Brian Rush at various locations. The album was re-amped by Leon Del Muerte (Impaled) at Beastman Audio, mixed by Charlie Koryn at The Underworld Studio, mastered by Julian Silva at On-Air Mastering, and completed with surreal artwork by Ivory Crux (Voidceremony) and layout by Dan Fried. Fans of Eucharist, The Chasm, At The Gates, Dark Tranquillity, Necrophobic, Atrocity, Death, and early Opeth should not miss ÆNIGMATUM's Deconsecrate.
Stream ÆNIGMATUM's "Disenthralled" now through YouTube HERE and Bandcamp HERE.
Deconsecrate will see release through 20 Buck Spin Friday, August 13th on LP, CD, cassette, and digital formats. Find preorders at the label webshop HERE and at Bandcamp where "Forged From Bedlam" is also playing HERE.Watch for additional audio previews of Deconsecrate and more to be issued over the weeks ahead.
https://aenigmatum.bandcamp.com
https://www.instagram.com/aenigmatum_pdx
https://www.facebook.com/profile.php?id=100063560651573
http://www.20buckspin.com
https://listen.20buckspin.com
http://www.facebook.com/20buckspin
http://www.twitter.com/20buckspinlabel