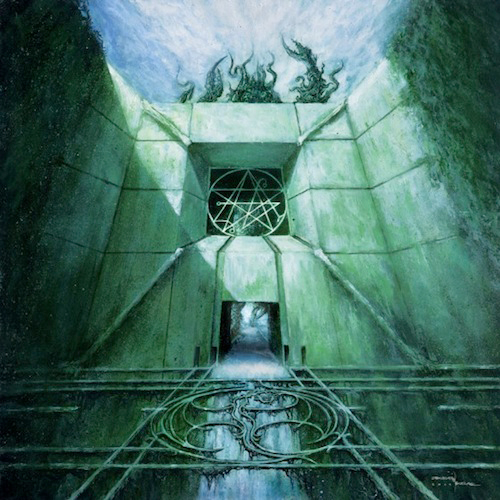 Behold, the first public display from ABSU's highly-anticipated new full-length, Abzu! Today, via massive media portal Pitchfork Media, fans of the patented mythological occult metal intensity ABSU prominently spew forth can succumb to the madness of "Abraxas Connexus," the third track from the forthcoming album.
Check out "Abraxas Connexus" RIGHT HERE!
Fans can order the "Abraxas Connexus" single via iTunes today as well at this location.
As previously announced, ABSU have already confirmed several live appearances in support of Abzu, including an appearance in Athens, Greece this week. Upon their return they have also locked down a special home-state show in San Antonio, Texas and an appearance at Aurora Infernalis Festival in The Netherlands in October, as well as an exclusive four-show upper East Coast U.S. live exhibition and a headlining appearance at Montreal's Messe des Morts Festival November, with much more in the planning stages to be announced shortly.
ABSU Confirmed Live Rituals:
9/10/2011 An Club – Athens, Greece
10/22/2011 007 Rock Bar – San Antonio, TX
10/29/2011 Aurora Infernalis Festival – Driel, Netherlands
11/10/2011 Strange Matter – Richmond, VA [info]
11/11/2011 Club Europa – Brooklyn, NY [info]
11/12/2011 Reverb – Reading, PA [info]
11/13/2011 TBA – Boston, MA [info]
11/26/2011 Messe des Morts Festival – Montreal, QC [info]
ABSU's forthcoming sixth full-length opus, Abzu, is set for North American release on October 4th. The band's second album for international heavyweight Candlelight Records, Abzu is the second part of a trilogy of recordings from the band. Recorded at Nomad Recording Studios in Carrollton, Texas, Abzu finds drummer/vocalist Proscriptor and bassist/vocalist Ezezu sharing equal vocal duties and debuts the skills of new guitarist Vis Crom. The record was mixed by J.T. Longoria (King Diamond/Solitude Aeternus), and features original cover art from Polish artist Zbigniew Bielak (Watain, Behemoth, Destroyer 666, Vader).
Stay tuned for more live ABSU appearances and tours into 2012 in support of Abzu.
http://www.myspace.com/absu
https://www.facebook.com/officialabsu
http:/www.candlelightrecordsusa.com
http://www.myspace.com/candlelightrecordsusa