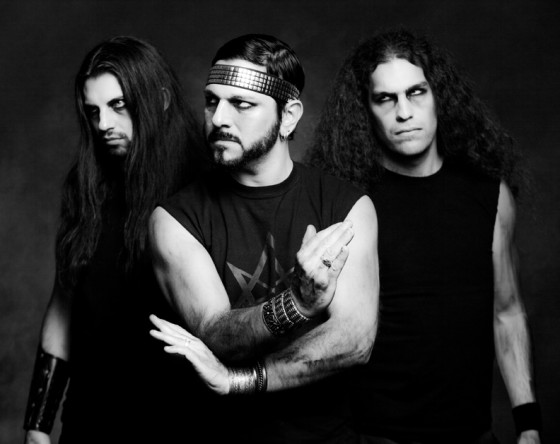 Texas-based mythological occult metal trio ABSU are currently hard at work on Abzu, the follow up to the band's 2009 self-titled album. The album is being tracked at Nomad Recording Studio in Carrollton, Texas and mixed by none other than J.T. Longoria. (King Diamond, Solitude Aeternus).
Drummer/vocalist/lyricist Proscriptor confirms, "The entire rhythm section has been successfully tracked and all that remains are mellotron passages and vocal lines. Before attempting the final mix, we plan to transfer the rhythm section onto two-inch tape to thaw out its digital timbre. With this record, we are appending dirtier elements of psychedelia and fusion. Lyrically, it will descend deeper into Enki's lower world as well the Enochian Magic(k) System." Continuing he notes, "I can tell you this album will definitely not be a 'natural progression' from previous releases, but a feat of metaphysical conquest and murkiness."
Abzu is the second of a three-part series that features ABSU's signature sound in maniacal fashion. Recently completing a string of American dates with Immortal, the band, featuring guitarist Vis Crom and bassist/vocalist Ezezu, performed a cross section of their extensive catalog to enthusiastic audiences. ABSU sold out of merchandise well before the six date journey concluded in San Antonio late February.
ABSU came to international prominence with the release of their 1993 debut, Barathrum: V.I.T.R.I.O.L. Originally released via Gothic Records, the label later licensed the record to France's Osmose Productions. (Immortal, Enslaved, Impaled Nazarene, Melechesh) ABSU would then establish a solid relationship with the label and thus release all later recordings via the renowned independent label, including the highly regarded Tara in 2001. In 2007, the band would announce a new partnership with London-based Candlelight Records. The band spent much of 2008 writing/recording Absu, which featured contributions from members of King Diamond, Aura Noir, Melechesh, Firstborn and Enthroned.
Planned for release later this year, Abzu will tap the expertise of Polish artist Zbigniew Bielak (Watain, Destroyer 666) and Costin Chioreanu (Ava Inferi, Grave, Demonical) to assemble the album's packaging. "In the past, we have utilized the talents of Belgium artist Kris Verwimp," says Proscriptor, "but now we're aesthetically detouring into more mystifying, Thelemic realms: musically and lyrically."
Projected track listing of Abzu (in this particular order) is:
I.) Ontologically, It Became Time & Space
II.) Circles of the Oath
III.) Abraxas Connexus
IV.) Skrying in the Spirit Vision
V.) Earth Ripper
VI.) A Song for Ea including:
a. E-A
b. A Myriad of Portals
c. 3rd Tablet
d. Warren of Imhullu
e. The Waters – The Denizens
f. E-A (Reprise)
Upcoming ABSU Festival Performances:
7/15/2011 Hammer Open Air – Lieto, Finland
8/12/2011 Party San Open Air – Schlotheim, Germany
8/13/2011 Brutal Assault Open Air – Jaromer, Czech Republic
9/10/2011 *TBA – Athens, Greece
"Absu is an energizing sprint through black metal, bedrock thrash, symphonic flourishes and arcane mythological references. All told, it's so intense that, by cool down, you might still be contemplating the first verse of that warm-up." – Pitchfork
"…ever-shifting rhythms, clean in contour and even cleaner in recording. Let this album be another piece of evidence in the trial against 'necro' production choices in black metal." – MetalSucks
"…progressive, atmospheric, unrelenting…" – Stereogum
"…this 18-year pillar of metal still reigns supreme in the land of the dark." – The Austin Chronicle
http://www.myspace.com/absu
http:/www.candlelightrecordsusa.com