[photo by Levan TK]
The black metal day-ruiners in ABIGAIL WILLIAMS will kick off a month-long North American live assault this Friday. Set to embark in Olymbia, Washington, the journey will commence with seven headlining dates before the band joins forces with Fleshgod Apocalypse and Carach Angren where they'll decimate nearly two dozen cities, the entire caravan of chaos coming to a close with three final headlining shows in Wichita, Kansas, Colorado Springs, Colorado and Idaho Falls, Idaho.
ABIGAIL WILLIAMS:
1/29/2016 Cryptatropa – Olympia, WA
1/30/2016 The Haul – Grants Pass, OR
1/31/2016 PB&Js – Reno, NV
2/02/2016 Give Bar – Las Vegas, NV
2/03/2016 The Rock – Tucson, AZ
2/05/2016 Walters – Houston, TX
2/06/2016 The Handlebar – Pensacola, FL
w/ Fleshgod Apocalypse, Carach Angren:
2/08/2016 The Haven – Orlando, FL
2/09/2016 The Masquerade (Hell) – Atlanta, GA
2/10/2016 Tremont Music Hall – Charlotte, NC
2/11/2016 Metro Gallery – Baltimore, MD
2/12/2016 Gramercy Theatre – New York, NY
2/13/2016 The Palladium – Worcester, MA
2/14/2016 Mod Club – Toronto, ON
2/15/2016 Reggie's – Chicago, IL
2/16/2016 Riot Room – Kansas City, MO
2/17/2016 Marquis Theatre – Denver, CO
2/19/2016 Studio Seven – Seattle, WA
2/20/2016 Third Street Pub – Bend, OR
2/21/2016 DNA Lounge – San Francisco, CA
2/22/2016 Whisky – West Hollywood, CA
2/23/2016 Brick by Brick – San Diego, CA
2/24/2016 Joe's Grotto – Phoenix, AZ
2/25/2016 Mesa Music Hall – El Paso, TX
2/26/2016 Rail Club – Ft. Worth, TX
2/27/2016 Dirty Dog – Austin, TX
End Tour:
2/28/16 Rock Island Live – Wichita, KS
2/29/16 The Black Sheep – Colorado Spring, CO
3/02/16 The Sickhouse – Idaho Falls, ID
ABIGAIL WILLIAMS will be touring in support of The Accuser released last October via Candlelight Records. Fronted by founding vocalist/guitarist Ken Sorceron (ex-Lord Mantis), ABIGAIL WILLIAMS now features guitarist Jeff Wilson (Wolvhammer, Chrome Waves, Doomsday, La Chant Funebre), and drummer Charlie Fell (Cobalt, ex-Lord Mantis, ex-Avichi) with recording bassist Will Lindsay (Indian, Lord Mantis, Anatomy Of Habit) and live bassist Micah Leonetti (Wolvhammer). Captured in just five days by Sorceron at the band's home studio in Olympia, Washington, the eight-track offering is fittingly bleak, dark, nihilistic and infinitely engrossing and features a guest appearance by Neill Jameson (Krieg, Twilight) as well as the psychedelic cover craftings of Portland-based illustrator/tattoo artist, Stevie Floyd (Dark Castle, Taurus).
"…the best release in the band's career, and certainly one worthy of multiple spins." – The Metal Observer
"The Accuser cements ABIGAIL WILLIAMS' status as one of the great American black metal bands, capable of crafting challenging yet rewarding music that rocks as much as it is thoughtful…" – New Noise Magazine
"The Accuser will go down as ABIGAIL WILLIAMS' crowning achievement, and hopefully, the start of a transition towards the band they were always capable of becoming." – Sputnik Music
"With the callous, sonically punishing The Accuser, ABIGAIL WILLIAMS have once again eschewed putting out the same record twice." – Lambgoat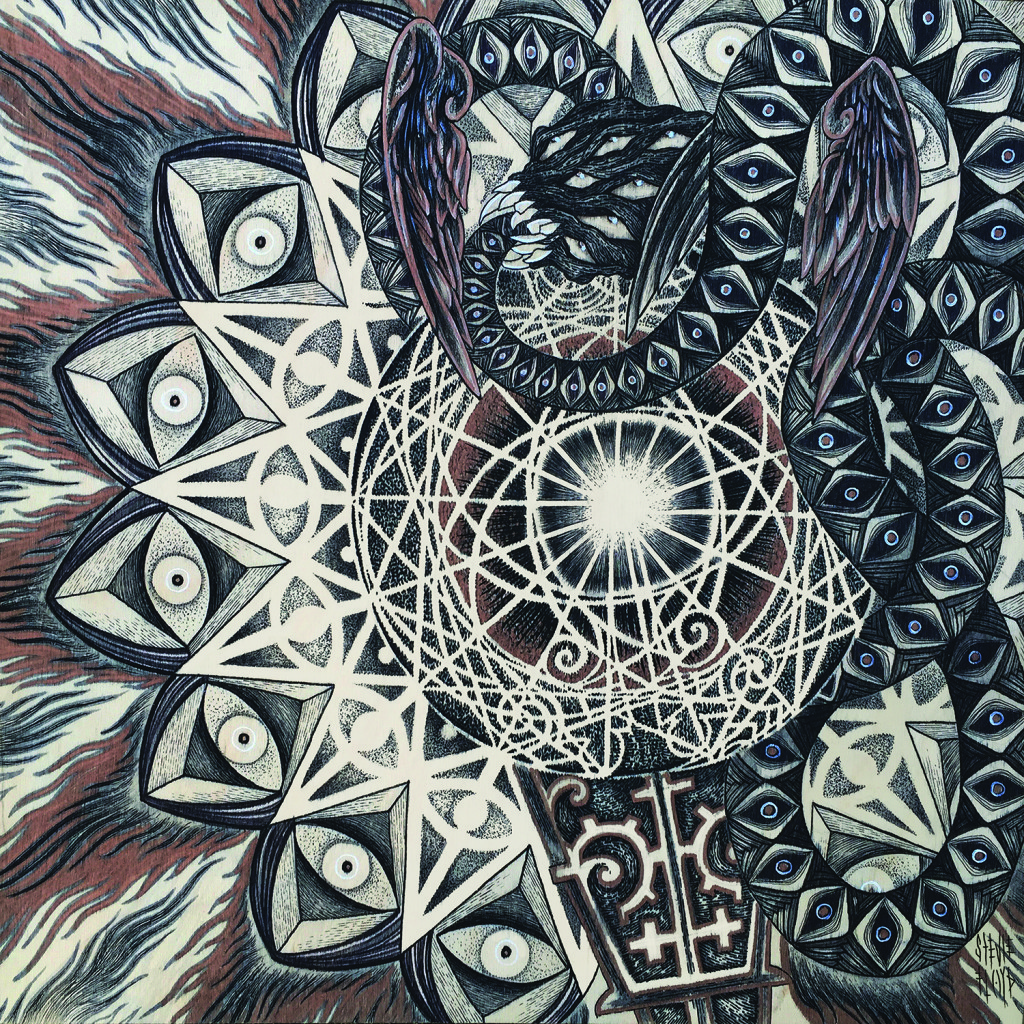 For all ABIGAIL WILLIAMS coverage contact liz@earsplitcompound.com.
http://www.facebook.com/abigailwilliamsofficial