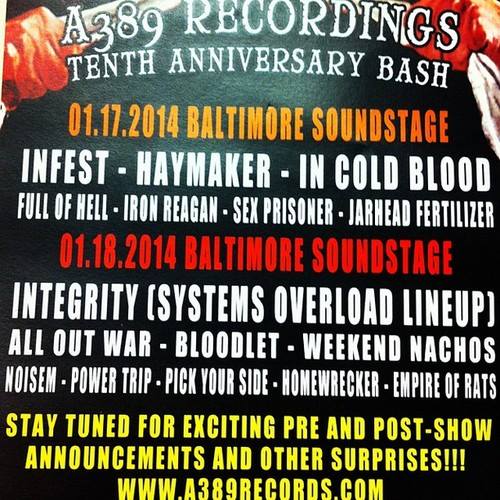 Following recent announcements of the tenth and most massive incarnation of A389 Recordings' annual January Bash coming together, this week the full lineup for this year's installation is unloaded, as the label prepares to turn ten years old. Sponsored by Invisible Oranges, the A389 X Bash will be held on January 17th and 18th, 2014 at Baltimore Soundstage, and recent announcements confirming sets from WEEKEND NACHOS, FULL OF HELL, INFEST, exclusive appearances from HAYMAKER and ALL OUT WAR and the reunion of INTEGRITY's Systems Overload lineup headlining the Bash have already gone out.
This week the label declares that Friday's event will also feature performances from IRON REAGAN (members of Municipal Waste, Darkest Hour), new A389 signees SEX PRISIONER and JARHEAD FERTILIZER (members of Full Of Hell), and an exclusive are appearance and first since 1998 from Cleveland metal outfit IN COLD BLOOD, featuring the Melnick brothers of INTEGRITY fame. The lineup Saturday, January 18th will also now include PICK YOUR SIDE (members of Haymaker, Left For Dead, Fuck The Facts), Texas crossover act POWER TRIP, and A389 kin NOISEM, HOMEWRECKER and EMPIRE OF RATS, as well as an extraordinary one-time-only reunion of legendary Florida metalcore pioneers BLOODLET!
The full lineup and running order and all ticket options for both days of this now monumental hardcore/metal gathering and celebration can be found below. Since going on sale Friday the event is already more than halfway sold out, so get your tickets before it's too late.
Listen to all the bands playing HERE.
A389 X ANNIVERSARY BASH (YEAR TEN)
Friday, January 17th 2014
Baltimore Soundstage
ALL AGES: $30 in advance / $35 day of show [BUY TICKETS]
INFEST // West Coast Power-violence Legends (Only East Coast Show)
HAYMAKER // Everything a hardcore band should be. (Only East Coast show)
IN COLD BLOOD — Featuring the Melnick Bros of Integrity fame, first show since 1998 (Exclusive Appearance)
FULL OF HELL // Vicious Noise/Grind/Hardcore/Terror from MD/PA on A389
IRON REAGAN // Raging hardcore/thrash crossover from Richmond (members of Municipal Waste/Darkest Hour), on A389/Magic Bullet
SEX PRISONER // Crushing powerviolence/hardcore from AZ, just signed to A389! New LP in 2014
JARHEAD FERTILIZER // Furious violent grind/hXc from MD featuring members of Full Of Hell
Saturday, January 18th 2014
Baltimore Soundstage
ALL AGES $30 in advance / $35 day of show [BUY TICKETS]
INTEGRITY // (Legendary 1993 / Systems Overload Lineup (Dwid/Melnicks/Smith/Konopka) for the first time in over 20 years: EXCLUSIVE ONE-TIME REUNION)
ALL OUT WAR // Legendary NYHC metalcore! Classic lineup / Only east coast show)
BLOODLET // (Legendary Florida metalcore pioneers reuniting for the first time since 2002 EXCLUSIVE ONE TIME REUNION)
WEEKEND NACHOS // (Raging Chicago punk/powerviolcnce new LP 'Still' soon on Relapse/Deep Six)
NOISEM // (Baltimore thrash titans on A389)
POWER TRIP // Awesome Texas crossover on Southern Lord
PICK YOUR SIDE // Vicious hardcore featuring members of Haymaker/Left For Dead/Fuck The Facts
HOMEWRECKER // Super heavy hardcore from OH
EMPIRE OF RATS // Tough / Mean hardcore from OH with intense lyrics
http://www.a389records.com
https://www.facebook.com/a389recordings
https://twitter.com/a389recordings