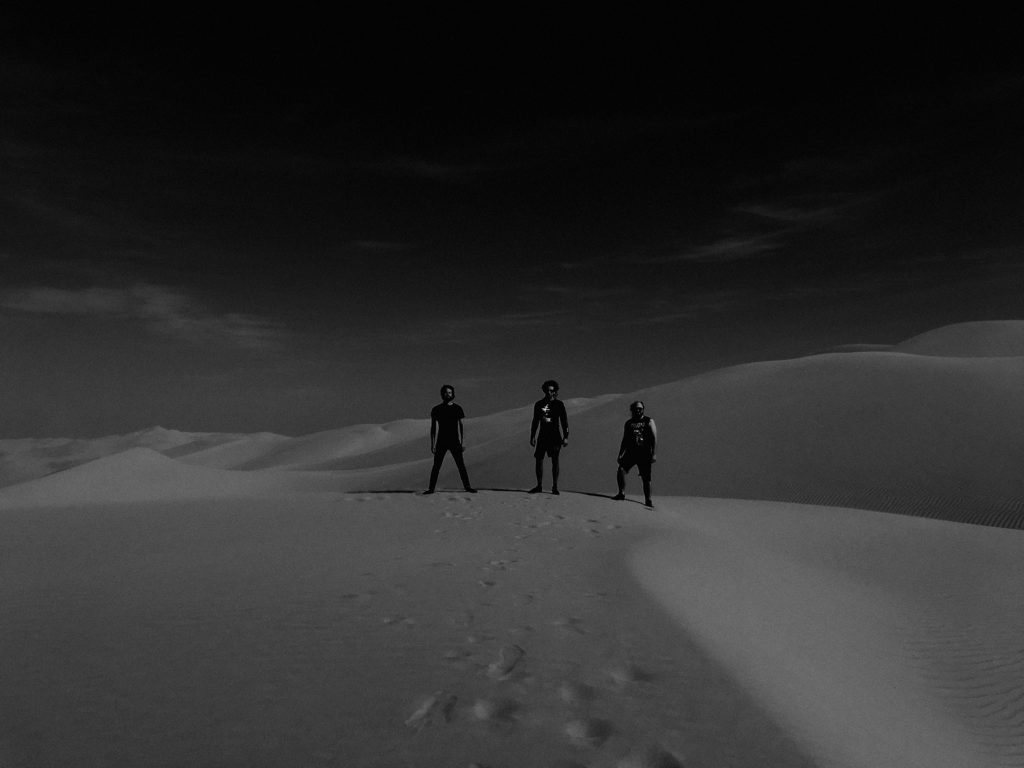 Seattle's harsh/death metal trio HISSING has released a new single from their impending debut full-length release, Permanent Destitution, nearing release in October through Profound Lore. The gnarled "It Without More" is now streaming on all digital platforms as digital and physical preorder options for the album are issued.
Comprised of bassist/vocalist Zach Wise, guitarist Joe O'Malley, and drummer Sam Pickel, HISSING engages in dark, dissonant, cacophonous, inverted death metal drenched in noise, and with Permanent Destitution the band has created a nihilistic vision of deranged otherworldly auditory pandemonium. A soundscape of pure enveloping darkness and unrelenting chaos, Permanent Destitution deconstructs and builds itself through the walls and layers of pummeling audial turmoil and disarray generated through twisted angular guitar work and fretboard annihilation, surgically cold yet constructed and calculated death march drum ornamentations, and monolithic bass pulsations that become interspersed with an overall dark overbearing ambience.
Permanent Destitution was engineered and mixed by Brandon Fitzsimons and mastered by James Plotkin. With already being at the mercy of HISSING's punishing sound fabric, that added touch of droning noise segments, also crucial to the band's sound, mixed with the doomy industrial components become that final element to make Permanent Destitution a towering monument of primal avant-deathnoise.
Stream HISSING's demoralizing "It Without More" via Spotify HERE, Apple Music HERE, and Bandcamp where "Eulogy In Squalor" is also playing HERE,
Profound Lore will release Permanent Destitution on LP, CD, and digital platforms on October 26th. Find preorders for the CD and LP HERE, CD and digital HERE, Euro preorders for the CD and LP HERE, and iTunes HERE.
Formed in 2014, HISSING has already made quite the reputation as a force to be reckoned with on the West Coast through various live appearances (which included a major US tour with Sunn O))) and Big|Brave, impressions made with their 2015 demo, and most notably with their 2016 self-titled 7" EP released by Southern Lord along with last year's massive split with Sutekh Hexen through The Flenser.
Watch for tour dates to be announced and additional info on the Permanent Destitution LP to be issued in the weeks ahead.
HISSING Live:
10/28/2018 Highline Bar – Seattle, WA w/ Bone Sickness, Cavurn, Foul [info]
https://hissingseattle.bandcamp.com
https://www.facebook.com/hissingseattle
http://www.profoundlorerecords.com
http://www.facebook.com/profoundlorerecords
http://www.profoundlorerecords.bandcamp.com
https://www.instagram.com/profoundlorerecords