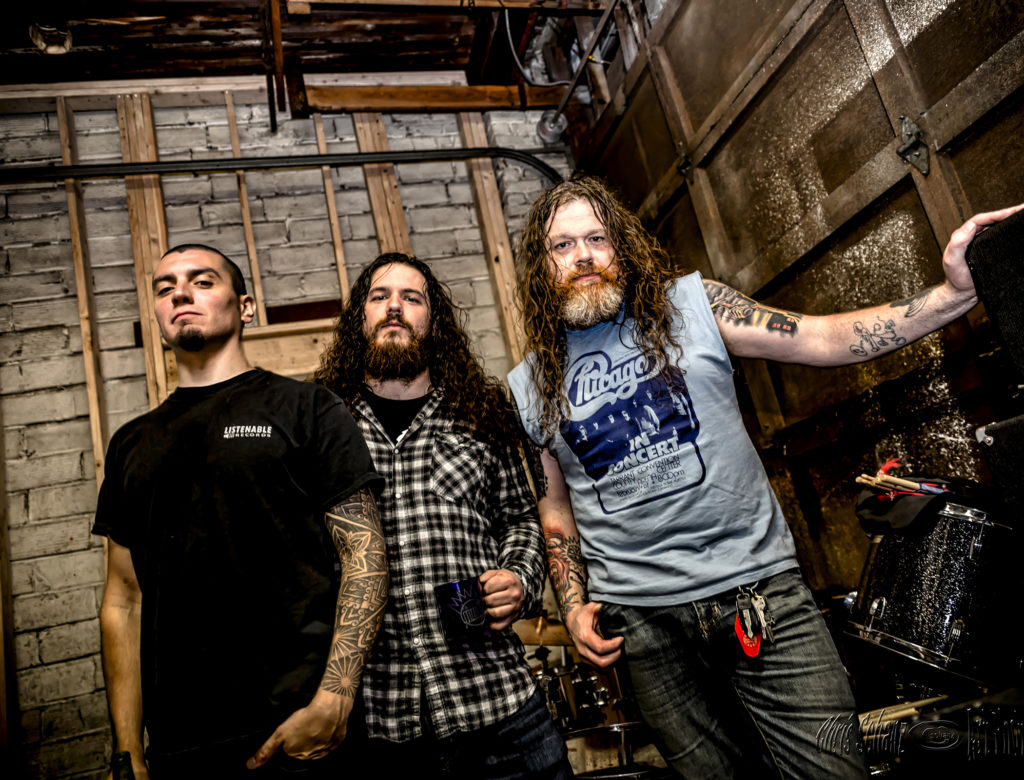 Washington-based heavy rock power trio MOS GENERATOR will release their anticipated Shadowlands full-length in North America later this month. In advance of its release, the volume dealers at The Obelisk are streaming the record in its entirety noting, "Not only are its rhythmic turns complicated and its shifting lyrical semi-repetitions a challenge all their own, but even on a conceptual level — if 'Shadowlands' at the beginning of the album is depression, then surely 'Gamma Hydra' is the accompanying mania. As much as MOS GENERATOR have made their reputation on high-energy live performances and records of excellently composed, pure heavy rock and roll — which, by the way, Shadowlands still is — the band are clearly reaching for new sonic ground in this material….From the hard-driving opening salvo of 'Shadowlands,' 'The Destroyer,' and 'Drowning In Your Loving Cup,' down through the frenetic payoff of 'The Wild & Gentle Dogs,' MOS GENERATOR prove once again to be a group unto themselves in the quality of their work and the clear-headedness with which they execute their creative will."
Read more and stream Shadowlands at THIS LOCATION.
Shadowlands was recorded in three sessions — June 2017, November 2017 and January 2018 — at the HeavyHead Recording Company in Port Orchard, Washington and comes swathed in the cover art of Adam Burke (Pilgrim, Satan's Satyrs, Hooded Menace, Artificial Brain et al). The record will see release in North American on May 18th. For preorders, go to THIS LOCATION or HERE.
MOS GENERATOR is in the midst of a month-long, cross country US tour. The Road Rats Tour 2018, which kicked off on April 20th, will run through May 26th and includes sixteen dates supporting Fu Manchu! See all remaining dates below.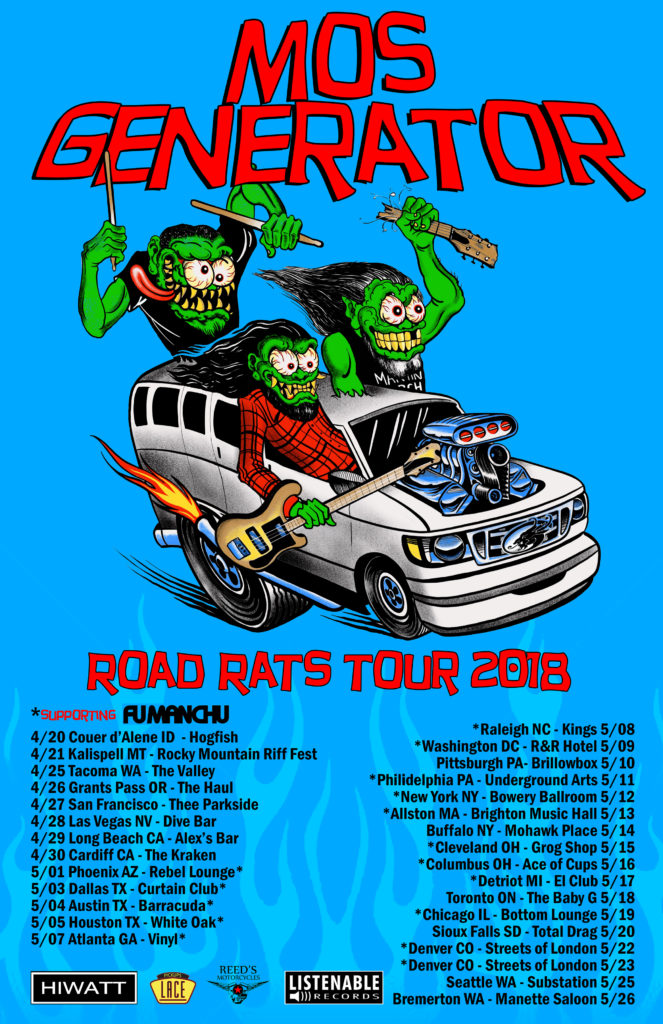 MOS GENERATOR w/ Fu Manchu [remaining dates]:
5/11/2018 Underground Arts – Philadelphia, PA
5/12/2018 Bowery Ballroom – New York, NY
5/13/2018 Brighton Music Hall – Allston, MA
5/14/2018 Mohawk Place – Buffalo, NY *
5/15/2018 Grog Shop – Cleveland, OH
5/16/2018 Ace Of Cups – Columbus, OH
5/17/2018 El Club – Detroit, MI
5/18/2018 The Baby G – Toronto, ON *
5/19/2018 Bottom Lounge – Chicago, IL
5/20/2018 Total Drag Records – Sioux Falls, SD *
5/22/2018 Streets of London Pub – Denver, CO
5/23/2018 Streets of London Pub – Denver, CO
5/25/2018 Substation – Seattle, WA*
5/26/2018 The Manette – Bremerton, WA *
* MOS GENERATOR only
MOS GENERATOR formed during the Winter of 2000 in Port Orchard, Washington from the ashes of a decade-long on-again-off-again collaboration between its three members, all of which are long time veterans of the road and studio. The need to strip down to the basics of hard rock was apparent from the start and continues to be the foundation for the band's recent material.
MOS GENERATOR has released seven studio albums, a retrospective album, a live album, and a plethora of split releases. 2015 brought in a new rhythm section and touring possibilities far beyond the limitations of the original lineup. This new lineup has changed the band into a relentless touring machine, delivering critically-acclaimed performances both states and abroad. "They are so good," gushed Maximum Volume Music, "you end up wanting to round up a couple of mates, buy a Transit, form a three-piece rock 'n' roll band and go on tour."
"The title track is a bluesy, fun rocker, demonstrating exactly why MOS GENERATOR have become a fixture in the underground." — Decibel
"Shadowlands opts for a heavier direction without losing sight of MOS GENERATOR's 70s rock roots." — Sputnik Music
"There's something to be said about an album that not only lasts multiple play-throughs, but instills the urge to immediately run it through again…" — Metal Assault
 "…an album of power, melody, and heart… recommended for all lovers of classic rock infused with stoner tendencies and superb musicianship." — Metal Nexus
"Never cumbersome as the album falls into a tidy under forty-minute vinyl timeframe, Shadowlands gives listeners another US band unafraid to take Ozzy-era Sabbath and add in that southern/stoner/bluesy charm to make quite a final product that entertains and translates easily live." — Dead Rhetoric
http://www.facebook.com/MosGenerator
http://www.instagram.com/mos_generator
http://www.facebook.com/listenablerecs
http://www.listenable.net