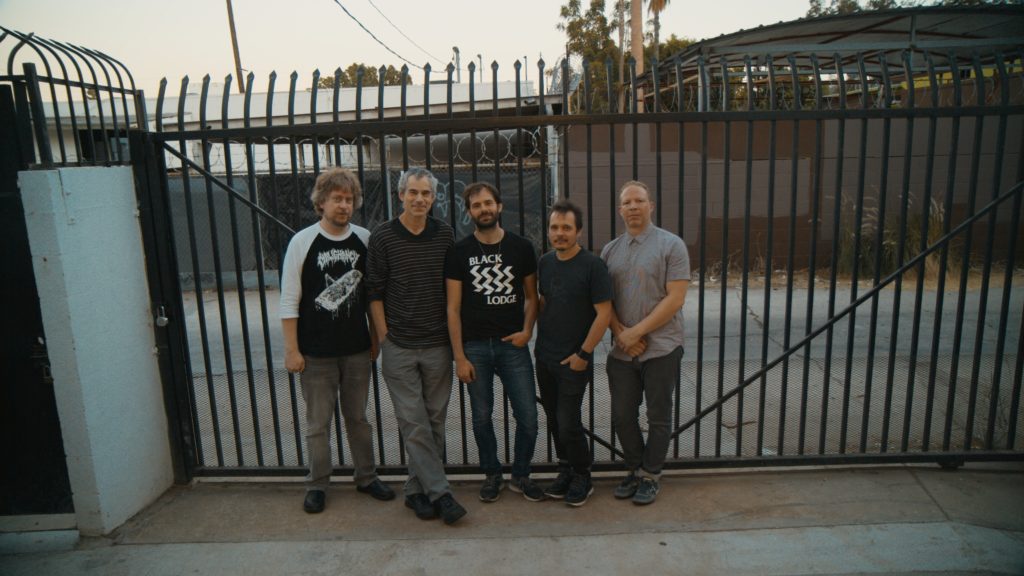 [photo by Kyle Johnson]
Acclaimed jazz label Pi Recordings has issued two new tracks by New York City-based drummer DAN WEISS and his Starebaby LP nearing release in early April.
Encompassing elements of improv jazz, avant rock, technical metal, and suspenseful soundtrack auras, the album lineup features accomplished musicians from across the jazz and metal circuits joining DAN WEISS, including Matt Mitchell, Craig Taborn, Ben Monder, and Trevor Dunn (Mr. Bungle, Fantômas, Tomahawk, Secret Chiefs 3). Starebaby was recorded at Systems Two Recording Studio, Brooklyn, New York by Ron Saint Germain, mixed at Saint's Place, Kinnelon, New Jersey, also by Germain, and mastered at Masterdisk, Peekskill, New York by Scott Hull.
Starebaby's lead track, "A Puncher's Chance," and Twin Peaks-inspired closing track, "Episode 8," are now streaming at Bandcamp at THIS LOCATION.
Also hear the previously-issued Twin Peaks-based "Badalamenti" at WBGO HERE.
The prestigious WBGO Take Five blog offers, "Starebaby, the astonishing new album by drummer and composer DAN WEISS, comes on like a voluptuous fever dream. A jazz-meets-metal experiment that never feels forced, it has the air of something obsessively imagined and then handled with expert care…" BrooklynVegan proclaimed, "WEISS cites metal bands like Meshuggah, Burning Witch, High On Fire, Gorguts, early Metallica, Wormed, and Confessor as sonic influences on the album, while thematically/psychically the record is heavily inspired by the third season of David Lynch's Twin Peaks. The album ends with 'Episode 8' (which current Twin Peaks fans know as 'Got a Light?'), and there's also the intense, pounding track 'Badalamenti' which pays tribute to the show's composer." Avant Music News praises, "While heavily composed and exhibiting a strong sense of structure, these tracks open up from time to time and leave room for group interpretation. The result hovers somewhere between chamber rock, metal, and jazz but does not fit into any of these genres… There are moments of pure brilliance herein."
Pi Recordings will release Starebaby on LP, CD, and digital formats on April 6th; find preorders for all formats HERE.
DAN WEISS has booked a special New York release show for Starebaby at Nublu 151 on April 1st, where the full LP recording lineup will perform tracks from the album. Support will be provided by the guitar duo of Mick Barr (Orthrelm, Krallice) and Brandon Seabrook (Needle Driver). A West Coast/Canadian tour is being booked for the second half of June, and a European tour for early July, with dates on both to be announced shortly.
DAN WEISS Starebaby Record Release Show:
4/01/2018 Nublu 151 – New York, NY w/ Mick Barr & Brandon Seabrook Guitar Duo [info]
Starebaby is the upshot of drummer/composer DAN WEISS's long-running dream to bring together some of the most accomplished players on the jazz scene to play music that combines the improvisation nature of that music with the power of heavy metal and electronic new music. One of the most in-demand drummers in jazz, WEISS performs with such disparate artists as Rudresh Mahanthappa, Chris Potter, John Zorn, and Jen Shyu, evidence of the breadth of his artistry. As with his two critically-acclaimed previous releases — Fourteen, which was named one of the best releases of 2014 by The New York Times, and Sixteen: Drummers Suite — Starebaby is a decidedly original work that is largely without precedence, reflecting the power of conviction coming from a single, brimming wellspring.
WEISS has wanted to put this particular project together for over a decade. As with his prior output, it reflects his catholic taste in music, where jazz improvisation, doom metal, electro-acoustic music, Indian beat cycles, and innumerable other influences are all compounded into an outpouring of personal expression completely beyond musical boundaries. Starebaby, though, definitely tilts towards the heavy, and WEISS, in particular, cites as influences metal bands such as Meshuggah, Burning Witch, High On Fire, Gorguts, early Metallica, Wormed, and Confessor; electronic and electro acoustic composers such as Karlheinz Stockhausen, Bernard Parmegiani, and Luc Ferrari; and every type of jazz ranging from Sidney Bechet to Threadgill. It is also inspired by Season 3 of the television show Twin Peaks, whose surreal, ominous emotional landscape helped shape the overall feel of this music. The music ebbs and flows, surging to thundering swells of foreboding doom before tempering to quiet reflection, finding a deep space where brutal aggression meets ghostly vulnerability. The expansive soundscape ranges from fortissimo to pianissimo, grave to presto, and dense, roiling dissonance to exquisite, pellucid melodies.
http://www.danweiss.net
http://www.facebook.com/dan.weiss.9803
http://www.twitter.com/danweissdrum
https://pirecordings.com
https://pirecordings.bandcamp.com
https://www.twitter.com/pirecordings
https://www.facebook.com/pirecordings
https://www.instagram.com/pi.recordings