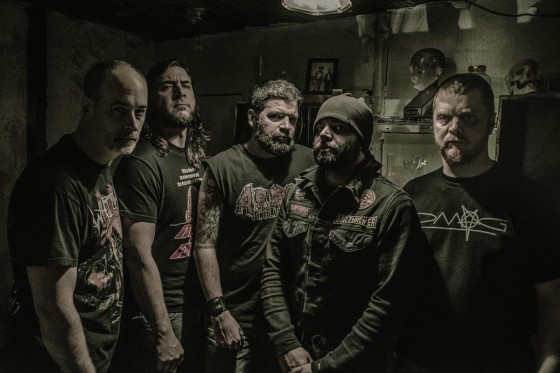 [photo by Shaun MacMahon]
In just two weeks, reanimated New York death metal miscreants, SKINLESS, will lacerate ears with the sadistic grooves of Only The Ruthless Remain. Boasting their classic late '90s lineup of founding guitarist Noah Carpenter, vocalist Sherwood Webber, bassist Joe Keyser and drummer Bob Beaulac, with the recent addition of second guitarist, Dave Matthews, Only The Ruthless Remain marks the band's first proper full-length offering in nearly a decade.
Crowned, "one of the finest albums in SKINLESS' repertoire," in an early 9/10 review of the record by Apoch's Metal Review who furthers, "This isn't just an album SKINLESS fans will lovingly embrace, but a creation that stands as one of the top offerings of 2015 within the death metal genre, proving the time away from the studio, as well as one another, has only strengthened them as a unit," Only The Ruthless Remain was captured by Tom Case at Edie Road Studio and Doomsday Bunker Studio, both in upstate New York, with vocals tracked by Dave Otero (Cephalic Carnage, Primitive Man etc.) at Flatline Audio in Denver, Colorado, and the entire slab of audio violence mastered by Brad Boatright (Obituary, Nails, Integrity etc.) at Audiosiege in Portland, Oregon.
In celebration of its official detonation next month, today MetalSucks hurls forth the world-collapsing sounds of closing pounder, "Barbaric Proclivity."
"It's the kind of song that I love for its raw intensity," relays Webber bluntly. "It's a true-to-form, knuckle-dragger. Fuck technicality; fuck beats-per-minute. If you want a raw, heavy, New York style skull crusher, this one is for you, and will beat the rest into submission."
MetalSucks agrees: "This track is straight-up bloodthirsty… If you played it for one of rage-zombies in the movie 28 Days Later, they'd be like, 'Whoa, too harsh, bruh! Chill!' It will grab you by your waist and squeeze your innards out of your mouth like so much toothpaste…. worth the wait."
Witness the sonic pummel of "Barbaric Proclivity," currently monopolizing the airwaves of MetalSucks, at THIS LOCATION.
You can also sample the band's video for namesake track, "Skinless," featuring a delicious visual smorgasbord of lethal injections, human flaying and general group-inflicted suffering, still traumatizing the weak at Bloody Disgusting, at THIS LOCATION or "Serpenticide," streaming at SoundCloud HERE and YouTube HERE.
SKINLESS will bring their onstage butchery to Baltimore later this week as part of this year's Maryland Deathfest as well as Hellfest in France this June with further live incursions to be announced in the coming weeks. Stand by.
SKINLESS:
5/21/2015 Maryland Deathfest @ Soundstage – Baltimore, MD
6/20/2015 Hellfest Open Air – Clisson, FR
Only The Ruthless Remain includes artwork by Ken Sarafin and will be unleashed on CD, LP and digitally via Relapse Records on June 2nd, 2015 in North America (June 1st in the UK/EU and May 29th in DE/Benelux/Finland). Limited Relapse 25 Year Anniversary editions of the CD and LP will also be available. For preorder bundles, visit THIS LOCATION. Desirers of the digitals, go HERE.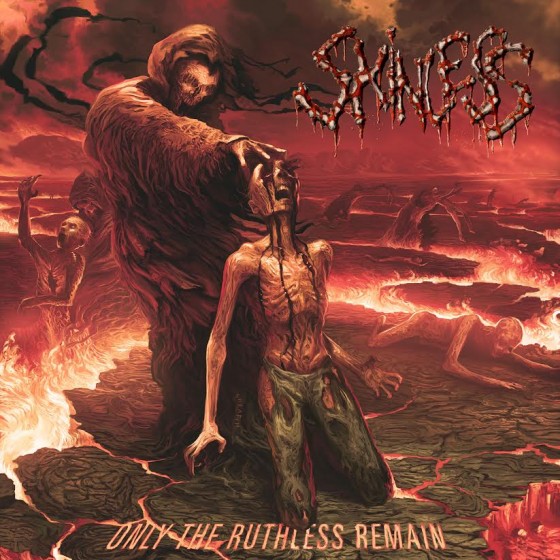 http://www.facebook.com/Skinless
http://www.twitter.com/skinlessband
http://www.skinless.bandcamp.com
http://www.relapse.com
http://www.facebook.com/RelapseRecords