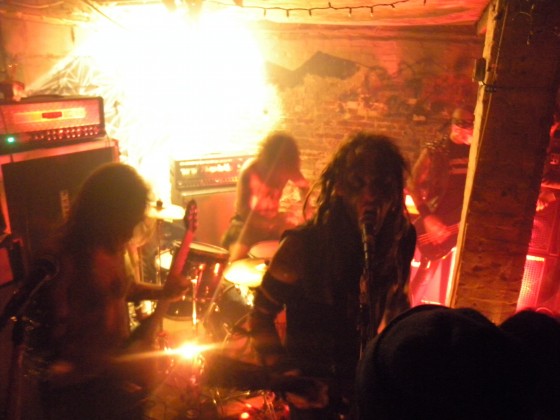 There are a few of them left out there. None are nearby Most are dead anyway. The castle has been under a long siege and strange things go on behind walls when death is such a good old pal… In one sense four years in the making, yet in another thrown together in six months. And so, out of the dead end peninsula of Thompson's Point in Portland, Maine, ZUD presents their debut full-length, The Good, The Bad And The Damned.
Infectiously and seamlessly merging the aesthetics of black metal and classic rock, delivering tunes with an exceedingly organic delivery and live-for-now outlook, ZUD somehow does something vibrant and fresh while simultaneously paying homage to those who forged the paths the four members have traveled thus far in life. Recorded and mixed by Todd Hutchinson (Falls of Rauros, AOK Suicide Forest) at Acadia Recording Company in Portland, Maine and mastered by Tore Stjerna (Watain, Repugnant) at Necromorbus Studios in Stockholm, Sweden, The Good, The Bad And The Damned hits fucking hard with more than forty minutes of killer, free-form, high-octane metal perfect for those late Summer night parties full of suds and bud, while keeping you aware of the fact that no matter how good or bad life may be, death is always within spitting distance.
Check out "Blood And Twilight" from the album below.

ZUD self-released The Good, The Bad And The Damned on the Summer Solstice in a limited run of 333 hand-numbered gatefold digipak CDs, available for order direct from the band HERE.
For those who lack imagination, ZUD plays old-school sleazy n' cheesy blues-rockin' black metal, like old Mayhem and older Bathory mixed with Roky Erickson, early Van Halen, Ash Ra Temple and a slew of other classic rock, psyche and various NWOBHM influences. It is harsh, it shreds, it kills and crushes, but it is also hypnotizing, trance-inducing and still catchy and fun as all fucking hell. This is music to die to, to cry to, to get high to, to bang your fucking head to. But most of all it is fuel for the souls of those true rock n' roll outlaws who still wander around on their infinite journeys; be it on the iron dragons, an iron horse or on foot. Those who know that no friends or glory await at the end of the line, only death… and that there is nothing to do about it but to learn to enjoy the torture that is life in the bizarre but unique opportunities which it can present. To embrace the wastelands in the pouring rain. To smile at death. To wink back at the world when the time comes, knowing that the only thing left to say is "later twerps…"
Stay tuned for infiltrations of sheds and recluse vicinities with ZUD and their vicious live assault and be ready for plenty of surprises…
The Good, The Bad And The Damned Track Listing:
1. Portal To Infinity
2. Skull Shaped Hell
3. Blood And Twilight
4. The Junction
5. Dendrite Fumes
http://zud666.blogspot.com
https://soundcloud.com/thetruezud