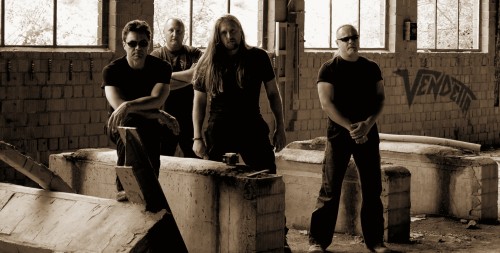 Feed The Extermination, the fourth album from German thrash metal veterans VENDETTA, is set for North American release on January 31st.
Founded in 1987, VENDETTA have become one of the most prolific and recognized contemporary thrash acts within their German homeland over three incredibly well-received albums, massive headlining tours, countless live and festival appearances and praise from all corners of the planet from media and fans alike.
Their first release for Massacre Records, Feed The Extermination incorporates more aggressive and progressive elements than previous albums, while slickly retaining the expected VENDETTA approach. The album thunders with ten tracks in fifty minutes, produced by Dan Swanö (Edge of Sanity, Nightingale, Bloodbath) at Unisound, Sweden.
Feed The Extermination Track Listing:
1. Feed The Extermination
2. Tremendous Brutality
3. Cancer
4. Ovulation Bitch
5. Storage Of Anger
6. Dog In The Manger
7. De-Organ-izer
8. Abuse
9. Trust In God
10. Til I'm Dead
VENDETTA lineup:
Mario Vogel – vocals
Frank Schölch – guitars
Klaus Ullrich – guitars & bass
Thomas Krämer – drums
German dark power metal masters MYSTIC PROPHECY will release their latest album, Ravenlord, onto North American audiences via Massacre Records on January 31st.
Two years in the making, MYSTIC PROPHECY's seventh album showcases the band's musicianship at its most refined to date. Sticking with their trusted production team, the top notch sound of the album was recorded at Prophecy Studio Factory in Sweden with engineer C Schmid and mixed with Fredirk Nordström (In Flames, Arch Enemy, etc.).
Combining extreme metal elements with classic rock attributes with style, the musical variety and excellent songwriting make Ravenlord instantly memorable, MYSTIC PROPHECY even rounding out the album with a cover of Ozzy Osbourne's classic "Miracle Man."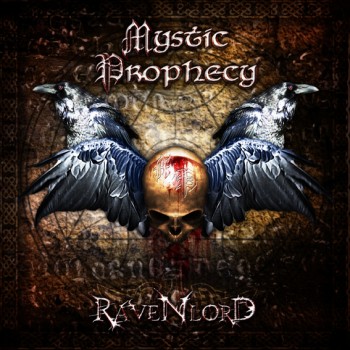 Ravenlord Track Listing:
1. Ravenlord
2. Die Now!!
3. Eyes Of The Devil
4. Damned Tonight
5. Hollow
6. Wings Of Destiny
7. Endless Fire
8. Cross Of Lies
9. Reckoning Day
10. Miracle Man
MYSTIC PROPHECY lineup:
R.D. Liapakis – vocals
Markus Pohl – guitars
Constantine – guitars
Connie Andreszka – bass
Tyronne Silva – drums
http://www.vendetta-band.de
http://www.mysticprophecy.net
http://www.massacre-records.com
http://www.facebook.com/massacrerecordseurope
http://www.myspace.com/massacrerecordseurope