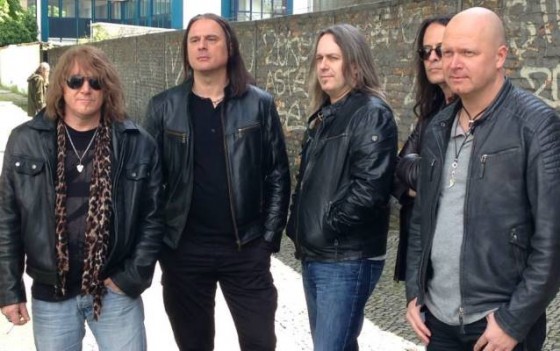 "Exceptional," the latest video from heavy metal supergroup, UNISONIC, made its official US premiere via Metal Insider last month. The song appears on the band's sophomore full-length, Light Of Dawn, set to drop in North America next Tuesday. In celebration of its release, the band – who feature within their illustrious ranks former Helloween vocalist Michael Kiske, guitarists Kai Hansen (Gamma Ray, also ex-Helloween) and Mandy Meyer (Asia, Gotthard and Krokus), bassist Dennis Ward and drummer Kosta Zafiriou (both of Germany's Pink Cream 69) – are pleased to unleash a special "Exceptional" making-of video which takes fans behind-the-scenes of the shoot. Check it below.
Spring of 2014 saw UNISONIC produce the twelve new tunes that make up Light Of Dawn, all of which are performed with near-surgical precision and punctuated by Kiske's world-class vocals. "Our first world tour has really welded us together," said the singer of the group's unmistakable evolution. "The touring made us realize the importance of a congenial atmosphere for our creativity and how much I missed this team spirit over the past twenty years. Only musicians who feel really comfortable with each other can deliver their optimum performance." Dennis Ward, a driving force within the unit, one of its main composers and, as on 2012's self-titled debut, its producer, agrees: "At the end of the day, you have to tour to get immediate fan reactions to your material. In this respect, the shows were very interesting and extremely encouraging. There's no doubt that they gave UNISONIC enough energy to make working on Light Of Dawn child's play for everybody involved."
In a 9/10 review of the record, Dead Rhetoric notes, "The key to a successful power metal group is emphasizing strengths and keeping your eyes on the dynamic songwriting prize, and these Germans deliver in spades. Light Of Dawn sets the bar even higher for UNISONIC's headline status, and will be one of the must have metal albums for 2014." Elsewhere Dangerdog crowns Light Of Dawn "melodic metal at it's finest," while Sea Of Tranquility, in a 4.5/5 review, calls it, "another immensely enjoyable UNISONIC release," furthering that, "…Kiske's vocals are soaring once again on 'Your Time Has Come' inspiring thoughts of those wonderful Helloween releases he appeared on as does 'Find Shelter.'"
Light Of Dawn follows the band's For The Kingdom EP released digitally in North America in May. The six track collection features album track "For The Kingdom," exclusive EP number "You Come Undone" as well as four live recordings from their show at the Masters Of Rock Festival 2012 in the Czech Republic.
Light Of Dawn will see its Stateside release via Eagle Rock imprint Armoury Records on August 12th, 2014.
http://www.unisonic.de
http://www.facebook.com/unisonicofficial
http://www.eaglerockent.com