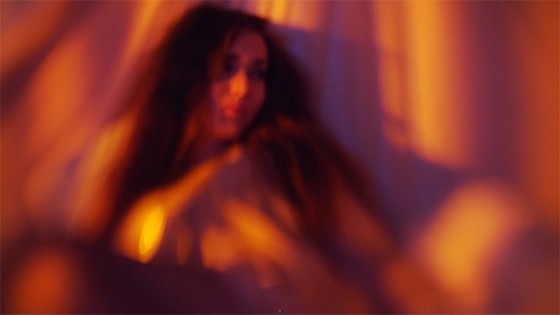 As their debut full-length To Sail Black Waters nears release the first week of October, today Oakland-based genre-morphing progressive doom sextet SECRETS OF THE SKY proudly unveils the band's intense new video for their crushing "Decline" opus.
Having sought out DIY director and filmmaker Andrew Nethery (Melvins, Kyuss Lives, Six Feet Under, Dead Meadow, Death By Stereo) to guide and capture their vision, SECRETS OF THE SKY traveled to the Southern end of their home state and set up camp for several days. The vibrant video traverses through an extensive but abstract storyline shot in a variety of locations, as well as brilliant performance footage of the band filmed at Unit A Recording Studio, in Palm Springs, California. Through the years, the studio walls have recorded rock legends such as Queens of the Stone Age, Fu Manchu, and many more. The newest owner, Robbie Waldman, continues to operate it as a full recording studio, having recently recorded Brian Setszer, Karma to Burn, John Garcia and the list goes on.
Collectively stated the members SECRETS OF THE SKY about the making of the "Decline" video: "We shot the video with director Andrew Nethery in the Coachella Valley; basically in the middle of the desert near Palm Springs. It's about a ten-hour drive from the Bay Area, but it was a no-brainer to go with Andrew based on the quality of his previous work for bands. There are definitely thematic conclusions to be drawn and an overall message to be had, but we didn't want to just give it away… choosing rather to keep it abstract and allow the viewer to decide what it means for themselves. The video is edited down for time and continuity reasons from the original 12 minute version which appears on the album."
Interpret the meaning of "Decline" for yourself via Metal Injection RIGHT HERE.
Also view the lyric video for "Sunrise" AT THIS LOCATION.
Kolony Records will release To Sail Black Waters, throughout Europe on October 4th and 5th and in North America on October 8th, the forty-plus minute opus the outcome of a massive spread-out eight month period of recording sessions at Trident Studios with engineer/producer Juan Urteaga (Testament, Machine Head, Cattle Decapitation). On October third, SECRETS OF THE SKY will take to the West Coast in support of the album on a nine-date tour alongside Sacramento-based In The Silence, the venture to include shows with Author and Punisher, Armed For Apocalypse and more.
SECRETS OF THE SKY & IN THE SILENCE Autumn Tour 2013:
10/04/2013 The Blue Lamp – Sacramento, CA
10/05/2013 The Rock Shop – San Jose, CA w/ Beerijuana, Jagerita
10/06/2013 The Joint – Los Angeles, CA w/ Author and Punisher, Chiildren, Pendulous, LightSystem
10/07/2013 Hood Bar – Palm Desert, CA w/ Redivider
10/08/2013 The Dive Bar – Las Vegas, NV
10/09/2013 The Hive – Flagstaff, AZ
10/10/2013 The Underground – Santa Fe, NM
10/11/2013 Yucca Tap Room – Tempe, AZ w/ Sorxe, Goya, Enirva
10/12/2013 The Oakland Metro – Oakland, CA w/ Armed For Apocalypse, Hellbeard
http://www.facebook.com/secretsofthesky
https://twitter.com/secretsofthesky
http://www.kolonyrecords.com
https://www.facebook.com/kolonyrecords
https://twitter.com/kolonyrecords