West Coast death metal trailblazers RIPPED TO SHREDS' Relapse debut full-length 劇變 (Jubian) is OUT NOW!
Led by guitarist/vocalist Andrew Lee, RIPPED TO SHREDS emerges from the underground with their most fully realized and visceral work yet. Recorded and mixed by Lee in his home studio and mastered by Damian Herring at Subterranean Watchtower, 劇變 (Jubian) is RIPPED TO SHREDS at their most focused and refined.
Stream the record in full at THIS LOCATION.
Watch the "Reek Of Burning Freedom" music video, directed by Kevin Burleigh, HERE.
Find the record on CD, LP, and cassette via Relapse.com HERE. Find digital downloads/streaming options HERE.
Read an in-depth interview with frontman Andrew Lee about 劇變 (Jubian) and the band's history on Stereogum HERE.
RIPPED TO SHREDS' official 劇變 (Jubian) album release show is later this month on October 22nd in Santa Cruz, California. Additionally, RIPPED TO SHREDS has announced their April EU/UK 2023 headlining tour! Tickets are on sale now. Stay tuned for more live performance announcements in the near future.
RIPPED TO SHREDS:
10/22/2022 Santa Cruz County Veterans Hall – Santa Cruz, CA 劇變 (Jubian) Release Show
4/21/2023 Little Buildings – Newcastle, UK
4/22/2023 Boom – Leeds, UK
4/23/2023 Black Heart – London, UK
4/25/2023 Emscherdamm – Oberhausen, DE
4/26/2023 Greber3 – Weimar, DE
4/28/2023 Rockclub Bayern – Selb, DE
4/29/2023 Bloodshed Festival – Hengelo, NY
劇變 (Jubian) bursts wide open with "Violent Compulsion For Conquest," an elegantly dark, new kind of chainsaw sound teeming with acidic vocals gnashing out lyrics inspired by the Mukden Incident. From its lightning-flash solos to those immensely killer echoing "Ough!"s, this absolute scather, according to Lee, was born to lead. Elsewhere, longtime RIPPED TO SHREDS fans will find the latest chapter of the ongoing "Sun Moon Holy Cult" saga to be its most thrilling episode thus far. One of the album's most impressive and catchiest tracks, "漢奸 (Race Traitor)," represents that "straight-up melodeath" banger Lee says he's always wanted to produce while also giving vent to his experience as a minority in America. The charring "Reek Of Burning Freedom," Lee notes, is "an anti-war song" that incites to remind its discerning listers of the United States' "indiscriminate bombing" campaign waged on North Korea during the Korean War. Chainsaw guitars, relentless drumming, dizzying solos, and disgusting growling throughout, 劇變 (Jubian) is undeniably ripping death metal.
All of the intensity of power coursing through 劇變 (Jubian) is somehow perfectly captured and rendered by Chinese artist Guang Yang, who also painted the cover of the last RIPPED TO SHREDS album. The statue on the cover is Mazu, the Taiwanese sea goddess. The setting of the painting was inspired by several of the local temples Lee has visited in Taiwan. "I felt like it was important to have something standing in for Chinese people," Lee says. "The cultural context and impact of RIPPED TO SHREDS as a Taiwanese-American band cannot be understated; Lee declares that a driving force behind RIPPED TO SHREDS has been "to increase the visibility of ABCs [American-born Chinese] in extreme metal by being very blatantly Chinese."
It's not about taking over. With 劇變 (Jubian), which translates to "upheaval," RIPPED TO SHREDS makes their intentions clear.
"…a visceral eight song ride that grabs you by the ankles from your bed and drags you every circle of hell, aka death metal's various melodic, thrashy, grinding and doomed faces, leaving you gasping for air and desperate to do it all over again." – Decibel Magazine
"If you like your death-metal razor-sharp and lightly blackened, RIPPED TO SHREDS is your new favorite band." – Revolver
"The San Jose band RIPPED TO SHREDS are rising stars in the metal world thanks to their ferocious, electric take on death metal, largely inspired by their experiences as Asian-Americans." – Stereogum
"Cavernous death from this Taiwanese American entry to the Relapse release roster from their forthcoming 劇變 (Jubian) LP (translation: "upheaval"), and a brainripping vocal mix up face to face with a relentless instrumental avalanche." – Metal Injection
"RIPPED TO SHREDS take it one step further, playing death metal that's impeccably crafted and sonically mesmerizing, just a little faster, a little sharper and a hell of a lot more vicious." – Treble 
 "…a high-speed discharge of scathing, blizzard-like riffing tuned to chainsaw decibels, bullet-pumping drums, horrid bellowing growls, and deranged screams. The music scathes and boils but also gallops, clobbers, and menacingly broods, and it makes room for a fireball of a solo too. It's utterly savage, and a great way to jump-start your heart, or to provide a welcome companion if you're feeling really pissed-off." – No Clean Singing
"This is the sound of a death metal band taking every influence they already had, running it through a blender and making it theirs entirely. Ripped To Shreds are the next big thing in death metal." – Heavy Music HQ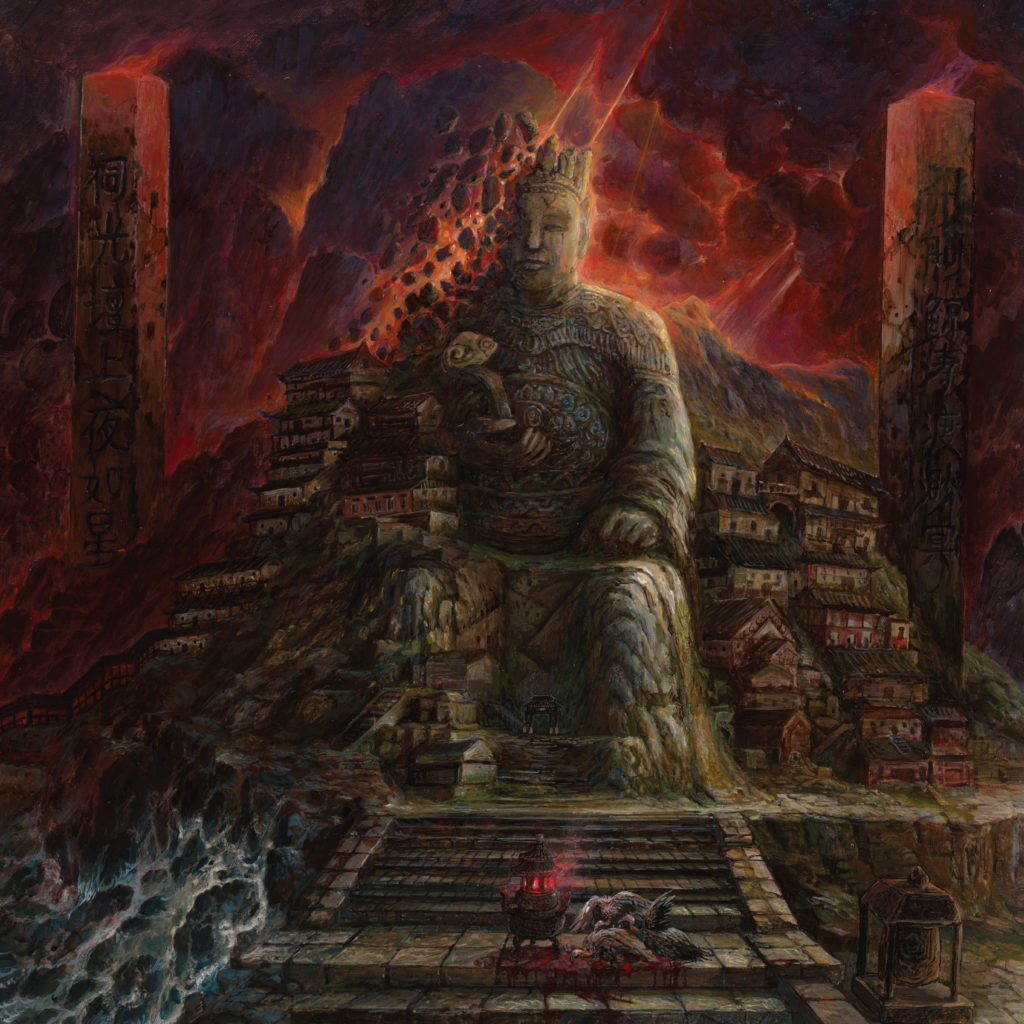 http://www.facebook.com/rippedtoshredsband/
http://www.instagram.com/rippedtoshredsdeathmetal/
http://www.twitter.com/rippedtoshreds4
http://www.rippedtoshredsdeathmetal.bandcamp.com/
http://www.relapse.com
http://www.instagram.com/relapserecords
http://www.facebook.com/RelapseRecords
http://www.twitter.com/RelapseRecords