With the release of their hugely anticipated new full-length, Constricting Rage Of The Merciless, now less than one month away, New Orleans devious metal merchants, GOATWHORE, unleash all out Hell with "Schadenfreude," currently corrupting the airwaves of mega music portal, Loudwire.
Literally meaning the pleasure derived from the misfortunes of others, ninth cut, "Schadenfreude," is at once predatory, epic, misanthropic and sadistic. Notes vocalist Ben Falgoust of the debaucherous hymn: "This song represents the downward spiral of man at his most vile. The seething element of satisfaction when others around fail and fall, then the gratitude that this sick rejoicing has accomplished in the overall end."
Adds Loudwire: "'Schadenfreude' is a classic take-no-prisoners, leave-no-survivors type of GOATWHORE track. The band's black metal influence is at the forefront of 'Schadenfreude,' as guitarist Sammy Duet builds a dark atmosphere with his open chords and sinister progressions, while vocalist Ben Falgoust explores his full guttural range throughout the track."
Feel the wrath of "Schadenfreude," now playing at Loudwire at THIS LOCATION.
And if you missed it, take in the lurid ungodliness of GOATWHORE's "FBS" lyric video HERE, where you'll also find an assortment of killer preorder bundles available for your purchasing pleasures.
On Constricting Rage Of The Merciless, GOATWHORE spews their unadulterated, subterranean metal as channeled through the historic likes of Motörhead and Bathory, with the insatiable hunger of a pack of wild boars. Captured at Mana Recording Studios in St. Petersburg, Florida with sound savior, Erik Rutan at the control desk, the record serves as their first studio output to be tracked to two-inch tape. A more challenging approach that demands performance over pro-tooled perfection and leaving little room for error, the ten-track, thirty-seven-minute recording is GOATWHORE's most accomplished, sonically consuming manifestation to date, its warm, organic production harnessing the dense, apocalyptic war-ready tone and energy of their live performance in a way previous releases have not.
Constricting Rage Of The Merciless will make its final descent upon North America on July 8th, 2014 via Metal Blade Records. The record comes in conjunction with the band's Summer-long live infiltration which includes a short run of headlining takeovers scheduled to commence on July 5th before kicking off this year's edition of The Summer Slaughter tour alongside death metal icons Morbid Angel, Dying Fetus, The Faceless and more! Additionally, GOATWHORE will make a special appearance at this year's Gwar B-Q on August 16th.
GOATWHORE:
7/05/2014 Southport Hall – Jefferson, LA
7/06/2014 The Levee – Longview, TX
7/07/2014 Zydeco – Birmingham, AL
7/08/2014 Exit/In – Nashville, TN
7/09/2014 New Daisy Theatre – Memphis, TN
7/10/2014 Fubar – St. Louis, MO
7/11/2014 The Vanguard – Tulsa, OK
7/15/2014 Soda Bar – San Diego, CA*
Summer Slaughter Tour w/ Morbid Angel, Dying Fetus, The Faceless, Thy Art Is Murder, Origin, Decrepit Birth, Within The Ruins, Fallujah
7/17/2014 The Regency Ballroom – San Francisco, CA
7/18/2014 The Observatory – Santa Ana, CA
7/19/2014 House of Blues – West Hollywood, CA
7/20/2014 Nile Theater – Phoenix, AZ
7/21/2014 Tricky Falls – El Paso, TX *
7/22/2014 Sunshine Theater – Albuquerque, NM
7/23/2014 Summit – Denver, CO
7/25/2014 House Of Blues – Houston, TX
7/26/2014 Scoot Inn – Austin, TX
7/27/2014 Gas Monkey – Dallas, TX
7/29/2014 State Theater St. – Petersburg, FL
7/30/2014 The Masquerade – Atlanta, GA
7/31/2014 The International – Knoxville, TN
8/01/2014 Agora Theatre – Cleveland, OH
8/02/2014 Mojoes – Chicago, IL
8/03/2014 Skyway Theatre – Minneapolis, MN
8/05/2014 The Rave – Milwaukee, WI
8/06/2014 Crofoot Ballroom – Detroit, MI
8/07/2014 Rapids Theatre – Niagara Falls, NY
8/08/2014 Irving Plaza – New York, NY
8/09/2014 The Palladium – Worcester, MA
8/10/2014 The Trocadero – Philadelphia, PA
End Tour
8/16/2014 Gwar B-Q @ Hadad's Lake – Richmond, VA
*recently added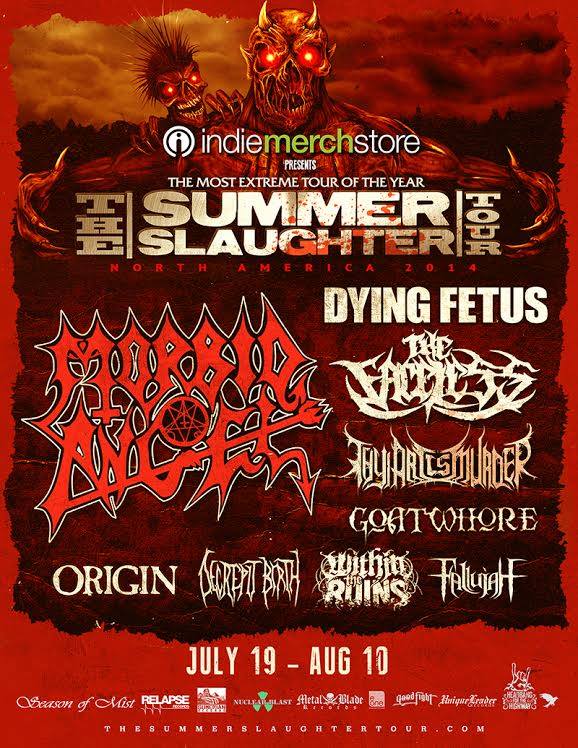 Stay tuned for further GOATWHORE intel to be revealed in the coming weeks.
http://www.facebook.com/thegoat666
http://twitter.com/goatwhorenola
http://www.youtube.com/Goatwhorenola666
http://www.metalblade.com/goatwhore