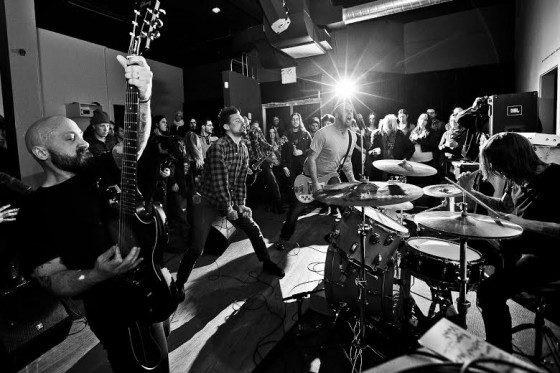 FUCKING INVINCIBLE has completed the routing on their upcoming It'll Get Worse Before It Gets Better Tour, a September run in support of their debut LP of the same name released this Summer. With thirteen cities on the chopping block, the new tour will run from September 6th through the 27th, the band will tear through the Northeast US and Canada, decimating audiences in each town with the unhinged, grinding, powerviolence noise their new album deploys.
The lineup for Oneonta Punk 2014 in upstate New York has begun to take form as well, with a massive lineup announced this week, seeing FUCKING INVINCIBLE listed alongside Sheer Terror, Merauder, Fury Of Five, Black SS, Backtrack, Expire, Tripface, Wisdom In Chains, Strength For A Reason, Palehorse, Born Low, Supertouch, Coke Bust and more. Set to rock Oneonta on October 25th and 26th, the proceeds for the event will benefit the Crohn's and Colitis Foundation of America. Previous announcements unveiled the band's confirmations for The Fest 13 in Gainesville, Florida this Fall as well as Badass Weekend 3 in Houston, Texas early next year.
FUCKING INVINCIBLE It'll Get Worse Before It Gets Better Tour:
9/06/2014 AS220 – Providence, RI w/ Straight Razor, Wokling, Death Injection
9/07/2014 Gallery X – New Bedford, MA w/ Wolf Whistle, Raindance, Tape Eater
9/11/2014 Hotel Vernon – Worcester, MA w/ Cleansing Wave
9/12/2014 Democracy Center – Cambridge, MA w/ Death Injection
9/13/2014 Hochelaga BBQ – Montreal, QC
9/14/2014 Shibgb's – Toronto, ON
9/15/2014 Genesis – Royal Oak, MI w/ Spit Spewing Snakes, Pagan Piss
9/16/2014 Cobra Lounge – Chicago, IL
9/17/2014 Tower 2 – Nashville, TN
9/18/2014 Strange Matter – Richmond, VA w/ Venomspitter
9/19/2014 Sidebar – Baltimore, MD w/ Rukut, Bleak
9/20/2014 Golden Tea House – Philadelphia, PA w/ Backslider
9/27/2014 Acheron – Brooklyn, NY w/ Tiger Flowers, Hivesmasher
Additional FUCKING INVINCIBLE Tour Dates:
10/25-26/2014 Oneonta Punk – Oneonta, NY
10/31-11/02/2014 The Fest 13 – Gainesville, FL
2/27-3/01/2014 Bad Ass Weekend 3 – Houston, TX
Following a deuce of scathing 7″ EP releases via Atomic Action! Records, this July the label released Providence, Rhode Island-based FUCKING INVINCIBLE's debut LP, It'll Get Worse Before It Gets Better, partnering with Reflections Records for the European version. Murderously high-speed blast attacks in strict synchronization with beheading breakdowns consume It'll Get Worse Before It Gets Better, an album many times more intense than it is brief, seeing the band jamming fourteen unhinged songs through your throat and out the back in barely as many minutes, recorded by Will Killingsworth in March at Dead Air in Western Massachusetts.
Stream It'll Get Worse Before It Gets Better via Noisey/Vice right HERE. Order the standard and limited versions of the LP including instant download via Atomic Action! in North America RIGHT HERE and in Europe vai Reflections Records HERE.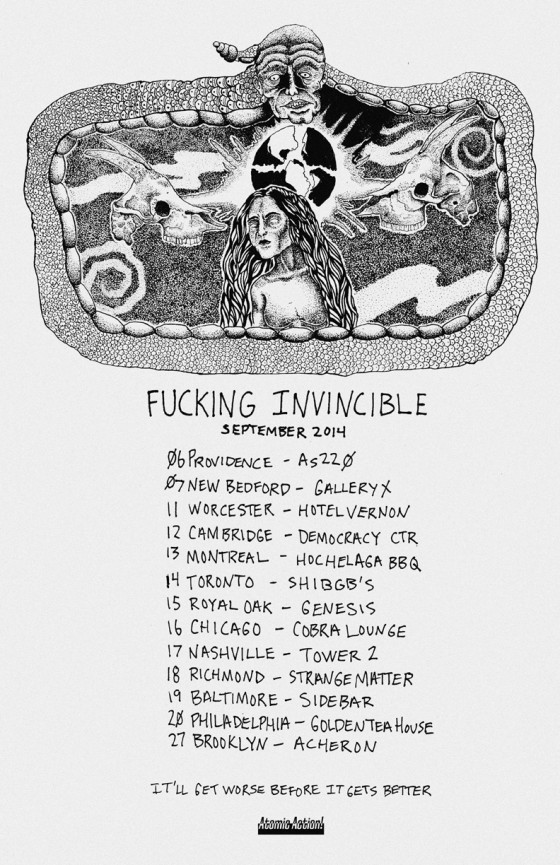 https://www.facebook.com/AtomicActionRecords
http://atomicactionrecords.bandcamp.com