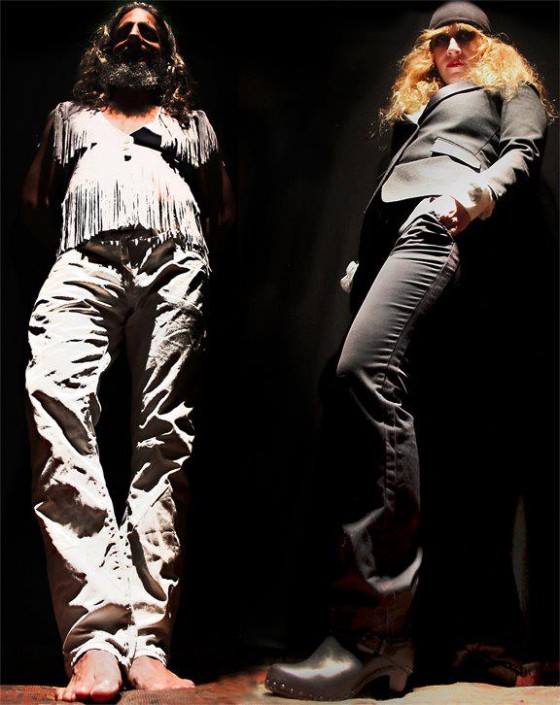 Transcendental drone/rock outfit DARSOMBRA will take their sprawling audio/visual live act on the road next week on their twelve-city Southern US Wintour 2013. Touring in support of their Climax Community LP, released in October via Germany's eclectic Exile On Mainstream, the Wintour 2013 is set to embark on February 15th, with shows confirmed throughout Virginia, North Carolina, Georgia, Louisiana, Texas, Arkansas and Tennessee.
Following releases on At A Loss, Public Guilt and Underradar, in addition to self-released recordings, Maryland's ultra-eclectic transcendental/drone rock unit DARSOMBRA signed with Exile On Mainstream for the release of Climax Community. The three tracks on the LP traversing forty-five minutes of the outfit's unique, slow-building, organic transcendental rock. Brian Daniloski, a veteran of heavier, sludgier, grittier rock bands such as Meatjack and Trephine, controls the sound of DARSOMBRA, alternating between mammoth vocal swells and soundscapes and searing guitar riffs, leads, loops, and samples, combining elements of metal, psychedelic rock, experimental/drone, prog and krautrock. But there is more than just Daniloski's sonic world at play here as video artist Ann Everton takes his work to the next level by bringing her DARSOMBRA-induced visions to the stage through her kinetic psychotropic video projections, creating a constantly shifting backdrop to Daniloski's live performances.
Decibel Magazine is streaming Climax Community in its entirety AT THIS LOCATION.
DARSOMBRA Wintour 2013:
2/15/2013 Strange Matter – Richmond, VA w/ Junius, Degollado, Head Molt
2/16/2013 Blackout Effectors – Asheville, NC w/ Nate Hall, Degollado
2/17/2013 Wonderroot – Atlanta, GA w/ Tree Creature, Magicicada, The Electric Nature
2/18/2013 Caledonia Lounge – Athens, GA w/ Grim Pickens and the Bastard Congregation, Utah
2/19/2013 Siberia – New Orleans, LA w/ Microshards
2/20/2013 Feed and Seed – Lafayette, LA w/ Guiltless, Raedon Kong
2/21/2013 The Dalzell House – Shreveport, LA w/ Cosmic Naught, Midnight Tiger
2/22/2013 Club 1808 – Austin, TX w/ Crawl, Korperschwache, Red Ox, Pernum Ovam
2/23/2013 Downtown Music – Little Rock, AR w/ Chronic Ritual
2/24/2013 TBA – Memphis, TN
2/25/2013 Pilot Light – Knoxville, TN
2/26/2013 Blue Nile – Harrisonburg, VA w/ Degollado
"The larger movements of the songs rub against each other with tectonic weight, while subtler elements attack, defeat and consume. Strange and lovely, Climax Community speaks in the language of animal instinct." – Exclaim!
"DARSOMBRA will remain, at this point, a cult oddity for psych freaks, drone junkies and art moguls, but Brian Daniloski has written his most intriguing and entertaining album under this moniker…" 8/10″ – Blabbermouth
"Much like a work of fine art, little to no commentary is given leaving the observer to interpret the work as they wish. By the same token, the listener may also choose to switch off the cerebral and absorb the music at the most basic level." – Ghost Cult
"It's a clever, dense and hypnotic release that demonstrates that there's still plenty of exploration to be done in experimental and psychedelic music." – OneMetal
http://www.facebook.com/darsombra
http://darsombra.com
http://www.mainstreamrecords.de