Following a successful five-date tour this past October, which officially marked their first live performances in 12 years, North Carolina sludge merchants BUZZOV•EN will take their notoriously raw, crushing live act to the West Coast this December! Kicking off on December 13th, the band have confirmed a six-date rampage that will hit San Diego, Los Angeles, San Francisco, Portland, Seattle and Denver, dragging out an incredible set list from their arsenal of brooding, scathing recordings they've amassed over the years.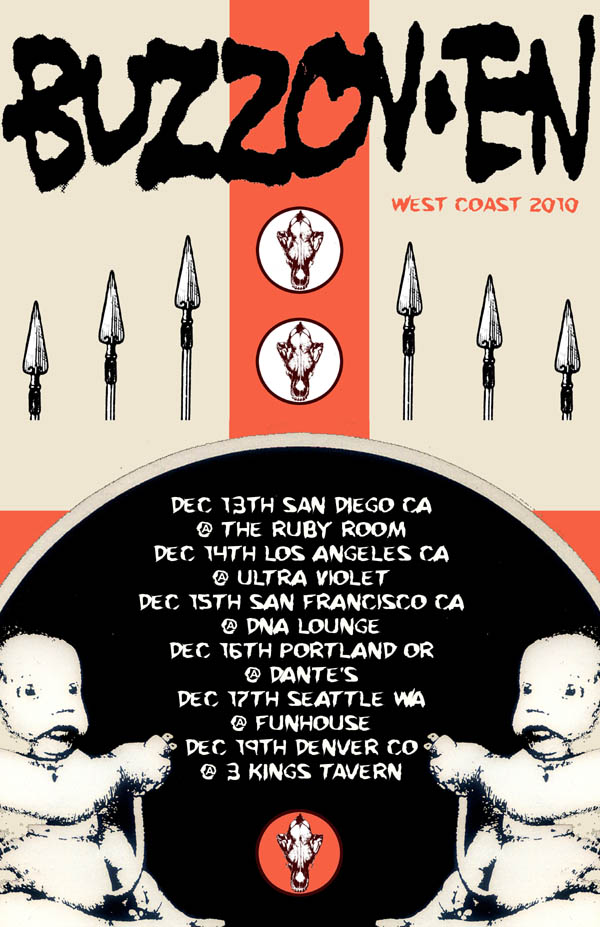 BUZZOV•EN December 2010 West Coast Tour:
12/13/2010 The Ruby Room – San Diego, CA
12/14/2010 Ultra Violet – Los Angeles, CA
12/15/2010 DNA Lounge – San Francisco, CA
12/16/2010 Dante's – Portland, OR
12/17/2010 Funhouse – Seattle, WA
12/19/2010 3 Kings Tavern – Denver, CO
As with the successful October tour dates, the band's reunited 1998 At A Loss LP lineup of Kirk Fisher on guitar and vocals, "Dixie" Dave Collins (Weedeater) on bass and vocals, and Ramzi Ateyeh (Sourvein) on drums, now also includes Sleepy Floyd (also of Sourvein) on second guitar.
Following their inception in 1990, BUZZOV•EN quickly created an incredible impact on music in general with their harsh, raging style of sludge metal, cementing them as both a purveying act of the genre, as well as a longtime great. After imploding and disbanding in 1999, the group revamped things and reformed in 2010, bringing their chaotic and caustic live rage back to the stage. Following the December tour, BUZZOV•EN will appear at 2011's annual Roadburn Festival in Tillburg, Netherlands in April, as well as this year's installment of the Maryland Death Fest in Baltimore in May.
Stay tuned for further transmissions regarding more live actions for these henchmen through the new year. Contact an Earsplit operative to preview or confirm live coverage/interviews at the upcoming shows.