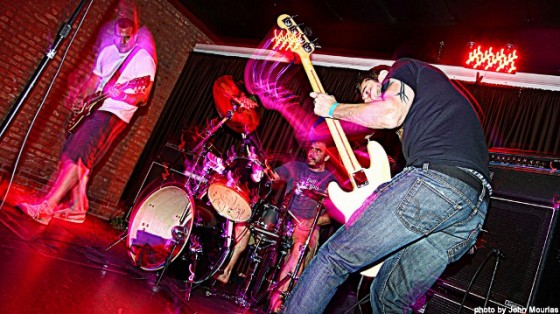 Chicago's metallic progmangling trio arbogast will release their debut album, the simply titled but intricately envisioned and executed I, on December 4th. I will be set loose by arbogast's cohorts at New Jersey-based Nefarious Industries, founded by and home to El Drugstore (members of East of the Wall), A Fucking Elephant, and So is the Tongue (members of Kayo Dot).
arbogast's boisterous debut tackles a theme on the minds of many: the declining morals of a country where the middle class is being overthrown by the greed of the privileged. The eleven songs harnessed on I were recorded by Andy Nelson (Weekend Nachos) at Bricktop Studios in Pilsen and mastered by Matt DeWine (Where the Moon Came From) at Ukrainian Village's Pieholden Suite Sound, founded by the late Jay Bennett (Wilco).
Since their first appearance in February 2009, arbogast has shared the stage with scores of acclaimed ensembles including Bison BC, Gates of Slumber, Across Tundras, Goes Cube, and Tidal Arms. As evidenced in previous releases — a self-titled EP from 2009, a split 7″ with New Jersey's A Fucking Elephant from 2010, and a demo from 2011 — arbogast's influences encompass everything that is heavy, blending metal, thrash, hardcore, sludge and even old-school punk into an aggressively progressive haze that never veers too far into the pretentious.
Matching arbogast's trademark heavy sound with a heavy theme, dead birds litter a desolate landscape on the cover of I, designed by Aaron Block (Shifting Totem), whose work has also been commissioned by legendary bands Suicidal Tendencies and DRI. Vocalist/guitarist Mike Scheid lays the foundation with the first notes of the album — an eerie Hammond organ that crescendos seamlessly toward the first track, 'final throes.' Vocalist/bassist Aaron Roemig further establishes the tone with the first verse: "War's been waged, a barrage of greed, ensures divisions strengthening." Similarly disillusioned lyrics are the mainstay of this recording. The undercurrent of arbogast's sound, drummer Mike Rataj's patented blend of ambidextrous chops, jazzy finesse and thunderous hardcore fury drive the album start to finish.
With live shows constantly being booked through their native Chicago and beyond, the band will take to the road early in 2013 and throughout the rest of next year in support of I. Stay tuned for constantly-developing details as more live attacks are plotted and announced.
arbogast live:
11/29/2012 Quencher's Saloon – Chicago, IL w/ Rollo Tomasi, Cokegoat
http://www.arbogastmusic.com
http://arbogast.bandcamp.com
http://www.facebook.com/arbogastchicago
http://nefariousindustries.com
http://facebook.com/NefariousIndustries
http://soundcloud.com/nefariousindustries