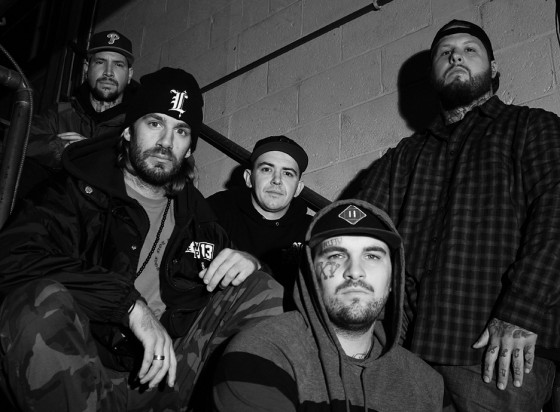 A fresh auditory beating from New Jersey's LIFELESS is now available via an exclusive premiere of "Surrender" courtesy of American Aftermath. The track hails from the gloomy hardcore quintet's sophomore LP, Dream, which is now just three weeks from its official release via Southeastern Pennsylvania-based Fast Break! Records, and is hereby released into the public alongside an interrogation with the band on their upcoming album and tons more.
Unleash the punishing groove of "Surrender" through American Aftermath now at THIS LOCATION.
Also check out Dream's opening track "Never" via Revolver RIGHT HERE.
LIFELESS will be touring abroad heavily throughout the year in support of Dream, including their confirmed co-headlining slot With Wisdom In Chains at Brick By Brick Fest in Altoona, Pennsylvania on Saturday, February 28th, a mini-tour surrounding their performance at Southeast Beast 2015 on April 4th and 5th in Jacksonville, Florida, alongside Life Of Agony, Biohazard, H20, Cro-Mags, Earth Crisis and many more and a record release show in Nanticoke, Pennsylvania on April 18th. A full Dream record release show tour weekend is coming together for April, to be followed by additional regional touring throughout North America, an August European tour and tons of additional performances to be announced.
LIFELESS Tour Dates:
2/28/2015 Pellegrine's Lounge – Altoona, PA @ Brick By Brick Fest
3/01/2015 Mr. Roboto Project – Pittsburgh, PA
4/05/2015 Club Aqua – Jacksonville, FL @ Southeast Beast
4/18/2015 West Side Park – Nanticoke, PA * record release show
4/19/2015 TBA – New Jersey * record release show
7/11/2015 TBA – Detroit, MI
The long awaited follow up to the 2011 break out full length NLFTW, LIFELESS returns from what seems like some hellish, haunted purgatory, inhabited by the demons and ghosts that hide in the often over looked shadows of our daily lives. Pulling back that curtain the band reveals their starkest and most absolute vision to date. Grinding out a master piece of pain with cold fists and dead eyes, it's evident that LIFELESS has spent the past few years cutting their teeth to razor sharp prowess with those ghosts in the shadows, and as a result have created one of the tightest, darkest, and most interesting hardcore albums in recent memory, with a dozen demoralizing tracks recorded and produced by Len Carmichael. Dream unloads aggression prime for fans of Born From Pain, Crowbar, Hatebreed, Merauder, Cold As Life and 100 Demons and will see release on CD, several colors of 12" vinyl and through all major digital outlets on March 24th. Wearing the sounds of their East Coast hardcore heroes and peers with pride, a tumultuous undertow of downtrodden metal rage influences each anthem on the gloomy Dream LP.
Preorders for Dream are now available, the vinyl in a wide range of color variations limited to 400 copies, alongside additional merch options, RIGHT HERE.
http://www.facebook.com/LifelessNLFTW
http://fastbreakrecords.limitedrun.com
http://www.facebook.com/FastBreakEnt
http://twitter.com/fastbreakpa