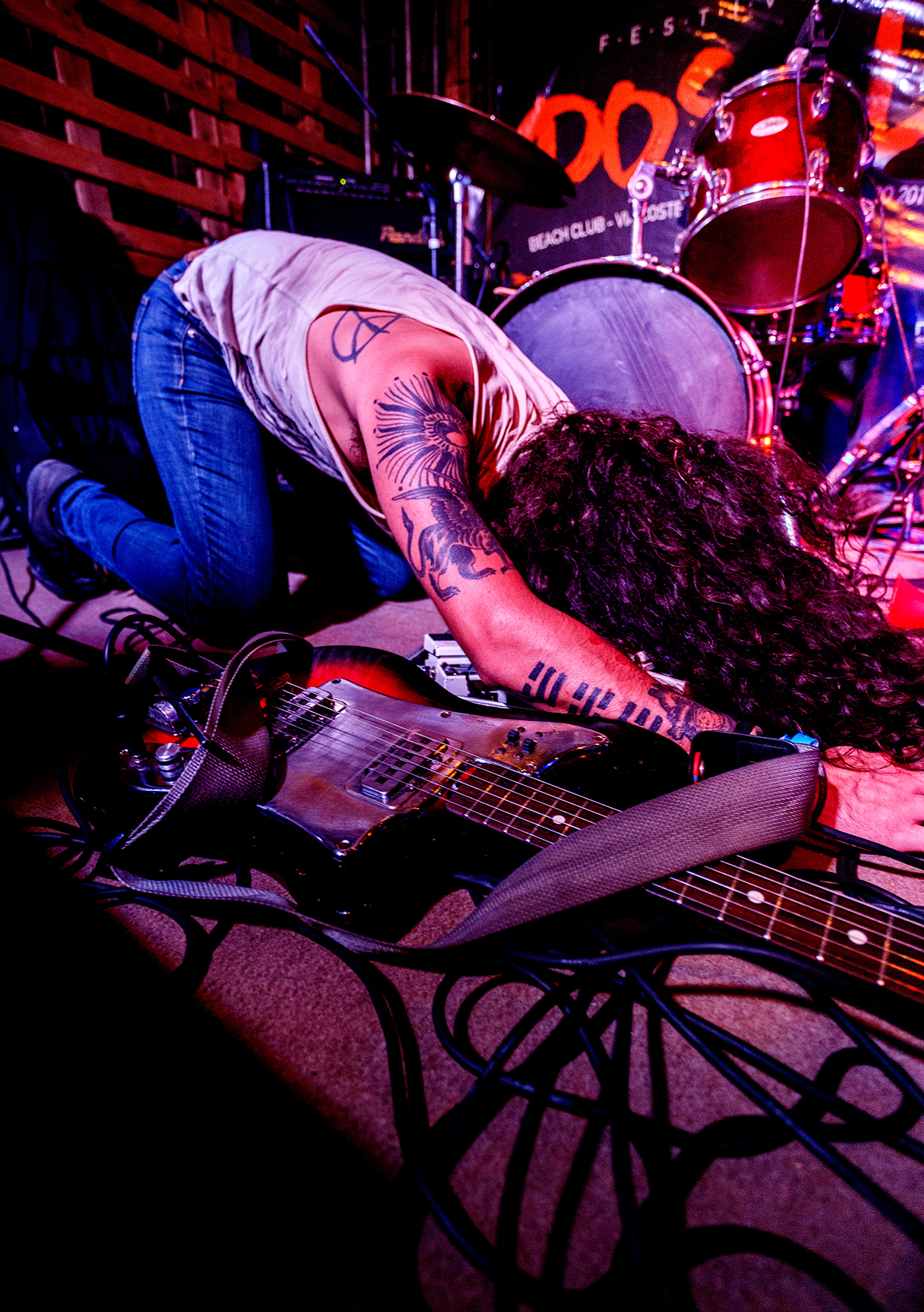 [photo by Jean Ribeiro]
Hot on the heels of their new Metaprogramação LP, out now on Neurot Recordings, Brazilian experimentalists DEAFKIDS are currently embarked on their latest European tour alongside fellow Brazilians RAKTA, which kicked off at Roadburn. The bands present a new collaborative two-song EP which they recently recorded together and now issue as the tour gets into full motion.
Stream the DEAFKIDS/RAKTA collaboration at YouTube HERE.
Also see DEAFKIDS' "Espirais da Loucura" video HERE, and read an intense track-by-track of the Metaprogramação LP by Neurosis' Steve Von Till HERE.
DEAFKIDS' tour with RAKTA continues into early May. DEAFKIDS will also make their way onto North American soil for their first time this Summer, having been confirmed to support labelmates Neurosis alongside Bell Witch across the Eastern US and Southeastern Canada from August 7th through August 17th.
With harsh noise and industrial elements seamlessly melded into a volatile and rambunctious hybrid of ethnic jazz/world music-influenced punk, DEAFKIDS thematically tackles existential socio-political topics and dystopian themes through their own artistic lens. Their singular sound and manic energy coalesce to form one of the most intriguing and challenging acts in recent years. Metaprogramação offers a vertiginous, sensory insight on these inner conflicts and aspects of the animal being. Do not allow yourself to be programmed.
Metaprogramação is out now on LP, CD, and digital platforms via Neurot Recordings. Order the album via Bandcamp, iTunes, Spotify and at the Neurot webshop.
DEAFKIDS / RATKA European Tour:
4/18/2019 Urban Spree – Berlin, DE
4/19/2019 Merleyn – Nijmegen, NL
4/20/2019 The Lexington – London, UK
4/21/2019 Soup Kitchen – Manchester, UK
4/22/2019 The Hope & Ruin – Brighton, UK
4/23/2019 Moon – Cardiff, UK
4/24/2019 The Cluny – Newcastle, UK
4/25/2019 Rough Trade – Bristol, UK
4/26/2019 Olympic Cafe – Paris, FR
4/28/2019 SWR Barroselas Metalfest 2019 – Viana do Castelo, PT
4/29/2019 Mag4 – Bruxelles, BE
4/30/2019 Bar Hic – Rennes, FR
5/01/2019 Tri Martolod – Concarneau, FR
5/02/2019 Léo Ferré – Brest Espace, FR
5/03/2019 Les 3 Pieces – Rouen, FR
5/04/2019 Het Bos – Antwerp, BE
5/05/2019 Donau Festival 2019 – Donau, AU
w/ Bell Witch, Neurosis:
8/07/2019 The Masquerade – Atlanta, GA
8/08/2019 Cat's Cradle – Carrboro, NC
8/09/2019 9:30 Club – Washington, DC
8/10/2019 Theatre Of Living Arts – Philadelphia, PA
8/11/2019 Brooklyn Steel – Brooklyn, NY
8/13/2019 Paradise Rock Club – Boston, MA
8/14/2019 Corona Theatre – Montreal, QC
8/15/2019 The Opera House – Toronto, ON
8/16/2019 St. Andrews Hall – Detroit, MI
8/17/2019 Thalia Hall – Chicago, IL
"…one of the most exciting bands I have heard in a very long time." – Steve Von Till, Neurosis/Neurot
"…a fusion of future-primitive soundscapes, Afrobeat and tribal polyrhythms, and industrial wasteland electronica thematically investigating the concept of metaprogramming…" – Decibel Magazine
"Somewhere between Neurosis and Sepultura lies Brazil's DEAFKIDS, a self-described 'noise-punk' outfit that more than lives up to that descriptor…" – Revolver Magazine
"Arranged with genuine cinematic vision and accuracy…it's a DEAFKIDS record, from here on that means something." – The Wire
"It's hard to know where to start with an album as stunning as this. It's noisy, it's industrial, it's pummeling, and it's ultimately completely satisfying…a wondrous journey of noise that is ear shattering, danceable and gnarly at every turn. 9/10." – Louder Than War
"Hook by hook by hook Metaprogramação is pure musical immersion… 8/10" – Metal Hammer
https://deafkidspunx.bandcamp.com
https://www.facebook.com/deafkidspunx
http://www.neurotrecordings.com
http://www.facebook.com/neurotrecordings
https://neurotrecordings.bandcamp.com
https://twitter.com/OfficialNeurot