Long-running post-rock instrumentalists THIS WILL DESTROY YOU will kick off their anticipated North American headlining tour next week. Set to commence October 16th in Phoenix, Arizona, the journey will make its way through over two dozen cities upon its conclusion November 17th in San Diego, California. In December, the band will bring their consuming hymns to Asia on a week-long trek. See all confirmed dates below.
THIS WILL DESTROY YOU will be touring in support of their New Others Part One full-length, recently issued via Dark Operative Records. Now comprised of core members Jeremy Galindo and Christopher King with the addition of drummer Robi Gonzalez, the seven-track New Others Part One was produced, engineered, and mixed by John Congleton, the man responsible for the sound of the band's wildly popular self-titled sophomore album of ten years ago. New Others Part One captures the band in a familiar, but evolved ethos wherein the memorable, melodic component present in their early work once again soars atop new sonic territories for the band and listener alike.
Stream New Others Part One in its entirety at THIS LOCATION
New Others Part One is available on LP and digitally. For physical order,s visit the Dark Operative store HERE and Bandcamp page HERE.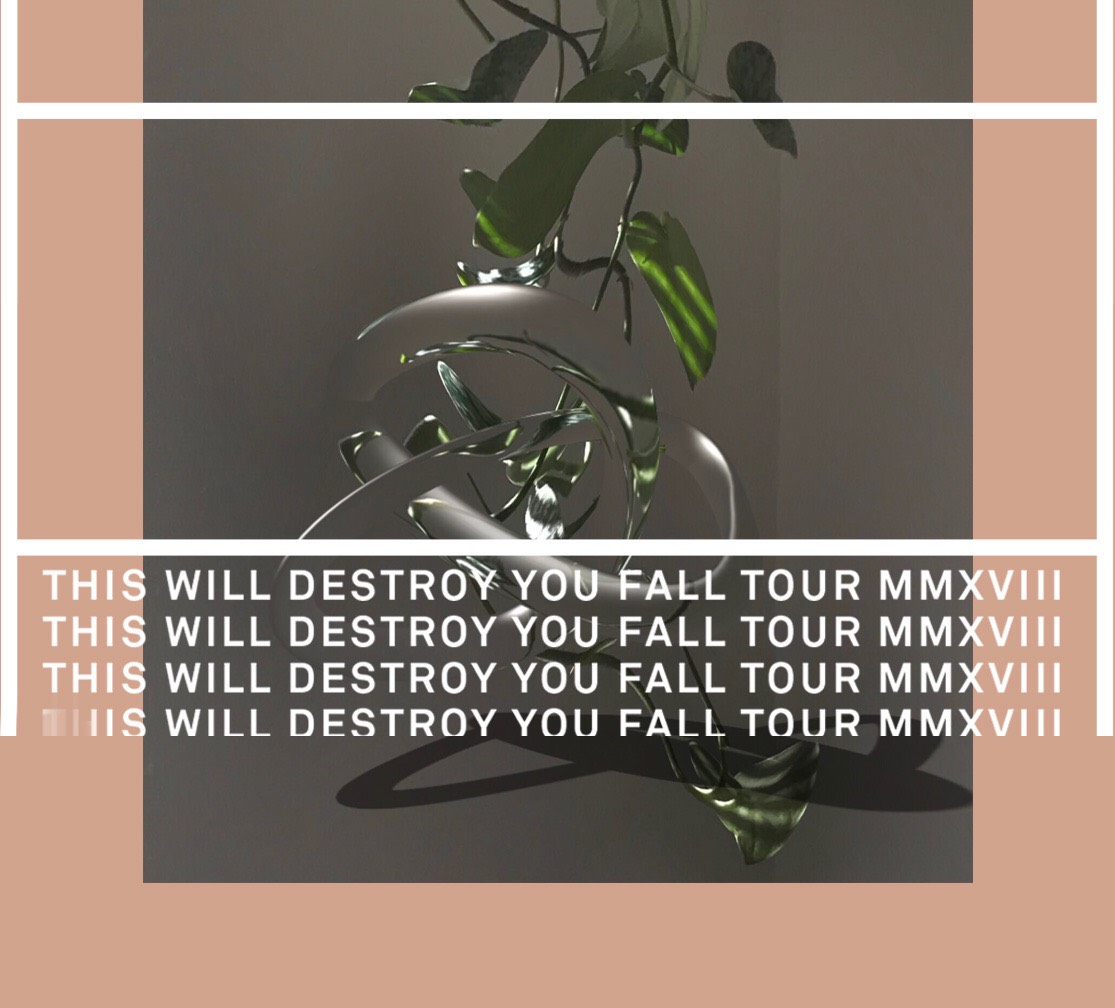 THIS WILL DESTROY YOU:
10/16/2018 The Rebel Lounge – Phoenix, AZ w/ Rotting Yellow [tickets]
10/18/2018 Mohawk – Austin, TX w/ Steve Hauschildt [tickets]
10/19/2018 White Oak Music Hall – Houston, TX w/ Steve Hauschildt [tickets]
10/20/2018 Granada Theatre – Dallas, TX w/ Steve Hauschildt [tickets]
10/22/2018 The Masquerade – Hell Stage – Atlanta, GA w/ Steve Hauschildt [tickets]
10/23/2018 Motorco – Durham, NC w/ Steve Hauschildt [tickets]
10/25/2018 Union Transfer – Philadelphia, PA w/ Steve Hauschildt [tickets]
10/26/2018 Metro Gallery – Baltimore, MD w/ Carl Gene [tickets]
10/27/2018 Warsaw – Brooklyn, NY w/ Steve Hauschildt [tickets]
10/28/2018 Brighton Music Hall – Allston, MA w/ Steve Hauschildt [tickets]
10/29/2018 Bar Le "Ritz" P.D.B. – Montreal, QC w/ Steve Hauschildt [tickets]
10/30/2018 Lee's Palace – Toronto, ON w/ Steve Hauschildt [tickets]
10/31/2018 El Club – Detroit, MI w/ Steve Hauschildt [tickets]
11/02/2018 Metro – Chicago, IL w/ Steve Hauschildt [tickets]
11/03/2018 Maintenance Shop – Iowa State University – Ames, IA w/ Steve Hauschildt [tickets]
11/04/2018 Turf Club – St. Paul, MN w/ Steve Hauschildt [tickets]
11/07/2018 Neumos – Seattle, WA w/ Clarice Jensen [tickets]
11/08/2018 Rickshaw Theatre – Vancouver, BC w/ Clarice Jensen [tickets]
11/09/2018 Aladdin Theater – Portland, OR w/ This Patch Of Sky [tickets]
11/10/2018 WOW Hall – Eugene, OR w/ This Patch Of Sky [tickets]
11/12/2018 The Big Room at Sierra Nevada – Chico, CA [tickets]
11/13/2018 Harlow's – Sacramento, CA w/ Clarice Jensen [tickets]
11/14/2018 Great American Music Hall – San Francisco, CA w/ Clarice Jensen [tickets]
11/15/2018 Strummers – Fresno, CA w/ Clarice Jensen [tickets]
11/16/2018 The Regent Theater – Los Angeles, CA w/ Clarice Jensen [tickets]
11/17/2018 Brick By Brick – San Diego, CA w/ Clarice Jensen [tickets]
12/07/2018 Pavilion @ Far East Square – Singapore, MY
12/09/2018 Rockademy – Bangkok, TH
12/11/2018 TTN – Hong Kong,CN
12/12/2018 B10 Live – Shenzhen, CN
12/13/2018 Mao Livehouse – Guangzhou, CN
12/14/2018 YugongYishan – Beijing, CN
12/15/2018 Mao Livehouse – Shanghai, CN
 "The track, which closes out the album, is a beautiful and somber exercise that uses piano and guitar alongside a bombastic drum section to create an emotional and powerful journey." — Revolver on "Go Away Closer"
"…a holistically mature and cohesive work" —  Spill Magazine
"…a beautifully constructed music journey, and one of THIS WILL DESTROY YOU's most cohesive albums yet." —  Complex Distractions
 "…yet more proof that the band refuses to stagnate creatively. As far as post/instrumental rock is concerned, THIS WILL DESTROY YOU remain in the top tier." — Svbterranean
"Putting the word 'post' back into the post-rock label, THIS WILL DESTROY YOU have demonstrated with this album that even the mainstays can successfully launch into unfamiliar territory to push the boundaries if they so dare." — Overdrive Music Magazine
"[New Others Part One] instantly scratches the itch that TWDY's classics do, and it reminds you how diverse their palette of sounds is, from stuff that nears minimal electronic music to stuff that nears metal." — Brooklyn Vegan/Invisible Oranges
http://www.thiswilldestroyyou.net
http://www.facebook.com/thiswilldestroyyou
http://www.darkops.site
http://www.facebook.com/darkoperativemusic