[photo by Chad Fjerstad]
LA-based rock trio THE PRIMALS – founded by vocalist/guitarist John Henry (also of Darkest Hour), bassist Chad Fjerstad (formerly of Dead To Fall), and drummer Andrew Black (formerly of The Explosion) – have filmed a video for "Fortune & Sons," which hails from their debut LP, All Love Is True Love, which saw release through Southern Lord in September. The new has been made public through a premiere at BrooklynVegan.
THE PRIMALS' fuzzy execution is equal slabs ripping guitar heaviness and infectious pop sensibility. Concocted by a seasoned group of thrashers with a historical backbone in the D.C. punk community, the disintegrated spirit of grunge rises from the ashes, revitalized in a new light. All Love Is True Love features ten infectious tracks produced by John Reis (Rocket From The Crypt, Drive Like Jehu, Hot Snakes) and completed with cover art by Laura K. Giron. Fans of Wand, Ty Segall, Nirvana, and The Pixies are especially recommended to tune in.
The "Fortune & Sons" video was directed and filmed by the band's Chad Fjerstad, who offers, "I've been making these type of hacked-up, layered performance music videos for a few years now. I told myself I wanted to take a break from that stylistically but THE PRIMALS needed a video that shows the band for exactly who we are, doing what we do. This is a band that's about one thing only: the music. Therefore, we've created a video free of other themes or concepts, letting our personas be the only thing to complement the song, with the exception of some color washing and video distortion of course. I'm glad we moved forward with it because this is probably my favorite music video of this style that I've made – it just works so wonderfully in the exact ways I wanted it to: shining a spotlight on John's very natural presence as a frontman, showcasing the incredible talent of Andrew Black as a drummer, and matching the intensity of the very energetic track. Then, I'm in there too, playing that Thunderbird… I guess that's worth something too. I'm not mad about any of it."
BrooklynVegan offers with the premiere, "It's a trippy performance video with serious late '60s/early '70s heavy psych vibes, and it suits the song perfectly."
Check out THE PRIMALS' "Fortune & Sons" video at BrooklynVegan RIGHT HERE.
THE PRIMALS' All Love Is True Love is out now through Southern Lord on CD, LP, and digital platforms. Stream the album and find digital orders at Bandcamp HERE, at iTunes HERE, and find physical order options at the US label webshop HERE and the European webshop HERE.
Following several several record release shows on the West and East Coasts, THE PRIMALS are booking new shows in support of the album. The band will support labelmates Pelican in Los Angeles on October 14th, and will join the legendary '60s garage rock act The Sonics at the kickoff party for the return of The Power Of The Riff, November 17th in Los Angeles. Watch for new tour dates to be announced in the weeks ahead.
THE PRIMALS Live:
10/14/2018 Zebulon – Los Angeles, CA w/ Pelican [info]
11/17/2018 The Echo – Los Angeles, CA @ The Power Of The Riff kickoff party w/ The Sonics [info]
"Channeling Redd Kross' soaring harmonies, The Posies' taste for sugary darkness and Kurt Cobain's ability to disguise an arsenal of irresistible hooks under a barrage of pounding fuzz, the album rips up grunge's '90s roots and replants them for a modern audience." – Louder Sound
"THE PRIMALS have an impressive pedigree, boasting a lineup consisting of current and former members of Darkest Hour, The Explosion, and Dead To Fall… The band is fronted by John Henry, best known as the vocalist of veteran metal band Darkest Hour. Musically, THE PRIMALS' music is a far cry from the melodic death metal stylings of Darkest Hour, but the band still brings some heavy riffing to their infectious brand of rock." – Consequence Of Sound
"ballsy hard rock with a definite melodic punk bent to it… the record is a fuzzed-out riff fiesta with quirky yet pleasing hooks finding their way throughout the whole affair." – No Echo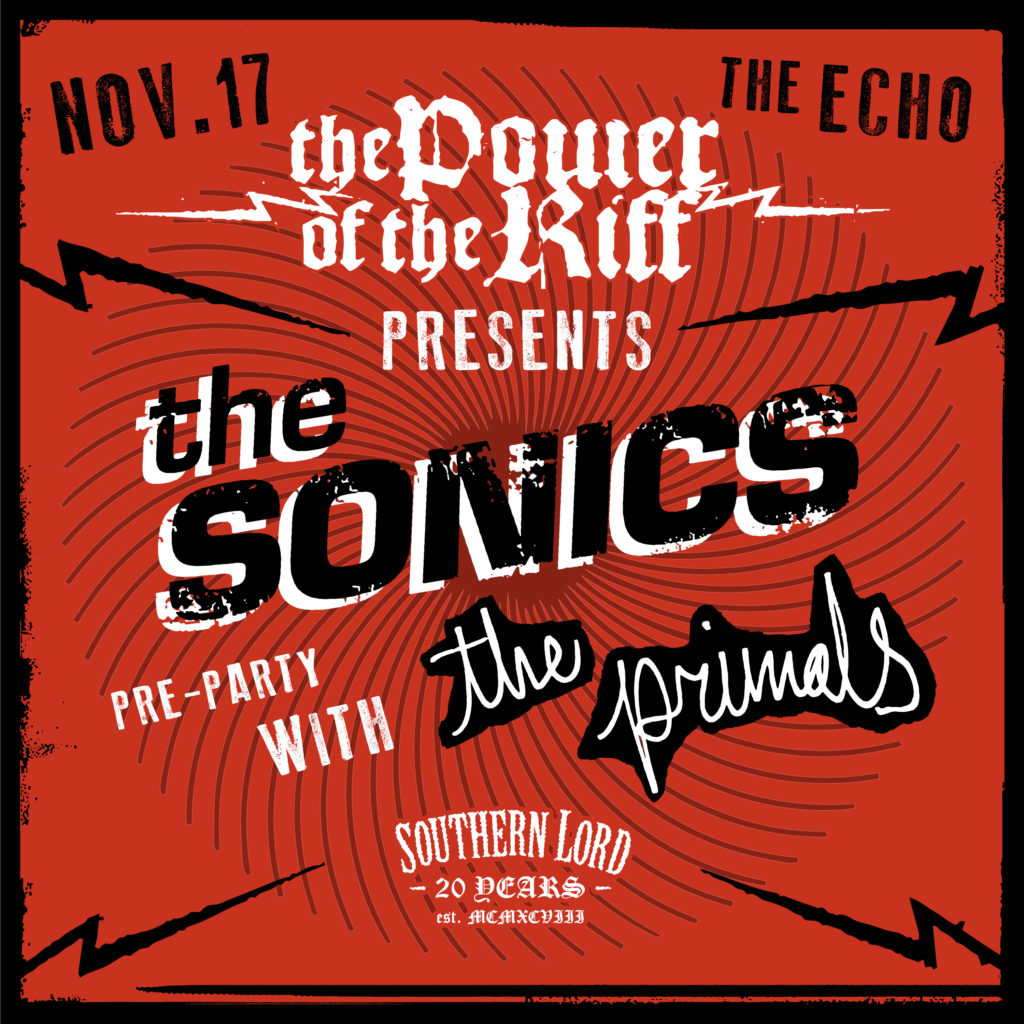 https://www.facebook.com/ThePrimalsLA
https://theprimalssl.bandcamp.com/releases
http://www.southernlord.com
http://southernlord.bandcamp.com
http://www.facebook.com/SLadmin
http://twitter.com/twatterlord