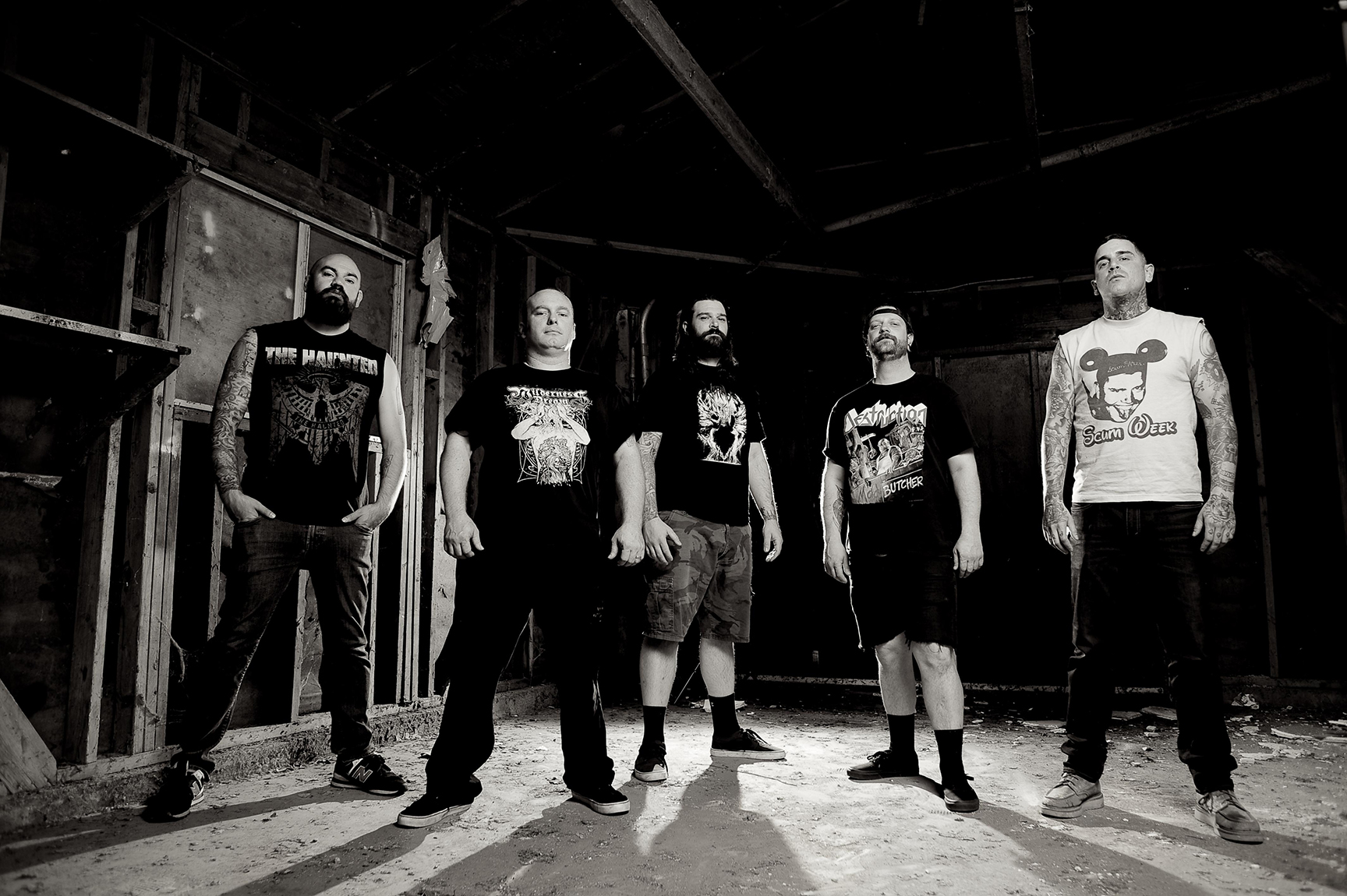 [photo by Brian Taksier]
"'Trust No Pulse' is definitely propelled by a romping punk energy, and the rapid-fire lead vocals exude a rabid, coming-for-your jugular vehemence." – No Clean Singing
San Diego, California-based thrash/crossover act PISSED REGARDLESS is preparing for the release of their Feed The Birds EP through Creator-Destructor Records in early February. The band and label have partnered with No Clean Singing for the premiere of the record's "Trust No Pulse."
PISSED REGARDLESS is five-piece outfit built on pure angst and fury, unwavering in heart, and sharp in focus and performance. Following more than two years since their latest LP, Force Fed Gods, the band's debut for Creator-Destructor Records comes in the form of the brutalizing 7" EP titled Feed The Birds, their first new output since the revamping of their lineup. Capturing the live energy of band's West Coast thrash metal fueled with volatile hardcore/crossover energy, Feed The Birds unloads five tracks in barely more than ten minutes. The album was recorded by Jeff Forrest at Double Time Studios in San Diego and completed with cover artwork by Richard Sampson.
"'Trust No Pulse' is a song about the current world affairs," issues PISSED REGARDLESS vocalist Matt Gerken. "We feel that something is going to happen that creates a domino effect, exposing the centuries of lies, false histories and the shadow government that's been running the globe. The music for this song was the first piece of material that Chris brought to the table when he joined the band and holds very true to original PR songs. It's short, aggressive and straight to the point."
No Clean Singing offers in part with their debut of the new song, "'Trust No Pulse' is definitely propelled by a romping punk energy, and the rapid-fire lead vocals exude a rabid, coming-for-your jugular vehemence. It gets the blood rushing, but it's the little nuances in the song that give it flair as well as fury — the bubbling bass notes that sync up with the bursts of drum hammering (and rise to the surface in other places); the flickering freakishness of the lead guitar; the gang shouts that make you want to shout right along with them; and an almost soaring quality to the melody as the song hits its peak."
Hear "Trust No Pulse" from PISSED REGARDLESS now at THIS LOCATION.
Also hear prior single "Lipstick On A Pig" at Decibel Magazine HERE and the track "Empty" at Bandcamp HERE.
The Feed The Birds 7" will see release through Creator-Destructor Records on February 9th; find colored vinyl preorders at the label webshop HERE.
Formed in 2013, PISSED REGARDLESS was founded with the intent of writing vicious crossover punk/hardcore thrash metal, the band bearing a special talent at composing ripping fast, to-the-point hardcore that displays the outfit's punk and grind influences on its sleeve. The result is a contagious burst of heaviness that'll have most headbangers rejoicing in no time, as proven on their previous two full-length albums – 2013's self-titled album and 2015's Force Fed Gods. The new Feed The Birds 7" crushes with five brand new tracks of thrashing metallic madness, sure to please fans of the 1990s Earache death/grind persuasion and 1980s punk/hardcore alike.
https://www.instagram.com/pissedregardless
https://www.facebook.com/pissedregardlesshc
http://www.creator-destructor.com
http://www.facebook.com/creatordestructorrecords
http://www.twitter.com/CD_Records
http://www.creator-destructor.bandcamp.com