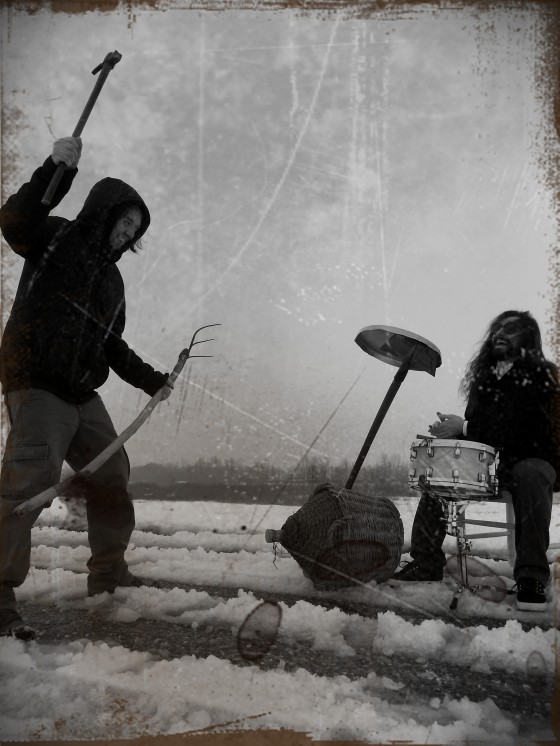 Blazing out of the backwoods of Lodi, Italy, the ZOLLE duo this week harvest their belligerently unhinged self-titled, debut full-length of rural rampage!
The fully instrumental chaos ZOLLE drunkenly stumbles triumphantly through rages with lively off-kilter riff marches and schizokiller percussive thunder, distressed builds and healthy disharmony. Recorded with a nearly fully live performance by Michelangelo Roberti at Mizkey Studio (Morkobot) and mastered by Giovanni Versari (Zu, Morkobot, OvO, One Dimensional Man), utilizing a massive copper drum kit and an old digital 1950s amp coalescing into a mammoth, organic sound. The album also bears gifts of synth from Urlo (Ufomammut, Supernatural Cat) and Roberto Rizzo (Quasiviri, Runi). Zolle is out now on Supernatural Cat — the underground label run by Malleus Rock Art Lab, the artist collective featuring two members of the psychedelic doom trio Ufomammut. Order the hand-screened 180-gram LP with included CD limited Malleus edition of Zolle direct from the label here.
To celebrate the bountiful harvest, today ZOLLE shares their wares with all who care everywhere through Altsounds; STREAM IT HERE.
ZOLLE also recently released a massive video for their opus "Forko" from the album, an undertaking of monstrous proportions with a near major motion picture production budget.
The ZOLLE clan will venture across the their homeland performing throughout the Spring and Summer seasons, with several shows confirmed between May and August, followed by a European tour with Ufomammut in September and October, the full routing to be announced shortly.
ZOLLE Italian Live Itinerary:
5/17/2013 Club dell'Olmo – Santa Fiora, Grosseto w/ Autoblastindog
5/18/2013 Dal Verme – Roma w/ Lili Refrain
5/31/2013 Meltin Pop – Arona, Novara w/ Evolution ov Violence
6/26/2013 SoloMacello Fest – Segrate, Milano w/ Red Fang, Karma to Burn
6/29/2013 Sidro Club – Savignano sul Rubicone, Forlì-Cesena
7/20/2013 Rock Valley Festival – S. Maria della Versa, Pavia w/ Zeus, Toner Low, Town Portal, Kubark
8/23/2013 Casa della Grancetta – Senigallia, Ancona
"No vocalist needed for this aural assault…what you do get is instant head banging riffs driven by big drums and guitar rhythms that can't decide if they're mathy or sludgy, psychedelic, or doomy." – Invisible Oranges
"Goddamn, this rocks. Yeah, this is off-kilter for sure but in a damn good way. The buzzsaw riffs are incredibly interesting and total headbangers. And other than the epic last track, everything is under three minutes long, so Zolle rips shit up and moves on. Killer. 9/10" – Popdose
"It's the subtle nature of arrangement that is the key to its success. It slowly insinuates itself in you and before you realize it your pulse is pounding and you start looking over your shoulder for some leather masked crazy in soft but deliberate pursuit. 8/10" – This Is Not A Scene
"At the center of their sound is the guitar of Marcello Lan who clearly had visions of volcanoes, herds of rhinos, and everything else that makes the Earth shake and rumble when penning these riffs. Hovering around him the whole time is the drumming of Stefano, who circles around those riffs like a celestial body waiting so patiently to crash and explode into something, anything, that comes into his orbit." – Metal Insider
http://www.zolle.org
http://www.facebook.com/zollezollezolle
http://www.twitter.com/zollezollezolle
http://www.supernaturalcat.com
https://www.facebook.com/pages/SUPERNATURALCAT/73791529788