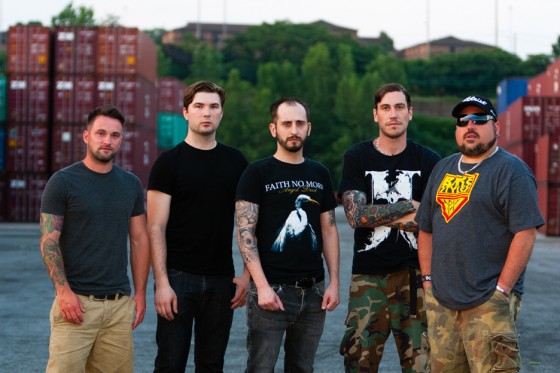 Revolver Magazine is streaming the entire debut full-length from Cleveland quintet YOUTH FORGOTTEN, Ghost Of A Fallen Empire, as the band releases the album into the public today.
Unifying former members of Dead Even, Salt The Wound, Above The Fire, Chimaira and Integrity, YOUTH FORGOTTEN forges straightforward, energetic, metal/punk-fueled hardcore. A high-octane release with the bustling angst, recalling the energy of the 1990s punk/hardcore movements, Ghost Of A Fallen Empire is a forty-minute, action-packed release packed with ten anthems aimed at lethargic, fad-driven acts that pollute the current scene. Recorded with Rob Arnold of Chimaira, marking his debut as a producer, Ghost Of A Fallen Empire is now officially available digitally, while the band finalizes plans for the upcoming physical pressing of the album.
Weed out the weak and resurrect the Ghost Of A Fallen Empire at Revolver RIGHT HERE.
With tour plans for the coming months currently being devised, YOUTH FORGOTTEN's hometown record release party for the album will go down tomorrow evening, the act joined by nine bands considered true allies including Fuck You Pay Me, Teddy Boys, Cholera, Aricebo, Cop Problem and more. Every paid head at the door will instantly receive a handmade CD version of Ghost Of a Fallen Empire crafted exclusively for this event.
YOUTH FORGOTTEN-Ghost Of A Fallen Empire Record Release Show:
2/01/2014 The Foundry Concert Club – Lakewood, OH [info]
"Brutal riffs, hardcore punk intensity, anthemic vocals, an ear for meaningful technicality, all combined with a live show that more than punctuates the sentiment- Youth Forgotten should prove a force to reckoned with in 2014." – Blow The Scene
"Contender for album of the year. If rating is something I would do I would give this one 10 sticks of dynamite." – Hard Times
"If their past success in the metal scene is any indication of things to come for this band, then audiences should take notice of this release. This is only a warm-up for Youth Forgotten and I can't wait to see what's next." – Broken Neck Radio
https://www.facebook.com/YouthForgotten
https://youthforgotten.bandcamp.com
https://soundcloud.com/youth-forgotten